The Google profit engine rolls on
Shares rise more than 3% Friday after the company reported strong revenue growth.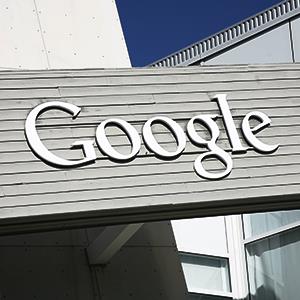 By Rolfe Winkler and Alistair Barr,
The Wall Street Journal
Accelerating revenue growth in the second quarter pleased Google (GOOG) investors, who sent the search giant's shares higher in Friday trading despite rising expenses and the departure of a top executive.

The search giant said revenue for the quarter rose 22 percent to $16 billion from $13.1 billion a year earlier, excluding the Motorola Mobility business Google plans to sell to China's Lenovo Group.
The company surpassed analysts' revenue forecast of $15.6 billion on that basis, according to S&P Capital IQ.
Net income for the period, excluding Motorola, totaled $3.5 billion, or $5.09 a share, up 26 percent from the same period a year earlier.
Excluding stock compensation and other expenses, Google said it would have earned $6.08 a share; on that basis, analysts had forecast $6.23 a share.
"The quarter was very good, with top-line growth of 22 percent and even more importantly it was profitable growth," said James Abate, chief investment officer of Centre Asset Management, which owns Google shares. Operating profit margins increased to 26.7 percent from 26.4 percent in the second quarter a year ago.
But there were signs of rising costs that could erode future profitability. Google continued to hire at a rapid rate, adding 2,414 employees in the second quarter, to a total of 48,584, excluding Motorola. Capital expenditures to build data centers and buy real estate, among other things, increased to $2.6 billion, or 17 percent of revenue, compared with $1.6 billion, or 12 percent of revenue, in the prior year period.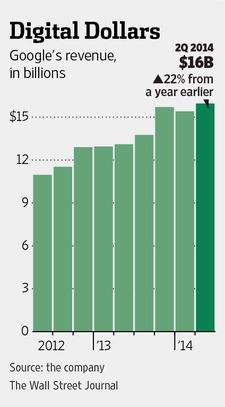 The company also announced that its chief business officer, Nikesh Arora, would be leaving to join Japan's SoftBank Corp., which owns U.S. telecommunications carrier Sprint Corp. Mr. Arora oversaw all of Google's revenue and customer operations. He will be succeeded by Omid Kordestani, who led Google's sales team for many years.
Speaking about the departure of Mr. Arora, Mr. Abate said "everybody is replaceable at companies, and I have no reason to doubt Kordestani's capabilities."
Mark Mahaney, analyst at RBC Capital Markets, said Mr. Arora's departure is a loss for Google. "He was a major contributor to the company," said Mr. Mahaney, "but he's been there a long time and it's not too surprising."
Mr. Arora was known as an effective executive with an equally aggressive style that often clashed with engineers at the company. That was in part because he had the difficult job of squeezing advertising revenue from Google's many products, sometimes at the expense of the users.
Growth of so-called other revenue accelerated to 53 percent in the second quarter, up from 48 percent in the first quarter.
The growth is led by rising sales of apps on Google Play, the digital bazaar where users of smartphones and tablets powered by Google's Android operating system buy games, music, books and more. App sales is Google's largest non-advertising business.
New disclosures this quarter confirmed that the company's own sites are powering its revenue growth. The volume of clicks on search ads rose 33 percent on its own sites, which include google.com and youtube.com, compared with 9 percent click growth for the network of other sites that feature Google ads -- including aol.com and ask.com. The average price of clicks continued to fall, though less quickly for Google-owned sites, down 7 percent, compared with a 13 percent drop for non-Google sites.
Both trends are a result of the explosion of mobile devices, which is generating more clicks on Google ads, but ultimately not as many sales for advertisers. Adobe estimates that advertisers paid 37 percent less for a click on a smartphone than on a desktop or tablet over the past 11 months, though the gap between devices is narrowing.
Google is the largest online advertising company by far. Research firm eMarketer estimates that Google will generate $44 billion of net advertising revenue this year, up 15 percent from the prior year. Nearest rival Facebook (FB) will deliver net ad sales of $10.9 billion this year, forecasts eMarketer, up 56 percent.
Google shares rose 1.4 percent in after-hours trading Thursday, after falling 1.7 percent to $580.82 during the regular trading day. 
More from The Wall Street Journal
With facts o'plenty that manipulative technology is ruining our society and dooming humans to an unsustainable future, why do we keep funding these cancers? The world is not better for drained minds that cannot think for themselves, are constantly distracted and dysfunctional in society. We aren't progressing. We are dying.
We are all aware that the M1 (money supply) has grown 572% over the past 14 years (ever since GW Bush redesigned the currency and had hyper-printing presses built). None of it shows up in our society. 100% of it kites through the financial sector so inept business platforms living off fake "ad" monies can assimilate us until we are zombies. It will take more than 100 years of Americans working full time at peak pay, giving 100% of earning to settle our indebtedness, to recover us. All we got for it are handheld devices that distract us and cost the user hundreds of times more than our old wall phones ever did.
Bring back the wall phone, kill those developing the overlord drones. 

google profits exceded expectations for a few cents because Obama paid google billions to spy on americans and to deliver malware and virus to abama's criitics computers.Also google is a big Obama financial supporter.As payback he gets it stock inflating using colluded bail out banks to buy its stock and sell it at high prices to 401k funds and innocent investors and creating worlds record inequality

Are you sure you want to delete this comment?
DATA PROVIDERS
Copyright © 2014 Microsoft. All rights reserved.
Fundamental company data and historical chart data provided by Morningstar Inc. Real-time index quotes and delayed quotes supplied by Morningstar Inc. Quotes delayed by up to 15 minutes, except where indicated otherwise. Fund summary, fund performance and dividend data provided by Morningstar Inc. Analyst recommendations provided by Zacks Investment Research. StockScouter data provided by Verus Analytics. IPO data provided by Hoover's Inc. Index membership data provided by Morningstar Inc.
ABOUT
Top Stocks provides analysis about the most noteworthy stocks in the market each day, combining some of the best content from around the MSN Money site and the rest of the Web.
Contributors include professional investors and journalists affiliated with MSN Money.
Follow us on Twitter @topstocksmsn.