The lingering tale of the tapped-out consumer
Ever since the Great Recession, many investors have been leery of consumer stocks. The data shows they shouldn't be.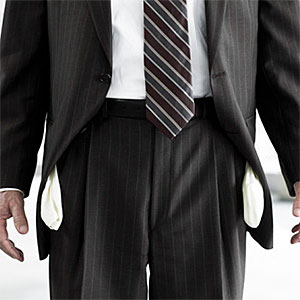 In baseball lore, few events are as celebrated as Babe Ruth's "called shot". The story goes like this: In the fifth inning of Game 3 of the 1932 World Series, Ruth came to the plate, and, while engaged in some serious back-and-forth jawing with Chicago Cubs players, pointed to Wrigley Field's center field bleachers as if to say, "That's where I'm hitting the next pitch." Then, incredibly, he did just that, crushing a home run that gave the Yankees the lead -- and Ruth's legend one of its signature moments.
There's just one small problem: The called-shot story may well be completely false -- over the years, plenty of eyewitnesses, including some of Ruth's teammates, have cast doubt on it. But once one reporter portrayed it that way, others followed, and soon the facts didn't really matter. Many, if not most, baseball fans simply accepted it as true.
That's not uncommon. As human beings, we want to believe in stories. In a world full of unpredictability and chaos, we look to stories to give us understanding, to give us a sense of order. (Barry Ritholtz has a great column on this on The Big Picture blog.) That's all well and good when it comes to a baseball legend. But in the investing world, putting stories ahead of facts is very dangerous.

Since the 2008 financial crisis, for example, investors have been giving credence to a number of fear-filled stories. One of the most prominent: the tale of the tapped-out American consumer. According to this story, the housing market crash, stock market implosion, and near-collapse of the entire financial system dealt U.S. consumers a knockout blow in 2008, one from which they wouldn't be able to recover for years, perhaps even decades. Huge declines in consumer spending would mean years of struggle for the economy, and for retail firms in particular.
Like most tall tales, the tapped-out-consumer story was grounded in some truth -- Americans did cut back spending significantly amid the crisis, and they were over-leveraged. But amid the fear-filled climate of 2008 and 2009, the tale spun a bit out of control, in part because it provided a great story arc -- after years of overspending and living high on the hog, Americans were getting their comeuppance. Forget Gucci handbags and Prada shoes; citizens of the most powerful country in the world would soon be on the verge of scavenging for food and weaving clothing out of leaves and branches. What drama!
Who knows -- had a few things gone differently, perhaps that scenario would have played out. But it didn't. Consider these facts: While they trended downward from December 2007 to April 2009, real personal consumption expenditures have been on the rebound ever since, and are now 4.7% above that December 2007 peak. Retail sales, meanwhile, are 11.8% above their November 2007 peak. And after climbing above 14% in mid-2007, Americans' collective debt service ratio (the ratio of outstanding mortgage and consumer debt to disposable personal income) has fallen to 10.32% in the fourth quarter of 2012 and 10.49% in this year's first quarter. Those two most recent readings are the lowest the ratio has been at any time since 1980.
Still, the tapped-out-consumer story lingers. And that's good. Because when the story and the facts diverge, opportunities are created. Right now, my Guru Strategies -- which are based on the approaches of some of history's greatest investors -- are finding great value in the retail apparel industry. In fact, it's the top-ranked industry in the market according to my Validea Industry Index, which ranks industries based on a composite of growth and value factors. Here's a look at a handful of apparel retailers that my models think aren't getting enough love -- likely because of the tapped-out-consumer tale.
rue21, inc. (RUE): This trendy, Pennsylvania-based specialty apparel retailer caters to 11- to 17-year-olds. It recently opened its 700th store in the U.S., operating in 46 states. It has a market cap of about $1 billion.
rue21 gets approval from my Peter Lynch- and James O'Shaughnessy-based models. While the stock's P/E doesn't look cheap -- it's about 24 -- Lynch believed that higher P/Es were merited if the company was growing quickly. And rue21 has been growing earnings per share at a 30.1% pace over the long haul (I use an average of the three-, four-, and five-year EPS growth rates to determine a long-term rate.) That makes for a P/E-to-Growth ratio (a metric Lynch developed) of 0.8, which comes in under this model's 1.0 upper limit -- a sign rue21 is a bargain.
My O'Shaughnessy-based growth model looks for firms that have upped earnings per share in each year of the past five-year period, which rue21 has done. The model also looks for a key combination of variables: a high relative strength, which is a sign the market is embracing the stock, and a low price/sales ratio, which is a sign it hasn't gotten too pricey. rue21 has a solid 12-month relative strength of 82, and its P/S ratio of just 1.07 comes in well below this model's 1.5 upper limit.
Coach Inc. (COH): This New York City-based luxury handbag maker actually wasn't hit too hard during the Great Recession, and it has thrived since then. The $17-billion-market-c​ap firm is a favorite of my Warren Buffett-based model. It looks for firms with lengthy histories of earnings growth, manageable debt, and high returns on equity (which is a sign of the "durable competitive advantage" Buffett is known to seek). Coach has upped EPS in all but one year of the past decade, has less than $1 million in debt vs. over $1 billion in annual earnings, and has averaged an ROE of 37% over the past ten years, so it makes the grade.
Coach also gets high marks from my Lynch-inspired strategy. For moderate-growth, dividend-paying companies, Lynch added dividend yield to the "G" portion of the PEG ratio. Coach's 16.1 P/E, 2.3% yield, and 17.1% growth rate make for a solid yield-adjusted PEG of 0.83.
The TJX Companies, Inc. (TJX): The parent of discount retailers that include Marshalls and T.J. Maxx has done exceptionally well in recent years. The $37-billion-market-c​ap company has grown EPS in each year of the past decade, one reason it's a favorite of my Buffett-based model. Two more: It has also averaged a 37.5% return on equity over the past decade, and its annual earnings are more than its long-term debt.
My Lynch-based model also likes TJX. The firm's 19.8 P/E and 23.8% long-term growth rate make for a solid 0.83 PEG ratio.
Genesco Inc. (GCO): Nashville-based Genesco sells footwear, headwear, sports apparel and accessories in more than 2,455 retail stores throughout the U.S., Canada, the U.K, and Ireland under such names as Journeys, Schuh, Lids, and Johnston & Murphy. The $1.7-billion-market-​cap company has taken in more than $2.5 billion in sales over the past year.
Genesco gets high marks from my Lynch model, which loves its 15.9 P/E and 39.9% growth rate, which make for a 0.4 PEG. It also likes the firm's minimal 6.5% debt/equity ratio.
The Men's Wearhouse (MW): The Houston-based retailer, which recently acquired Joseph Abboud menswear -- and replaced co-founder and executive chairman George Zimmer -- sells a variety of bargain-priced suits and rents tuxedos. It has a $2 billion market cap.
Men's Wearhouse is another favorite of my Lynch-based model. It's grown EPS at a 21.2% rate over the long haul and has a 14.8 P/E, making for a strong 0.7 PEG. It also has no long-term debt.
I'm long TJX and COH.
MSN Money on Twitter and Facebook
Like us on Facebook: MSN Money and Top Stocks
Follow us on Twitter: @msn_money and @topstocksmsn

First of all, Uncle Ben was appointed by Bush, not Obama. The only influence you will see via Obama is when Uncle Ben leaves. Even then, the Fed can only be dictated to by Congress, not the President. Low information are clueless about regulations and their effects. Smaller investment firms aren't hurt by Regulations as clearly there is practically ZERO enforcement.

The lack of quality Jobs being created now have very little to do with Obama and everything to do with Corporate America. They can outsource and or in-source Robotics. America is drowning in low information voters that are literally killing America. They consider themselves to be the only True Americans and spit on the rest of us. They claim to understand the Constitutions and how it should be interpreted. Therefore, If the current interpretation doesn't benefit only them, they cry foul. These low information voters would frighten the founders, contrary to what they want you to think.



The real problem is the complicit nature of the government in assuring the big corporations crush their smaller competition by imposing insane barriers to entry for every single industry you can think of.  When a big investment firm does something wrong that creates 10 new regulations, they actually benefit since those 10 new regulations hurt the smaller investment firms FAR more than they hurt a JP Morgan or Merrill Lynch.  In return the biggest corporations (or special interests) fund the campaigns of members of both parties.  How else do you explain the federal reserve's current policy?  Giving cheap money to the biggest banks (which they use to speculate on commodities like fuel, food, and metals) is supposed to "build out the middle class"?  "But Obama doesn't control the Federal Reserve!!!" you say?  Well he can apparently pick and choose which sections of congressionally passed law go into effect so I'm PRETTY SURE he could influence the Fed IF HE WANTED.
The key is that he doesn't want to... he knows the cheap money is the only thing fueling our economy right now and if that changed he would have to answer for his complete lack of truly stimulating LONG TERM economic policies like simplifying the tax code, reducing regulatory burden, and cutting government spending.
The stories about economic recovery never dive into the details like the fact that most of the jobs being created now are part time service sector jobs and that manufacturing continues to leave our country for other places where they can operate in a reasonable business climate.  Our economy is still in REALLY bad shape right now when you pull back the curtain and really look at the data.
Are you sure you want to delete this comment?
DATA PROVIDERS
Copyright © 2014 Microsoft. All rights reserved.
Fundamental company data and historical chart data provided by Morningstar Inc. Real-time index quotes and delayed quotes supplied by Morningstar Inc. Quotes delayed by up to 15 minutes, except where indicated otherwise. Fund summary, fund performance and dividend data provided by Morningstar Inc. Analyst recommendations provided by Zacks Investment Research. StockScouter data provided by Verus Analytics. IPO data provided by Hoover's Inc. Index membership data provided by Morningstar Inc.
ABOUT
Top Stocks provides analysis about the most noteworthy stocks in the market each day, combining some of the best content from around the MSN Money site and the rest of the Web.
Contributors include professional investors and journalists affiliated with MSN Money.
Follow us on Twitter @topstocksmsn.