The 'secret' reason to sell Tesla now
Forget about videos of car fires. Here's a little-known but much bigger threat to the automaker's bottom line.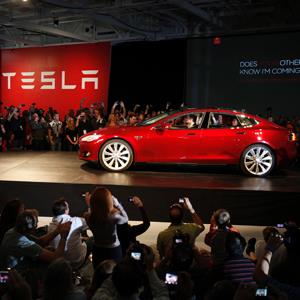 By Joseph Hogue                                                            

Everybody loves a lottery ticket. People will weekly put down their hard-earned money for a 1-in-175 million chance of being rich.
And that is the kind of fervor that has driven shares of
Tesla Motors
(
TSLA
) up more than 450% over the past year. Sure, the automaker is increasing production and profits are increasing, but there is nothing that can explain the surge in the stock price like good old-fashioned irrational exuberance.
For investors who got in at the ground floor in 2010, congratulations. For those that have recently bought into the shares and are hoping on another quadrupling, you may want to read on.
You thought the car fire was bad
Shares of the $19.6 billion company tumbled 10% in the two days after an Oct. 1 video showed a Model S on fire in California. CEO Elon Musk eventually identified the cause of the fire as a loose piece of metal from a passing truck that punctured the car's battery. The National Highway Traffic Safety Administration has said it will not investigate the incident, but shares of TSLA still have not recovered to their pre-video high.
Worse than the car fire, however, is the possibility that Tesla may soon see much of its gross profits go up in smoke.
Bloomberg West recently reported that the California Air Resource Board is re-evaluating its assignment of tax credits for zero-emission vehicles. These tax credits are given to automakers for each year to incentivize production of environmentally friendly vehicles that might otherwise not be profitable. The companies can then sell these credits or use them against their own taxes.
Tesla receives seven zero-emission vehicle credits for every car it sells and depends on those credits for almost two-thirds of its gross profits. At least three of those credits are tied to the ability to swap out the battery in its cars. The problem is that there are no battery-swapping stations available, and the California resource board is considering a change to its credit policy.
The fact that there are no battery-switching stations available for owners of Tesla cars means the credits are not fulfilling their intended purpose of industry change. One member of the California board noted that the credits are not intended as a "hypothetical" incentive, meaning that companies should not receive the credit if the batteries could potentially be swapped if there were the necessary infrastructure.
The California board delayed an announcement in October but said that a decision would be made by the end of the year, after which a 45-day public comment period would follow. Tesla management has said that the company can operate without the credits. That may be true, but an immediate loss of 25% to 60% of gross profits will certainly affect financials and stock sentiment.
I see the potential for a steep sell-off on any bad news. Even if the California board does not come down against the credits, the valuation in the shares does not leave much room for further gains. The risk-reward trade-off means investors are not being compensated for the possibility of a big drop.
Best-case scenario: Not good
The best outcome for Tesla would be if the resource board extended the current credit environment, presumably on the hope that battery-swapping stations would eventually be built. This means no sudden drop in profits for the company and possibly consensus estimates for earnings.
The Street estimate is for sales of $3.1 billion in 2014 sales and earnings of $1.72 per share. This represents a 37% increase in sales and a doubling of the company's profit margin to 7% from 3.5% in the previous year.
By comparison,
Ford
(
F
) has a margin of 4.4% and
General Motors
(
GM
) is able to eke out just a 2.9% profit margin. This would all be a pretty amazing feat but would still leave the shares valued at 94 times earnings.
But wait, it gets worse. At the end of last year, the company had 25 million stock options outstanding, with almost half (11.2 million) exercisable this year and the rest exercisable over the next couple of years. The highest exercise price on the options is $36.01, so they are likely to be exercised, diluting existing shareholders by nearly 17%.
Adding in the new shares, the company has to make 40% annual sales growth and maintain margins twice as high as competitors for the next several years just to justify its share price. At 2018 sales of $11.6 billion and earnings of $5.54, the shares would still cost a hefty 29 times trailing earnings, compared with an industry average of 14 times.
That is five years of everything going right -- and the shares would still be pricey.
Now if you consider what happens if the California Air Resource Board eliminates three of the seven tax credits that the company depends on, then you start to see how the whole thing could just fall apart.
Risks to consider: Shares are already down 13% from their high, but the stock has continually confounded the bears with new highs. The long-term upside to the company and its product may eventually justify the stock price, but I would not worry about missing out on upside for at least the rest of the year.
Action to take: Shares of Tesla have increased almost fivefold over the last year and trade at an eye-popping valuation. Whether the company loses any of its tax credits or not, investors may want to consider taking profits and avoiding the shares.
Joseph Hogue does not personally hold positions in any securities mentioned in this article.
StreetAuthority LLC does not hold positions in any securities mentioned in this article.
More from StreetAuthority
DATA PROVIDERS
Copyright © 2014 Microsoft. All rights reserved.
Fundamental company data and historical chart data provided by Morningstar Inc. Real-time index quotes and delayed quotes supplied by Morningstar Inc. Quotes delayed by up to 15 minutes, except where indicated otherwise. Fund summary, fund performance and dividend data provided by Morningstar Inc. Analyst recommendations provided by Zacks Investment Research. StockScouter data provided by Verus Analytics. IPO data provided by Hoover's Inc. Index membership data provided by Morningstar Inc.
ABOUT
Top Stocks provides analysis about the most noteworthy stocks in the market each day, combining some of the best content from around the MSN Money site and the rest of the Web.
Contributors include professional investors and journalists affiliated with MSN Money.
Follow us on Twitter @topstocksmsn.