This is not a 2000-style stock bubble
Rather, we are simply struggling with how to value the shares that had been the market leaders before things shifted in late February.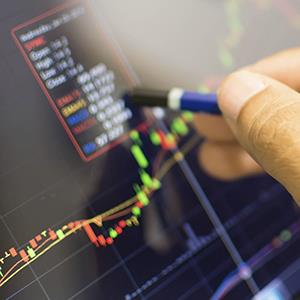 We shouldn't be talking about bubbles. We should be talking about incredible shrinking bubbles. That's right, the denizens of pure overvaluation are coming down so hard and so fast in this market that the idea that we are about to see a hideous year-2000-like bubble collapse smacks more of fiction than of fact.
While there could be plenty of damage ahead in the once-amazingly overvalued momentum stocks, you must admit that a great deal has already occurred. Also, we've seen the overall market go higher as these stocks go down -- not lower, as we saw in 2000. The drowning man isn't pulling down the strong swimmers around him. They are just letting him drown and going along their merry way to better, safer waters.

I continue to search for the disconnect between what is happening with the momentum stocks and what is happening with the rest of the market, and I have concluded that the two markets are collapsing into one. It now appears there is only one form of ordering: the traditional metric of earnings per share.
That's right, we are no longer using two sets of parameters to measure stocks -- revenue growth on one hand and earnings growth on the other. We are simply valuing all stocks on the basis of the actual reported earnings growth, and the revenue-growth metric is being discredited daily, even if it revolves around bountiful cash flow. At this moment, cash flow means nothing. Only actual reported earnings per share can inspire a higher stock price.
This discrediting of the value of revenue growth is not in any way, shape or form similar to the discrediting process that the Nasdaq underwent in 2000. At that point we had sought to value Internet-related stocks not on revenue but on all sorts of ephemeral data, such as eyeballs, unique users, stickiness of the site and future monetization of contracts that could or could not ultimately occur. In that period the vast majority of the 300 companies that had initial public offerings, and failed, would almost never report a profit, and most had little or no revenue to speak of. If they did have revenue, they were spending fortunes -- and losing them -- in order to get them.
If there is a similarity between now and then, it's this: Then, as now, the market reverted to being valued on EPS. But we must never confuse the revenue standard that the momentum funds had been using in 2014 with the eyeball-unique garbage metrics from the days of yore.
That will be important, as you shall see, because, as overvalued as some companies got this time around, I think the possibility of most of them failing is not all that great, with the exception of those going public in 2014. Those are a different and far more egregiously negative story.
You may still dismiss these arguments and hold your ground, claiming that when the leadership component of the market rolls over, the rest of the market must follow in its footsteps. But consider the 2000 situation again. We know that the week the Nasdaq peaked in 2000 was the same week we began to see a rally in the majority of the S&P 500 stocks that had been treading water. You just won't notice it if you look at the charts now because, at that peak, an astounding 33 percent of the S&P moment was made up of tech stocks -- almost double the current percentage.
We talk about disappearances of tens of billions in market capitalization back then -- but the smaller stocks, the dot-bombs, weren't responsible for most of it. Here are some of the stocks that were responsible, along with their peak valuations:  Microsoft (MSFT) at $476 billion -- now $326 billion; Cisco (CSCO) at $448 billion -- now at $118 billion; Intel (INTC) at $277 billion -- now at $130 billion; and Oracle (ORCL) at $200 billion -- now at $182 billion. (Microsoft owns and publishes MSN Money.)

You can see how the S&P would struggle to go higher in aggregate as those tech stocks deflated. On a chart it looks like the Nasdaq brought down the S&P 500, in keeping with the current fear-mongering I hear all over the place. In reality, a close reading of the individual charts says this doomsday view does not hold up to close scrutiny. The beheadings of the overvalued techs in the S&P 500 created more losses than what the rest of the market could absorb, so the S&P ultimately went lower.
But if you analyze the breakdown, you will see that what was happening underneath is precisely what is happening now: tremendous gains in utilities, consumer-goods stocks, drug companies and classic growth stocks that had nothing to do with tech.
And while the averages are currently hitting all-time highs, understand that the valuations are pretty tame. Interestingly, the largest price-to-earnings-mu​ltiple stretches as a function of growth rate are coming from the utilities and the real estate investment trusts. In fact, if you want a bubble, look no further than these stocks, as they are simply part and parcel with the real worldwide bubble -- the bubble in the global bond markets. They are a function of the 10-year U.S. Treasury threatening to break through a 2.5 percent yield at all times. But that's for another article.
Still, I recognize the pain in the market, and I want to attack it and show you what I think is really going on. You see, I do not believe the market is undergoing a crisis that will end with the collapse of companies worth hundreds of billions of dollars, as in 2000. We are simply struggling with how to value the stocks that had been the market leaders before the market changed its coloration at the end of February -- a shift that came with the pirouette in Salesforce.com (CRM). After the company reported a fabulous quarter, better than what all analysts were expecting, the stock hit an all-time high in after-hours trading and then belly-flopped the next day. That was the beginning of a swoon that has taken the bellwether stock of the group from $66 to $50, with no real sign of bottoming on the horizon.
Until that reversal, the momentum bulls had felt they would be rewarded continually if they owned stocks with tremendous sales momentum. It had worked ever since the great slowdown in the economy, and there was no reason to believe it was going to stop working.
But it did stop working, and that's still the case today. If the best tech company in the hottest area of tech -- cloud-based software-as-a-servic​e -- gives you spectacular growth and the stock fails to go higher, what does that mean for the less than stellar, less profitable firm? Well, we seem to find out the answer to that daily, don't we?
Jim Cramer's Action Alerts Plus: Check out this charitable trust portfolio to see the stocks Cramer thinks could be winners.
More from TheStreet
DATA PROVIDERS
Copyright © 2014 Microsoft. All rights reserved.
Fundamental company data and historical chart data provided by Morningstar Inc. Real-time index quotes and delayed quotes supplied by Morningstar Inc. Quotes delayed by up to 15 minutes, except where indicated otherwise. Fund summary, fund performance and dividend data provided by Morningstar Inc. Analyst recommendations provided by Zacks Investment Research. StockScouter data provided by Verus Analytics. IPO data provided by Hoover's Inc. Index membership data provided by Morningstar Inc.
ABOUT
Top Stocks provides analysis about the most noteworthy stocks in the market each day, combining some of the best content from around the MSN Money site and the rest of the Web.
Contributors include professional investors and journalists affiliated with MSN Money.
Follow us on Twitter @topstocksmsn.