Time's bull-market cover may signal a top is near
Once a big idea becomes part of the national dialogue, a veteran money manager says, it loses its force and fades. His conclusion: Stocks may well be lower in a year.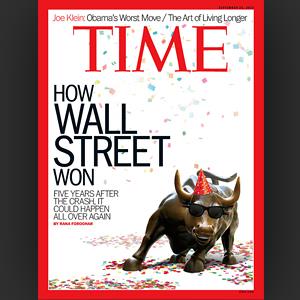 Updated: 5:09 p.m. ET

More than a few of us who saw Time magazine's cover for this week said to themselves, "Uh oh."
The cover, as you can see here, shows an image of a snarky bull, wearing a party hat and sunglasses standing among confetti. The text says "How Wall Street won: Five years after the crash, it could happen all over again."
What the cover suggests to Newport News, Va., money manager Paul Montgomery is two things:
First, the market has reached or is near a top.
Second, the market has an 80% chance of being lower a year from now.
The
Dow Jones industrials'
(
$INDU
) current peak close is 15,658.36 set on Aug. 2. The blue chips closed up 119 points to 15,495 on Monday after reaching as high as 15,550. The
Nasdaq Composite Index
(
$COMPX
) hit a 13-year high of 3,756.24 right after Monday's open but faded back to 3,718, down four points.
The
Standard & Poor's 500 Index
(
$INX
) hit 1,705 around noon ET before dropping back to 1,698, a gain of nearly 10 points. The S&P 500's push above 1,700 was its first since Aug. 8. The intraday high was the highest since Aug. 6.
The Dow and S&P 500 highs may not be market's peaks for this cycle; Montgomery believes the indexes may set new records in the next six weeks. And then comes the slide.
You can get all this from a magazine cover?
Yes, Montgomery said Monday. The covers are a reflection of how deeply an idea has saturated the national consciousness. Once an idea -- in this case, the bull market -- has become dispersed throughout the population, it can't go much further.
Wait, but the text doesn't suggest the bull market is here to stay. Quite the opposite. True, Montgomery said. But it is the image that will catch people's eyes first. That's what counts. The image suggests there's a bull market going on, and its days may be numbered.
To be sure, lots of people have been saying the market is too high and needs to fall back. Montgomery's theory suggests the market will probably fall back.
Montgomery started to study the effect of magazine covers on markets when he was an analyst with Legg Mason in Baltimore, where he worked for about 30 years. He is now the CEO of Montgomery Capital and editor of a newsletter, Universal Economics.
He's seen this happen on multiple occasions. Consider Time's Dec. 27, 1999, issue, when the magazine named
Amazon.com
(
AMZN
) founder Jeff Bezos "Person of the Year." The magazine itself came out around Dec. 20. Amazon shares had a closing peak at $106.69 on Dec. 10.
The market crashed with the bursting of the dot-com bubble in 2000 and the Sept. 11, 2001, terror attacks. Amazon shares totally fell apart. The closing low was $5.97 on Sept. 28, 2001, with an intraday low of $5.51 on Oct. 1, 2001. The stock wouldn't see $100 again until Oct. 23, 2009.
Or, since we're dealing with the fifth year after the Lehman Bros. collapse, look at Time's cover on June 13, 2005. An image shows a man hugging his house. The text on the cover is: "Home $weet Home: Why we're going gaga over real estate."
Existing home sales, according to data from the National Association of Realtors, peaked at an annualized 7.25 million units in September 2005 (seasonally adjusted). The NAR estimated sales in September 2006 at 6.28 million units annualized.
The bottom came in July 2010 at 3.39 million units, a decline of 53.2% from the peak. The report was released just after the Sept. 6, 2010, Time cover talked about "Rethinking homeownership: Why owning a home may no longer make economic sense."
Existing home sales are up 59% since.
The
Russell 2000 Index
hit an all-time intraday high Monday morning before it, too, slipped back to 1,056, up 2 points.
The Nasdaq was weighed down by
Apple
(
AAPL
), which closed down $14.78 to $450.12. Apple's decline subtracted 12 points from the the
Nasdaq-100 Index
(
$NDX
) and was the primary reason the index fell nearly 10 points to 3,169.
Twenty-six of the 30 Dow components were higher, led by
Boeing
(
BA
), up $4.34 to $115.67, and
General Electric
(
GE
), up 36 cents to $24.14. A total of 405 S&P 500 stocks were higher, led  by
Allegheny Technologies
(
ATI
) and Boeing. Apple and chip maker
Altera
(
ALTR
) were the laggards.
Seventy Nasdaq-100 stocks were higher, led by
Broadcom
(
BRCM
) and
Expedia
(
EXPE
), up 81 cents to $26.91, and $1.23 to $52.42, respectively.
Facebook
(
FB
), down $1.80 to $42.51, and Apple were the biggest biggest percentage losers.
Crude oil in New York fell $1.62 to $106.59 a barrel. Brent crude was down $3.12 to $109.66 a barrel. But the price of gasoline nationally averaged $3.517 a gallon on Monday, according to
AAA's Daily Fuel Gauge Report
. That was down from $3.54 on Friday and down 1.9% in September.
Gold rose $9.20 to $1,317.80 an ounce. The 10-year Treasury yield was 2.874% on Monday, down from Friday's 2.898% on Friday.
More from Top Stocks

Trader manipulation of the news -- chemical warfare, tragic  shootings, QE tapering.  Summers -- is sickening.  You will be held accountable   Greedy traders are the cesspool of  Wall Street.  See them at their worst at the close of trade as they compete for the last dime., driven by unfathomable greed.

The Death of Wall Street is eminent now. To be wealthy from it won't be smart or wise as the nation moves to find stability. Many joke when I write-- Eat the rich, they were Prime-Fed while we got GMO'd... but it's true. A rise in the artificial world (that's what Wall Street affords) means a suffering in the real world. We have inherited business platforms well out of control and free enterprise suppressed into poverty and destitution. When a fat cat with a tin foil hat can get silly wealthy while the average family barely puts dinner on the table-- you get the fuel to tear fools apart. The HUGE problem that will be the primary concern is-- while the rich say-- "whose army is going to stop us"... an army will appear and won't bother checking for GOP PAC cards, they'll tear-down indiscriminately. That will undermine the nation a turn it primitive at best. That given... we lack a focus on fundamental skills because of the stupid handheld device and app fad. Get smart, folks... if you haven't the time, patience or skills to do basic sustaining... you're history. When anyone can be rich and anyone can get a degree... count on those things being meaningless and seek out what they suppressed or ignored. Craft, skill, ingenuity, innovation that progresses the nation... those are horses worth betting on. Wealth will make you stand out-- like a Bulls Eye on your forehead.
Are you sure you want to delete this comment?
DATA PROVIDERS
Copyright © 2014 Microsoft. All rights reserved.
Fundamental company data and historical chart data provided by Morningstar Inc. Real-time index quotes and delayed quotes supplied by Morningstar Inc. Quotes delayed by up to 15 minutes, except where indicated otherwise. Fund summary, fund performance and dividend data provided by Morningstar Inc. Analyst recommendations provided by Zacks Investment Research. StockScouter data provided by Verus Analytics. IPO data provided by Hoover's Inc. Index membership data provided by Morningstar Inc.
ABOUT
Top Stocks provides analysis about the most noteworthy stocks in the market each day, combining some of the best content from around the MSN Money site and the rest of the Web.
Contributors include professional investors and journalists affiliated with MSN Money.
Follow us on Twitter @topstocksmsn.