Tobacco boss who 'vapes' could alter industry
The CEO of Reynolds American could soon hold enormous clout in how quickly the sector switches from combustible smokes to nicotine products.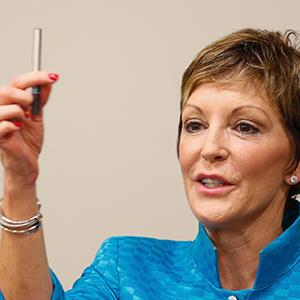 By Mike Esterl,
The Wall Street Journal
Longtime tobacco executive Susan Cameron (pictured), the chief executive of Reynolds American (RAI), is a former smoker who these days puffs, or "vapes," on electronic cigarettes.

That in itself is a hint as to the strategy behind her company's talks to acquire Lorillard (LO), which makes Newport cigarettes and Blu e-cigarettes.
The possible deal between Reynolds and Lorillard presents a historic opportunity to reshape the tobacco industry, pushing it more quickly into new avenues like electronic cigarettes, which use battery power to turn nicotine-laced liquid into vapor and one day could displace traditional smokes.
A decade ago, Ms. Cameron, then known as Susan Ivey, shepherded Reynolds Tobacco Holdings Inc. through its $3 billion merger with Brown & Williamson, creating Reynolds American. Now, just months after the 55-year-old Ms. Cameron returned to Reynolds as CEO after a short stint in retirement, the company is pursuing what would be a far more ambitious merger. 
A deal -- uniting companies with a combined stock market capitalization of more than $50 billion -- could be announced as early as this week, though it would be complex and both Reynolds and Lorillard cautioned there are no guarantees.
If a Reynolds-Lorillard marriage goes through, Ms. Cameron could hold enormous clout in how quickly the tobacco industry switches from combustible smokes to nicotine products like moist snuff, electronic cigarettes and even chewing gum that are viewed as less harmful by much of the scientific community.
Lorillard's Blu e-cig brand, acquired by Lorillard in 2012, has more than a 40 percent market share of electronic cigarettes sold at U.S. convenience stores. Last month Reynolds began a national launch of Vuse e-cigarettes.
Ms. Cameron, who was Reynolds's CEO from 2004 to 2011, was the first woman to head a major tobacco company. When she agreed to come out of retirement to return to the chief executive job on May 1, she signaled that she had ambitious plans.
Reynolds's "strategic mission to transform the tobacco industry is a fascinating journey. I'm looking forward to the opportunity to not just advance, but accelerate, that momentum,'' she said in a statement announcing her return. She has turned down numerous requests to be interviewed since then.
If the past is an indicator, she will push hard to experiment with new products. She has already steered Reynolds, the maker of Camel and Pall Mall cigarettes, more aggressively into alternative smokeless products in recent years.
Shortly before she retired in 2011, Ms. Cameron sucked on Camel Strips, tobacco wafers that dissolved on the tongue, at Reynolds board meetings. Under her leadership, the company also sold Camel Orbs, small oval-shaped lozenges, in test markets.
Ms. Cameron also rolled out Camel Snus, a spitless tobacco pouch, while heading Reynolds. In late 2009, Reynolds bought Niconovum AB, a Swedish manufacturer of nicotine gums and sprays, making it the first big tobacco company to move into tobacco-cessation products.
Many of those efforts haven't paid off yet. Indeed, Reynolds has stopped selling Camel Strips and Camel Orbs. Nevertheless, Reynolds has tried to be ahead of the curve in alternatives to cigarettes. 
In 2006 the company acquired Conwood Co., maker of Grizzly moist snuff, for $3.5 billion. By contrast, archrival Altria Group (MO), maker of Marlboro, made its move into the smokeless tobacco market several years later in 2009, when it acquired UST Inc., maker of Copenhagen and Skoal moist snuff, for $10.4 billion.
Tobacco, of course, would still be the bulk of the business, and joining forces with Lorillard would help it compete with Altria, which still controls roughly half of the $100 billion U.S. tobacco market.
The addition of Lorillard's Newports should give Reynolds a dominant position in mint-flavored menthol cigarettes, which have been stealing share from non-flavored smokes and generate more than 80 percent of Lorillard's revenue.
After rising through the ranks of British American Tobacco PLC's Brown & Williamson over two decades before becoming Reynolds's CEO in 2004, Ms. Cameron moved quickly to narrow the company's cigarette focus to a handful of brands in order to cut costs and boost profits.
The Lorillard deal would narrow brands further, it appears, since U.K.-based Imperial Tobacco PLC confirmed Friday it was in talks to acquire some Reynolds brands -- probably some of the smaller ones like Kool, Winston and Salem, according to industry observers.
Ms. Cameron represents a growing breed of tobacco CEOs that isn't afraid to expand beyond cigarettes, even as they continue to reap most of their revenue and profits from smokes. Murray Kessler, Lorillard's chief executive, formerly headed UST, the smokeless company now owned by Altria.
"She and [Mr. Kessler] are very similar in that they both get the changing market and that they can have tremendous impact on health,'' said David Sweanor, a law professor at the University of Ottawa who specializes in tobacco regulation and has met both executives.
More from The Wall Street Journal
DATA PROVIDERS
Copyright © 2014 Microsoft. All rights reserved.
Fundamental company data and historical chart data provided by Morningstar Inc. Real-time index quotes and delayed quotes supplied by Morningstar Inc. Quotes delayed by up to 15 minutes, except where indicated otherwise. Fund summary, fund performance and dividend data provided by Morningstar Inc. Analyst recommendations provided by Zacks Investment Research. StockScouter data provided by Verus Analytics. IPO data provided by Hoover's Inc. Index membership data provided by Morningstar Inc.
ABOUT
Top Stocks provides analysis about the most noteworthy stocks in the market each day, combining some of the best content from around the MSN Money site and the rest of the Web.
Contributors include professional investors and journalists affiliated with MSN Money.
Follow us on Twitter @topstocksmsn.