Toyota has an extraordinary financial year
The company had to pay Japanese corporate taxes for the first time since 2009, but it's not complaining.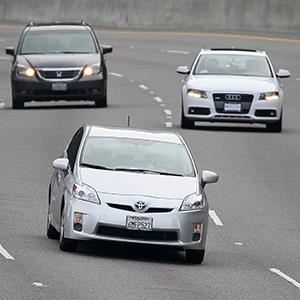 By Eric Pfanner and Megumi Fujikawa,
The Wall Street Journal
Lower taxes helped lure Toyota Motor's (TM) North American headquarters to Texas from California, but the cash-rich company says it welcomes the opportunity to contribute to the public coffers in Japan.

So strong were Toyota's financial results in the latest fiscal year, when net income surged by 90 percent to ¥1.8 trillion ($17.9 billion), that the company had to pay Japanese corporate taxes for the first time since Akio Toyoda took over as president in 2009. Far from complaining, during a news conference Thursday, Mr. Toyoda described the tax bill as a badge of honor.
"Being able to pay corporate taxes means we are contributing to society," Mr. Toyoda said. "That makes me very happy."
During most of Mr. Toyoda's tenure, Toyota has lost money in its domestic market, so it has been exempt from Japanese corporate taxes, despite being liable for them in the U.S. and other countries where it makes most of its money.
For the 12 months that ended in March, Toyota reported global income tax expenses of ¥422 billion, up from ¥158 billion a year earlier. It was just one indication of the company's extraordinary financial performance in a year when it became the first auto maker to sell more than 10 million vehicles.
Operating profit jumped 74 percent to ¥2.3 trillion, breaking a record set six years ago, just before the global financial crisis took the bottom out of the global car market. Revenue rose 16 percent to ¥25.7 trillion.
Toyota acknowledged it wouldn't be able to achieve similar growth in the current fiscal year. Like other Japanese exporters, Toyota has benefited from the decline in the yen over the last two years, making overseas sales more lucrative when converted back into the Japanese currency.
Now that the yen has leveled off against the dollar and the euro, Toyota predicted that operating profit and revenue would be essentially flat in the current year, with net income slipping by 2.4 percent.
The auto maker said economic recovery in the U.S. and Europe would lift sales over the coming year, but predicted a drop of 165,000 vehicle sales in Japan following the increase in the national sales tax to 8 percent from 5 percent that took effect on April 1. The company said uncertainties in developing markets like Thailand, which has been torn by political strife, could weigh on results.
Analysts said political calculations might be one reason Toyota and other Japanese companies are issuing conservative forecasts for the coming year.
Japanese business groups are lobbying the government of Prime Minister Shinzo Abe for a lower corporate tax rate, which currently stands at about 35 percent.
The government, meanwhile, recently persuaded employers like Toyota to raise base wages for the first time since the global financial crisis began. It wants companies to keep lifting pay to spur inflation and economic growth.
For employers, "on a lot of these things it is probably better to look poor than rich," said Christopher Richter, an analyst at CLSA.
The predicted slowdown in growth didn't seem to bother Mr. Toyoda, who said some of the company's recent problems -- notwithstanding record earnings -- had been caused by overly rapid expansion.
In April, Toyota issued recalls affecting more than 6 million vehicles worldwide, the latest in a series of quality control problems at the world's largest auto maker. In March, the company paid a $1.2 billion fine in the U.S. related to safety problems that resulted in recalls in 2009 and 2010.
That payment, along with a move to end production in Australia, resulted in a ¥200 billion reduction to operating income in the latest fiscal year. As a result, net income actually slipped to ¥297 billion in the fourth quarter, from ¥314 billion a year earlier.
"We were like a tree that grew too rapidly, and as a result wasn't able to grow a strong enough trunk to protect it from the elements," Mr. Toyoda said.
In the future, the company intends to aim for "sustainable growth," even during economic downturns. Since the global financial crisis began, Toyota has reined in spending on new plants, while lower capital expenditures have contributed to its run of strong earnings.
"When Toyota says they have been doing a lot of restructuring over the last six years, they're not kidding," Mr. Richter said.
More from The Wall Street Journal

Toyota is a lot more pro-active on recalls now after the mega fine. They aren't the first car company to ignore safety concerns, as the Big Three from the past did the same thing, some just settling lawsuits instead of fixing problems. That was then, now the lawsuits are a lot bigger. Hopefully the consumer will be safer and benefit from big carmakers wanting to correct issues early instead of paying much bigger consequences down the line.


We call is as we see it folks and often as its happening...Warned you that at 1310 hrs manipulators started to take over the floor and do their thing and what was a triple digit lead on the Dow went negative in no time, now we are fighting just to stay on the green on the S&P, the Nasdaq is done, it has been a target for these scumbags all month....Like we always tell you, we could be up 100, 200, 300 points, its irrelevant, when manipulators take over on and off the floor everything reverses....These cheating crooks steal their money by dropping markets and that is exactly what they just did and always try to do....Oh well, it could always be worse...Lets see what bs they will come up with tomorrow.
Are you sure you want to delete this comment?
DATA PROVIDERS
Copyright © 2014 Microsoft. All rights reserved.
Fundamental company data and historical chart data provided by Morningstar Inc. Real-time index quotes and delayed quotes supplied by Morningstar Inc. Quotes delayed by up to 15 minutes, except where indicated otherwise. Fund summary, fund performance and dividend data provided by Morningstar Inc. Analyst recommendations provided by Zacks Investment Research. StockScouter data provided by Verus Analytics. IPO data provided by Hoover's Inc. Index membership data provided by Morningstar Inc.
ABOUT
Top Stocks provides analysis about the most noteworthy stocks in the market each day, combining some of the best content from around the MSN Money site and the rest of the Web.
Contributors include professional investors and journalists affiliated with MSN Money.
Follow us on Twitter @topstocksmsn.