This might be the next stock of the decade
TripAdvisor went public in December 2011 at $24 per share. Today it trades well north of $80.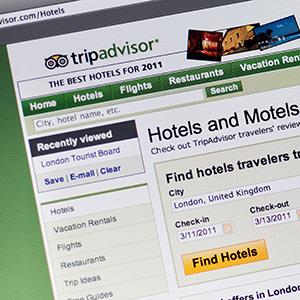 By Bill Gunderson

How important is TripAdvisor (TRIP) to the travel and leisure industry?
I recently went on a short vacation to a place that I read about on the Internet. The pictures of the place were fantastic. The restaurants looked superb and the golf course inviting. Throw in beautiful beaches plus world class fishing and I could hardly wait!
I looked up recent temperatures in the area and packed for 89-degree weather. A comb, a toothbrush, a bathing suit, some shorts and flip-flops ... what else does a guy need?
Oh yeah, my laptop. I still have a newsletter to write every weekend -- even while on vacation.
The flight was great, the weather was beautiful, and the sea was calm. The shrimp and bacon tacos were as good as any that I had eaten. The room was spotless, and the view was spectacular. I was settled in, ready to write my weekly newsletter.
But something was not quite right. It seemed like the room was awfully warm. I opened up all the windows to get some fresh air, while I tinkered with the thermostat. First I turned it to the left and patiently waited for cool air to flow through the room. Nothing.
Then I turned it all the way to the right, as this was the only choice left. I figured the room would turn into an iceberg any minute. Again, nothing. Something was not right. I had a newsletter to get out. It was too hot to work outside on the balcony. It was time to call the front desk.
It is always disconcerting to hear that the place was booked for the weekend and no other rooms were available, especially when one is so far from home and this is by far the best place in town. They told me that someone would be down right away to fix the A/C. Luckily, I had a small hand-held fan that I carry with me on airplanes, but it did little good in warding off 89-degree heat.
Needless to say, my temperature began to rise in more ways than one. Who gave this place five stars anyways?!
Knock, knock! Who's there? You fill in the punch line ...
It was the repairman with a box full of noisy tools to fix my A/C unit.
Stock market newsletters have a lot of numbers and decimal points in them. It takes a lot of concentration to write one. I should know, I have been doing it for the last 18 years.
Hammers, electric drills, ratchets and all those other funny looking things can make a lot of noise. It has a way of drowning out the seagulls and the crashing waves on the seashore.
After about 90 minutes of this racket, I was told that the job was finished. In the meantime, I did my best to get all of the decimal points in the right place.
I poured myself a cold drink and waited for the A/C to kick in. Nothing.
Even though it did not do anything the first time, I turned the thermostat all the way to the right. Same results as the first time. Nothing.
OK, being the engineer that I am, I turned it all the way to the left. My logical mind told me that this has to be full blast. Either my logic was messed up or the A/C still was not working!
My logic was fine and my internal temperature had reached the boiling point! This time when I called the front desk, there was a lot more urgency in my voice than before. I have to admit that I had also turned up the volume quite a bit.
I was told that the A/C repairman was on his way. While I was waiting, I logged into TripAdvisor (TRIP) and wrote a blistering review of a so-called five star resort! That was the best thing that I could have done.
When I showed the manager my posted review, I was promptly moved to a vacant room down the hall where the A/C worked just fine, thank you.
That review earned me two free nights and three free breakfast buffets.
How important is TripAdvisor to the travel and leisure industry?
How about the stock? Is it a Best Stock Now?
TripAdvisor became public in December 2011 at $24 per share. Today the stock trades well north of $80 per share and it is now a $12 billion dollar company.
I cannot help but compare the company to Priceline.com (PCLN). I wrote about Priceline in my book a few years ago and I continue to own the stock. It has been one of the best performing stocks in the entire market over the last one, three, five and 10 years! You can read my most recent article about the stock here.
Priceline continues to possess the three qualities that I demand in a stock: performance, value and a healthy stock chart.
How about TripAdvisor? Let's begin with performance
Performance
Obviously, the stock does not have a three-, five- or 10-year track record yet, but the last 12 months have been sensational. The stock currently earns a momentum grade of A-.
It is nice to have momentum, but value is equally as important.
Valuation
I use a formula that takes next year's earnings estimates ($2.20 per share) and extrapolates them out by the consenus growth rate (17.7 percemt) over the next five years.
I then apply a multiple that I think is appropriate for the shares and I establish a five-year target price. I like stocks that have at least 80 percent or more upside potential over the next five years.
TripAdvisor currently meets this criteria.
Stock Chart
Lastly, I like a good, healthy stock chart.
Nothing wrong with this one!
TRIP currently has the three criteria that I require in a stock. That is why I continue to own it here at my firm.
Of the 3,641 different investments that I track daily in my database, TRIP comes in at number 169.
More from TheStreet.com
DATA PROVIDERS
Copyright © 2014 Microsoft. All rights reserved.
Fundamental company data and historical chart data provided by Morningstar Inc. Real-time index quotes and delayed quotes supplied by Morningstar Inc. Quotes delayed by up to 15 minutes, except where indicated otherwise. Fund summary, fund performance and dividend data provided by Morningstar Inc. Analyst recommendations provided by Zacks Investment Research. StockScouter data provided by Verus Analytics. IPO data provided by Hoover's Inc. Index membership data provided by Morningstar Inc.
ABOUT
Top Stocks provides analysis about the most noteworthy stocks in the market each day, combining some of the best content from around the MSN Money site and the rest of the Web.
Contributors include professional investors and journalists affiliated with MSN Money.
Follow us on Twitter @topstocksmsn.