Turbulent times in the gold sector
Investors are worried about Barrick Gold and Yamana Gold. The precious metal overall doesn't seem ripe for a rally anytime soon.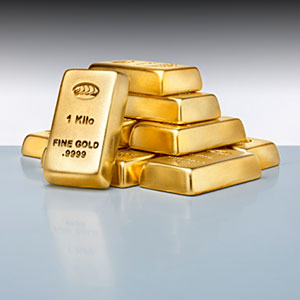 Barrick Gold
(
ABX
) freaked out the gold sector on Nov. 1 with news that it would raise at least $3 billion in a new stock offering.
At a minimum of 163.5 million shares, the offering represents 16% dilution for current shareholders. (Earnings would have to be spread over 16% more shares.)
And that has raised fears across the sector as traders and investors try to figure out which company might be next. Of course, as is usual, the initial reaction is to sell first and figure out the danger to any specific company later. 
Shares of Barrick Gold fell 11.2% on Nov. 1. Want an example of collateral damage? Shares of
Yamana Gold
(
AUY
) dropped 5.6% on the day. (Yamana Gold is a member of my Jubak's Picks
portfolio
.)
Here's the problem at Barrick Gold in a cash flow nutshell. With the drop in the price of gold, Barrick's revenue has tumbled and that has put a big strain on cash flow. The company finished the September quarter with $2.28 billion in cash and cash flow from operations of $1.23 billion. 
But because Barrick has such a big investment program, that operating cash flow turns into just $26 million in free cash flow. And that's after cutting dividend payments in the quarter to $50 million from $200 million and reducing capital spending to $1.21 billion from $1.56 billion.
Without those reductions Barrick Gold would have been free cash flow negative for the September quarter.
That left CEP Jamie Sokalsky with just a few options.
The company could further cut capital spending by suspending construction at projects such as the Pasua-Lama mine n the Argentina-Chile border. Barrick announced that it would do just that at the same time as it announced its stock offering. Cutting capital spending, however, is a tricky game since it does delay future revenue gains even if it saves money now.
Barrick could sell assets -- but with the price of gold and copper assets so low, this assures that assures that the company sells on the cheap.
Or the company could bite the bullet and sell stock.
Beyond the effects at Barrick, the stock sale raised worries across the sector that 1) Barrick was expecting gold prices to fall even further, and that 2) other gold miners will have to sell stock and dilute current shareholders.
I can't predict the price of gold from here. With the U.S. and global economies showing signs of weakness I think you can certainly make an argument that gold isn't a good candidate for a rally from here in the coming months.
I think you can get a handle on the dangers of dilution, however, at any company by taking a long look at cash flow. The picture isn't pretty even at the strongest companies in the sector. 
At Yamana, for example, cash flow from operations of $99 million in the September quarter turned into negative free cash flow of $119 for the period. The company hasn't yet reduced dividends but that seems quite possible in coming quarters. Yamana has cut capital expenditures to $218 million from $301 million, though.
In its conference call, Yamana said that it projected that the fourth quarter represented the end of a capital spending "bulge." Add that to an expected increase in gold production and improving margins and the company projected that its cash position would bottom in the fourth quarter and then begin to improve.
The question, of course, is whether or not you believe that projection. Yamana is forecasting that gold prices will be flat in 2014. That would be good news for the company's cash flow since I'd assume that given its current cost cutting record Yamana could grow cash flow if gold prices stayed steady.
Why do I think that's possible? From the second quarter of 2013 to the third quarter, Yamana was able to increase cash flow per share by 20%--from 20 cents a share to 24 cents a share by cutting costs and by shifting production to higher margin mines from lower margin mines.
I think this all means that investors in Yamana have a good chance of escaping the dilution that Barrick just delivered to its shareholders.
That isn't a lock, of course. And these certainly aren't great times in the gold sector. If, however, I could get a chance to buy Yamana Gold at $9 or less because of troubles at its sector peers, I think the risk would be more than repaid by the potential reward.

At the time of this writing, Jim Jubak didn't own shares of any companies mentioned in this post in personal portfolios. When in 2010 he started the mutual fund he manages, Jubak Global Equity Fund (JUBAX), he liquidated all his individual stock holdings and put the money into the fund. The fund may or may not own positions in any stock mentioned. The fund did own shares of Yamana Gold as of the end of June.
For a full list of the stocks in the fund as of the end of the most recent quarter, see the fund's portfolio here. 
More on Top Stocks
DATA PROVIDERS
Copyright © 2014 Microsoft. All rights reserved.
Fundamental company data and historical chart data provided by Morningstar Inc. Real-time index quotes and delayed quotes supplied by Morningstar Inc. Quotes delayed by up to 15 minutes, except where indicated otherwise. Fund summary, fund performance and dividend data provided by Morningstar Inc. Analyst recommendations provided by Zacks Investment Research. StockScouter data provided by Verus Analytics. IPO data provided by Hoover's Inc. Index membership data provided by Morningstar Inc.
ABOUT
Top Stocks provides analysis about the most noteworthy stocks in the market each day, combining some of the best content from around the MSN Money site and the rest of the Web.
Contributors include professional investors and journalists affiliated with MSN Money.
Follow us on Twitter @topstocksmsn.