US trade law keeps road salt from New Jersey
Anyone have a spare American-owned cargo ship that can carry 40,000 tons of salt? That's the only transportation the state is allowed to use.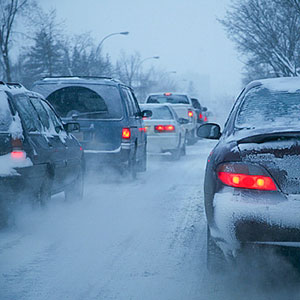 By Matthew Philips,
Businessweek
After an epic winter, New Jersey is pretty much out of road salt. 
Through Feb. 11, the Garden State has spread 372,000 tons of salt this year, 44 percent more than during all of last year. Even though it's a balmy 40 degrees this week, politicians live in fear of being unprepared for a snowstorm. So they're desperate to replenish depleted road salt stocks.
Finding more salt was hard enough, but New Jersey managed to secure 40,000 tons from Maine. Then New Jersey's transportation officials realized they had no way of shipping it in, because of a 90-year-old maritime law. 
The Jones Act requires that any cargo shipped between two U.S. ports has to be carried by a U.S. flagged ship -- one that's American-owned, American-built, and crewed by American citizens. This tends to limit the options.
New Jersey officials have applied for a federal waiver, but the U.S. Department of Homeland Security says it will grant a waiver only if "federal transportation officials confirmed that no vessels with United States flags were available to move the cargo," according to a report in The New York Times. Oh, and it would also have to be in the best interest of national defense.
So while government officials scour U.S. ports for a boat big enough to carry 40,000 tons of salt, and presumably someone somewhere tries to decide whether icy conditions on the Garden State Parkway constitute a threat to national security, New Jersey is left with little choice but to do this: spread a briny liquid mixed with sand on its roads. 
That's right, New Jersey has resorted to covering its roads in pickle juice. (I'm not sure which is weirder, that or spreading cheese brine on the roads, as they do in Wisconsin.)
Jones Act waivers have been granted in the past after Hurricanes Sandy and Katrina to move fuel to the stricken coasts. There was also one granted following the BP (BP) oil spill in 2010 so foreign ships could help in the cleanup. The law itself has also caused nonemergency headaches for the oil and gas industry. The U.S. has increased its daily oil production by 2.5 million barrels over the past three years, but still, just 32 tankers and 42 barges are eligible under the Jones Act to haul fuel along the U.S. Gulf Coast and East Coast, according to MJLF & Associates, a shipping brokerage in Connecticut.
Strange as it sounds, the Jones Act is fiercely protected by the shipping industry. Its proponents argue that allowing foreign ships to engage in trade between U.S. ports would be a serious security threat, never mind that thousands of foreign ships already visit U.S. ports everyday. 
A handful of members of Congress have tried repealing it or carving out permanent exemptions for such places as Hawaii, where life is much more complicated and expensive under the current system. U.S. Senator John McCain, R-Ariz., a national security hawk, has been a constant critic of the law.
More from Businessweek
DATA PROVIDERS
Copyright © 2014 Microsoft. All rights reserved.
Fundamental company data and historical chart data provided by Morningstar Inc. Real-time index quotes and delayed quotes supplied by Morningstar Inc. Quotes delayed by up to 15 minutes, except where indicated otherwise. Fund summary, fund performance and dividend data provided by Morningstar Inc. Analyst recommendations provided by Zacks Investment Research. StockScouter data provided by Verus Analytics. IPO data provided by Hoover's Inc. Index membership data provided by Morningstar Inc.
ABOUT
Top Stocks provides analysis about the most noteworthy stocks in the market each day, combining some of the best content from around the MSN Money site and the rest of the Web.
Contributors include professional investors and journalists affiliated with MSN Money.
Follow us on Twitter @topstocksmsn.