Wal-Mart the latest sign retail is reeling
The stock sells off on bad guidance. It's more proof that e-commerce is killing brick-and-mortar stores.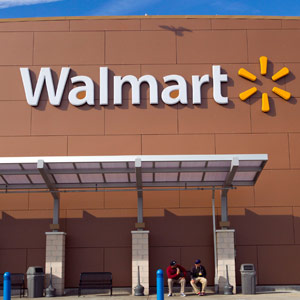 By Jeff Reeves
Wal-Mart (WMT) just became the latest retail stock to disappoint investors.

Though the company won't report fourth-quarter earnings until February, it stated Friday that the quarterly numbers and full-year earnings will be worse than expected.
Wal-Mart did a little tap dance about Brazil-related charges and such, but the bottom line is still. . . well, the top line, actually.
Wal-Mart saw same-store sales slip last spring for the third consecutive quarter, and admitted in its November earnings report that holiday sales and subsequently its next quarterly report would likely be dismal . . and we just got formal confirmation of that Friday.
No wonder Wal-Mart is down 5 percent in the last six months vs. a 6 percent gain for the S&P 500. Back-to-back $15 billion buybacks can only get you so far in the face of struggling sales.
How bad is that struggle? Well, analysts were expecting 2 percent revenue growth across 2014 before this news. . . and the target could very well move lower, or WMT stock could miss that forecast when all is said and done.

Battered big-box stores
But don't make the mistake of thinking this is just a Wal-Mart problem. Most big-box stores simply can't compete in an age of continued economic weakness and massive e-commerce competition led by Amazon (AMZN).
Target (TGT) recently lowered its guidance, blaming troubles in the wake of a massive data breach. But the reality is that TGT has been suffering for a while, down about 7 percent in the last year in the face of the same sales issues as WMT.

In fact, 2014 sales are predicted to be even worse at Target with a single-digit decline forecast. Target's most recent guidance predicted a 2.5 percent sales decline for the fourth quarter vs. prior forecasts of a flat quarter, but don't forget that even before this breach the outlook was for zero growth.
Or take Best Buy (BBY), which on the surface has been a "good" retail stock since it more than doubled its share price in 2013. But this run has happened in the face of sales declines in five of the last six quarters, and expectations for another rough quarter after an ugly holiday sales report. My favorite statistic: Total revenue recorded in calendar 2013 is actually going to finish lower than calendar 2009.
I could go on. Macy's (M) saw sales grow by low single digits in 2014 and in 2014, for instance. And don't even get me started on Sears (SHLD) or JCPenney (JCP).
The bottom line is that more consumer comparison shopping online has forced brick-and-mortar retailers to compete with super-low prices -- gutting sales and gutting margins more. When you consider the higher overhead of staffing commercial real estate that has to appeal to big-city window shoppers instead of a bare-bones warehouse staffed by minimum wage package shippers . . . it's easy to understand the headwinds.

The few bright spots in retail
So where can an investor turn if they insist on buying some share of retail, either for diversification or because they want a long-term foothold in the industry with hopes of a consumer-driven recovery in the years ahead?
Well, specialty retailers with a good niche are a nice place to start. Consider auto parts retailers such as Advance Auto Parts (AAP), which is up 60 percent in the last year and 270 percent since early 2009. Some unique factors, including the fact that the average car on U.S. roads is more than a decade old and requires a lot of upkeep. Furthermore, it's difficult to imagine e-commerce ever completely supplanting auto parts retailers that ensure quick delivery to local repair shops.
Nobody wants to wait 10 days for a muffler to ship from an online discounter when they have groceries to buy and ballet recitals to attend.
Home Depot (HD) is another great example, since it is not at all burdened by the high capital costs of shiny retail storefronts. It's a glorified warehouse for contractors, in which the occasional DIY consumer wanders in with naive hopes laying bathroom tile in a straight line. While HD revenue growth is modest in the mid-single digits, any growth is substantive -- and its paint-spackled customers don't expect it to plow that cash back into stores with flashy redesigns.
HD stock is up about 15 percent in the last year, slightly lagging the S&P 500 but handily outperforming many other retailers. But some of that underperformance may simply be because the optimism has been baked in, with shares up 175 percent in the last three years to almost triple the S&P.
Last but not least, you can always go the e-commerce route with the evil empire of AMZN itself in your portfolio.
But tread lightly, because even Amazon is starting to feel the pain from this race to the bottom in prices in the constant war for shoppers.  The company is still growing nicely, but just missed revenue forecasts and guided down -- causing Amazon stock to tumble.
Frankly, I wouldn't really go near retail right now. But specialty retailers or AMZN are a better bet than most.
More From InvestorPlace
Jeff Reeves is the editor of InvestorPlace.com and the author of The Frugal Investor's Guide to Finding Great Stocks. As of this writing, he did not hold a position in any of the aforementioned securities.

DATA PROVIDERS
Copyright © 2014 Microsoft. All rights reserved.
Fundamental company data and historical chart data provided by Morningstar Inc. Real-time index quotes and delayed quotes supplied by Morningstar Inc. Quotes delayed by up to 15 minutes, except where indicated otherwise. Fund summary, fund performance and dividend data provided by Morningstar Inc. Analyst recommendations provided by Zacks Investment Research. StockScouter data provided by Verus Analytics. IPO data provided by Hoover's Inc. Index membership data provided by Morningstar Inc.
ABOUT
Top Stocks provides analysis about the most noteworthy stocks in the market each day, combining some of the best content from around the MSN Money site and the rest of the Web.
Contributors include professional investors and journalists affiliated with MSN Money.
Follow us on Twitter @topstocksmsn.