Western companies on edge as Russian tensions grow
Some businesses are thinking twice about deals, but don't want to lose out on a promising market.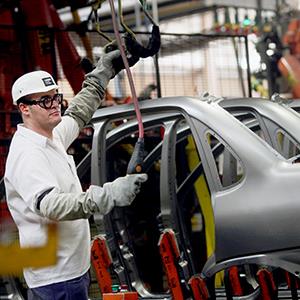 By Lukas I. Alpert, Jan Hromadko and Friedrich Geiger,
The Wall Street Journal
Ford
(
F
) is reassessing its Russian joint venture as relations sour between the West and Russia -- a sign that foreign businesses are thinking twice about the market after 
Crimeans voted Sunday to secede
 from Ukraine and join Russia.
Yet Pirelli & Co. (PPAMF) on Monday announced a $695 million deal in which Russian state-owned oil company OAO Rosneft will become the Italian tire maker's largest shareholder. And German utility RWE AG (RWEOY) said Sunday it would sell its oil-and-gas subsidiary to a company controlled by Russian tycoon Mikhail Fridman for more than $7 billion.
Those deals indicate how deeply the business ties between Russia and Europe run. Western companies, from car makers to yogurt producers, have invested billions of dollars in Russia over the past 20 years and have much at stake. Recently, though, earnings have been squeezed by Russia's slowing economy, weakening currency and unpredictable legal system.
The landscape became riskier still on Monday as U.S. and European Union officials imposed sanctions against Russian and Ukrainian officials. The West hasn't imposed broad trade penalties.
"Tough economic sanctions would quickly weaken not only the Russian economy, but also Europe's economy," said Eckhard Cordes, chairman of the Eastern Committee of German Business, a trade group focused on economic relations with the former Soviet Union.
The Ukraine crisis was only one factor affecting the Ford joint venture. Ford Sollers said it is considering production cutbacks amid shrinking demand and a sharp drop in the ruble. And the people close to the Pirelli and RWE deals said they had been in development for weeks.
Companies in Western Europe are getting edgy, however.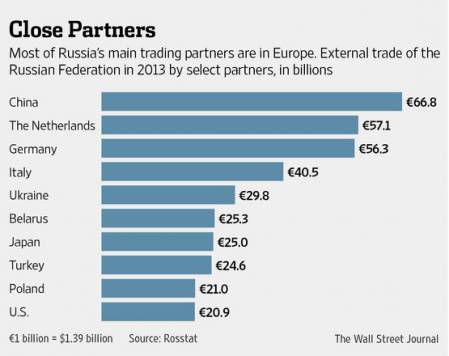 Concerns are growing among members of the German-Russian Chamber of Commerce in Moscow, said chamber Chairman Michael Harms. Germany is one of Russia's largest foreign investors and trading partners.
Companies increasingly are seeking advice on how to handle Russia's weakening economy and ruble, he said. "And now we have a problem of a massive lost in trust in the Russian government, which is further exacerbated by concerns over how potential economic sanctions are going to affect business," Harms said.
Uwe Schwarz, a member of Germany's Parliament from Lower Saxony, said that while businesses in his region hadn't expressed concerns about the situation in Ukraine, the consequences of sanctions "can't be predicted." Russia's actions were "incomprehensible" for "knowingly damaging economic relations and [its] own economic strength," he said.
Andreas Knaul, head of the Russia branch of consulting firm Rödl & Partner in Moscow, said some clients froze new investment plans. His clients, predominantly midsize German companies, don't expect a significant impact from the West's moves against Russian and Ukranian officials, he said. The bigger concerns would be asset seizures by Russia or EU bans of exports to Russia, such as the prohibitions on sales of military equipment that the EU has imposed on other countries, he said.
Europe's two largest oil companies, BP (BP) and Royal Dutch Shell (RYDAF), have significant assets in Russia -- and long histories of dealing with political complications in the country. BP acquired about 20 percent of Rosneft in exchange for BP's exit from their increasingly politicized TNK-BP joint venture. The Rosneft stake accounted for more than 30 percent of BP's oil and natural-gas production in the fourth quarter.
BP declined to comment on the situation in Russia. Jason Kenney, an analyst at Banco Santander, said that even if sanctions are expanded, BP likely will continue to collect earnings from Rosneft.
At French dairy group Danone SA (DANOY), Russia accounted for 11 percent of sales last year. Danone has more than 20 plants in Russia and is the leading producer of milk and dairy products there. A Danone spokeswoman didn't respond to requests to comment.
Societe Generale (SCGLF), France's third-largest-listed​ bank by assets, has made Russia the cornerstone of its international expansion. The French lender bought a 20 percent stake in Rosbank OAO for $634 million in 2006 to enter the then-promising market. Societe Generale has since spent an estimated $5.5 billion to acquire 92.4 percent of Rosbank, one of Russia's largest private banks. Societe Generale reported $1.98 billion in revenue from Russia for last year.
Chief Executive Frédéric Oudéa said Friday he expected that any EU sanctions against Russia to remain limited as both regions have too much to lose.
"It can create, for a short period of time, less access to international markets," Oudéa said on CNBC. He pledged a long-term commitment to Russia: "The link will remain strong with Europe."
A factor strengthening that link is Russian gas, which Europe relies on for energy and as an ingredient for chemical products. Italian oil company ENI SpA is the largest corporate client by volume for Russian state-controlled gas company OAO Gazprom, which provides 18 percent of Italy's needs. Austria, Romania and other European countries depend even more heavily on Russian gas.
Cars from the West, which have largely replaced inefficient Soviet models, are an obvious sign of Russia's global integration. Ford has been one of the fastest-growing foreign car makers in Russia, boosting production in the country to seven lines from two in the past two years. But its sales dropped 18 percent last year as demand for compact models plunged.
"We are reviewing our operations and are working on a major new plan," spokeswoman Elizaveta Novikova said. "We have not committed to anything."
Auto-industry experts had predicted that Russia -- where annual sales have increased more than 30 percent in recent years -- would soon pass Germany as Europe's top auto market. But many analysts have said recently that they didn't expect Russia to pass Germany until around 2020.
The market's promise led several foreign producers to invest billions of dollars in ramping up Russian production as sales slumped elsewhere in Europe. General Motors (GM) in 2012 pledged $1 billion to bring Russian capacity to 350,000 cars a year by 2018. Volkswagen AG (VLKAY) that year committed $1.25 billion to build an engine factory. And last year, Ford Sollers broke ground on a $274 million engine plant.
Renault SA (RNSDF) in 2008 paid $1 billion for a 25 percent stake in AvtoVAZ OAO, which makes Russia's top-selling Lada car. The French automaker invested an additional $366 million and expects to lift the stake it shares with partner Nissan Motor to 74.5 percent of AvtoVAZ by the middle of this year.
"We continue to monitor the evolution of the situation closely," Renault said Monday. "The recent disruptions do not diminish the potential of the Russian automotive market which is far from being saturated."
—Harriet Torry, Justin Scheck, Noémie Bisserbe and Gilles Castonguay contributed to this article.
More from The Wall Street Journal
DATA PROVIDERS
Copyright © 2014 Microsoft. All rights reserved.
Fundamental company data and historical chart data provided by Morningstar Inc. Real-time index quotes and delayed quotes supplied by Morningstar Inc. Quotes delayed by up to 15 minutes, except where indicated otherwise. Fund summary, fund performance and dividend data provided by Morningstar Inc. Analyst recommendations provided by Zacks Investment Research. StockScouter data provided by Verus Analytics. IPO data provided by Hoover's Inc. Index membership data provided by Morningstar Inc.
ABOUT
Top Stocks provides analysis about the most noteworthy stocks in the market each day, combining some of the best content from around the MSN Money site and the rest of the Web.
Contributors include professional investors and journalists affiliated with MSN Money.
Follow us on Twitter @topstocksmsn.