What's next for Net neutrality?
Proposed new rules are open for a 120-day comment period, and regulators are encouraging public scrutiny.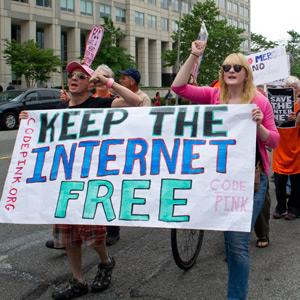 By Jim Probasco

The Federal Communications Commission voted Thursday to release a "notice of proposed rule making" in which the agency proposed new rules regarding net neutrality.

Now what?
For starters, anyone who wants to can read the 99-page notice, which is available here. 
In it, the FCC and chairman Tom Wheeler propose to ban Internet providers such as Comcast (CMCSA) from blocking (or slowing down) access to websites, but would let those same providers charge companies a fee for faster, more reliable delivery of their content to end-users.
People have the right to comment over the next 120 days, and Wheeler said he hoped they would. "We want this kind of discussion. We want this kind of debate," Wheeler said, according to PC World. "It is healthy, it is good, it produces good results."
The 120-day comment period is broken down into two segments. The first 60 days are for initial comment and the final 60-day period is, essentially, for comments on the comments.
Anonymous comments are allowed but those that include a name would likely be taken more seriously, PC World said.
The comment period is important for several reasons. The notice, for example, seeks comment on whether the FCC should ban pay-for-priority altogether.
Chairman Wheeler said that it was "unacceptable" for broadband providers to be gatekeepers of Web content.
Squaring that statement with the agreement between Netflix (NFLX) and Comcast to give Netflix faster speeds on Comcast's network has been problematic for those who saw it as a net neutrality issue. Wheeler, however, said the agreement was a "peering arrangement" not covered by or part of the net neutrality debate.
Net neutrality advocates want broadband declared a utility, thereby placing it fully under FCC regulation. Wheeler has said he believes the best way to achieve net neutrality is by following the guidelines of the U.S. Court of Appeals for D.C. that said the agency should pass new net neutrality rules without reclassification of broadband.
However, he did say he would encourage full and open debate on that question.
Perhaps most importantly, Thursday's vote did not establish new rules. It was a proposal, prior to public comments, which would eventually lead to new rules.
FCC officials said they hoped to have new rules in place by the end of the year. That would give the agency from the end of the comment period in mid-September until the end of December or about three and a half months, not counting holidays, to reach a final decision.
At the time of this writing, Jim Probasco had no position in any mentioned securities.
More from Benzinga

Net neutrality?  What a joke?  If enterprises, governments and politicians are involved then it can not be neutral. Why would China want a neutral internet so capitalistic advertisers can exploit their citizens?  We once had a TV media that was neutral and now it's held hostage by capitalists. The internet is not neutral and never will be as long as advertisers and commercial enterprises pollute it for profits.

I'm still waiting for an actual, real journalist to report on this....so far nothing.  I say this in complete frustration because the plethora of media coverage fails repeatedly to present a clear, understandable problem statement.  WHAT IS THE PROBLEM WITH WHAT WE HAVE?  To date none of the political operatives (journalists) have been able to muster the intellect to do that.  Reading through the confuse labyrinth of prose journalists have thrown to the public it would appear that not one of them has a clue what they are writing about.

 As far as I can tell our wonderful political filth has determined there MIGHT be a problem with providers limiting net access...someday.  So they want to fix a non-problem today?  Why? What are our political filth afraid of....becasue I sure as heck am afraid of them and any propsal they might have to "help".  My biggest fear is that this is just a backdoor for the fed to get there hands on the data pipes opening a hole new world of back-room deals, corruption, and general screwing of the public.
So, is there a journalist anywhere in America the can write on this issue coherently?  The truth is the average journalist is incapable of understanding anything as complicated as this and it shows!


In the early days, the internet was a novelty; now it is a necessity, just like telephones and electricity.
So why wouldn't it be classified as a utility? As far as the fear of government regulation and taxes, well that has nothing to do with the utility itself, does it? Elect responsible legislators and tax issues will take care of themselves.
And letting monopolistic corporations determine content delivery and cost? Well, when the mob still controlled Vegas, the streets were clean, drunks were corralled and no foreigners would dare throw call girl cards at you and your family. Today, it's a cesspool. At least the mob let you win at slots once in awhile. Some regulation is necessary. 

It will come down to paying for Internet or forcing users to patronize the ads. What is the difference? Unplug the damn thing, build personal protection in UP FRONT and ban commercialization of it. Business platforms can't do enterprise. They have no other value. If they can't do enterprise, they should go out of business. Paper and button pushing aren't real jobs anyway. 
Are you sure you want to delete this comment?
DATA PROVIDERS
Copyright © 2014 Microsoft. All rights reserved.
Fundamental company data and historical chart data provided by Morningstar Inc. Real-time index quotes and delayed quotes supplied by Morningstar Inc. Quotes delayed by up to 15 minutes, except where indicated otherwise. Fund summary, fund performance and dividend data provided by Morningstar Inc. Analyst recommendations provided by Zacks Investment Research. StockScouter data provided by Verus Analytics. IPO data provided by Hoover's Inc. Index membership data provided by Morningstar Inc.
ABOUT
Top Stocks provides analysis about the most noteworthy stocks in the market each day, combining some of the best content from around the MSN Money site and the rest of the Web.
Contributors include professional investors and journalists affiliated with MSN Money.
Follow us on Twitter @topstocksmsn.