Which company is 'top seed'?
By 2050, the world's farmers will have to feed 9 billion people. Which of the three seed giants makes the best stock play?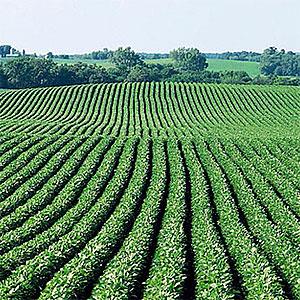 I really miss Pioneer Hi-Bred. Prior to DuPont's (DD) 1999 purchase of the company, Pioneer gave investors a pure play on the global seed market. And there really hasn't been quite as attractive a pure play since.

Instead we have the Big 3 of seeds -- DuPont, Monsanto (MON) and Syngenta (SYT). But each of these "seed" companies comes with significant baggage.

Monsanto is the most concentrated seed play of the three, with 73% of sales coming from seeds and genomics. But that still leaves the company's seed business "saddled" with a crop protection unit (pesticides and herbicides) -- 27% of sales but only 14% of profits -- that is struggling against the loss of patent protection and global competition.

Syngenta got just 25% of revenue in the first half of 2013 from seeds; the other 75% is from crop protection products -- and that unit faces the same problem as Monsanto's crop protection business does.
Finally, DuPont gets 29.6% of revenue from its agricultural segment, but that unit includes both DuPont's seed and crop protection business.

For a quick primer on why you want to own seed stocks, consider these recent numbers from the United Nations Food and Agriculture Organization. By 2050 the world will have a population of 9 billion (very scary) and the world's farmers will need to double grain production in the face of losses of farmland to urbanization, desertification, drought and pollution.

That means getting more calories from the world's food plants by improving yields, by increasing resistance to disease and pests, and by expanding farm production to land that is now marginal because of climate or rainfall (while at the same time resisting attacks on global food production from changes in climate and an increasing incidence of drought.
So which of these three "mixed bags" do I like best? DuPont -- despite the relatively small piece of current revenue the company gets from seeds. (Both DuPont and Monsanto are members of my Jubak Picks 50 long-term portfolio.)

Some of that has to do with the relative price of the three stocks in question. The market recognizes Monsanto's focus on seeds with a high for the group price-to-earnings ratio of 22.43 for the trailing 12-month and 22.27 on projected 2013 earnings. In contrast Syngenta's price-to-earnings ratio on projected 2013 earnings per share is 16.33. And DuPont's is 15.09.

But the foundation of my preference rally has to do with the likely trajectory of the three seed companies.

There's no discounting Monsanto's clout in this sector. The company has the leading market share in important key crops such as soybeans, corn, cotton and wheat. How dominant that share is depends on how you count. In 2010, by Monsanto's figures, the company had 36% of the branded corn seed market, 29% of the branded soybean market and 41% of the cottonseed market.

But if you count not just the seed the company sells under its own brands, but the seed sold by competitors under Monsanto license, the figures, according to a DuPont law suit in 2010, come to 98% of soybean seed and 79% of corn seed. (In recent years Monsanto has actively pursued a policy of licensing seed traits that it has developed to competitors. You can think of it as a strategy akin to Intel's (INTC) desire that competitor Advanced Micro Devices (AMD) should have significant market share to keep the anti-trust lawyers at bay -- as long as the market share wasn't too significant.)

The big products rolling down the Monsanto pipeline right now, in my opinion, are drought tolerant seeds. At the moment it looks like Monsanto will get to the market ahead of DuPont and Syngenta with drought tolerant corn seed.

But what makes Monsanto tricky as an investment -- and what makes the stock relatively volatile -- is the challenge of managing cycles in the glyphosate herbicide business. Since the expiration of patent protection on Monsanto's Roundup, the company has had to cope with increased global competition in the market for glyphosate herbicides.

New competitors and new capacity in that market finally led Monsanto to a reset of expectations for this business -- and a 50% cut to Roundup's price. Even with that reset, though, the relatively small 27% of sales that come from Monsanto's crop protection unit, still produces significant volatility in the stock.

When the glyphosate business is in good shape, as it is right now, with competition down and prices stable, Monsanto's margins rise and so does the share price. That's great news if you own the stock, but if you're thinking about buying or adding to positions, it means that you're paying top of the cycle prices for the company's herbicide business -- when what I'd bet you want to buy is the company's strength in seeds. The time to buy Monsanto, I'd argue, is when the crop protection business is in the dumps.

Syngenta has Monsanto's crop protection problems without that company's dominant position in seeds. The company's problem in the crop protection market isn't as dire as the fact that 75% of revenue comes from that unit might suggest -- because many of Syngenta's chemicals are specialized rather than generic products -- but I think investors are still looking at a company that is playing catch-up in seeds to Monsanto and DuPont.

The strategy at Syngenta, and it's a decent one, is to try to close that gap with acquisitions. That's a track that Monsanto and DuPont continue to pursue themselves, but successful, speedy execution is critical for Syngenta. As an investor I worry about the possible mistakes that come with pressure and speed.

The last of my three seed companies, DuPont is in the midst of a transition that involves selling off commodity and cyclical chemical businesses and re-investing the proceeds in higher margin businesses such as seeds, food ingredients, and industrial bioscience.
The most recent completed steps were the purchase of food ingredients company Danisco in 2011 ($6 billion) and the sale of DuPont's performance coatings unit (automobile paints) in 2013 ($5 billion.) The next target looks to be the company's performance chemicals unit, which makes titanium dioxide pigment and Teflon coatings among other products. The unit has an estimate enterprise value of $10 billion and, while other companies such as Rockwood Holdings (ROC) are planning disposals of their titanium oxide units, DuPont should still be able to find an interested buyer such as Tronox (TROX) or Huntsman (HUN).
Revenue from the performance chemicals unit is sufficiently volatile—operating profit in the second quarter was down 56%, for example -- that it drags down the valuation for DuPont as a whole. Simply getting rid of the business at a good price would probably push up DuPont's share price. Re-investing the proceeds from that sale in the seed, food ingredient, or industrial bioscience would add even more value.


Full disclosure: I don't own shares of any of the companies mentioned in this post in my personal portfolio. When in 2010 I started the mutual fund I manage, Jubak Global Equity Fund, I liquidated all my individual stock holdings and put the money into the fund. The fund may or may not now own positions in any stock mentioned in this post. The fund did not own shares of any stock mentioned in this post as of the end of March. For a full list of the stocks in the fund as of the end of March see the fund's portfolio.
MSN Money on Twitter and Facebook
Like us on Facebook: MSN Money and Top Stocks
Follow us on Twitter: @msn_money and @topstocksmsn

Good morning folks! :D
Have ya seen this chuckler?
July 29,2013 - Your Debt, Not the Government's, is Hurting the Economy
That's a real LAUGH!!!
Why the injections have ran wild and the recievers of have been buying up at HISTORICAL HIGHS. And just where would the Imaginary Fantasy Island casino known to some as the stock market or wall street be if it had not been for the over clicked DEBT PAPER CREDITS spewed about?
July 26,2013 - Indictment could be fatal to SAC Capital, but then what?

Of course the examples are abundant. From those so called top pension funds and their misfit trio of so called workers who are no more than scavengers robbing others for their own personnal gain. Why these lowleys have a hard time speaking of losses. Back when that circus bragging was going on at one point as to I am one of the top 10 pension contollers! Why of course you are. And when we brought that HUGE LOSS that you produce into play by the numbers,why hush was the word.
And what about that look from just the other day as to and now it is here at The POST.
July 28,2013 - Now the Bankers Will Steal 47.5% from Cyprus Savers

Take the stem of the plant. There you will find all kinds of hair stems coming off of the main helping to soak up the water and help the plant to grow. Why bigger and Bigger and BIGGER it has grown. And it is suppose to. From the sickness above and that in which the POST covers. How long does it grow? How long does it continue? How long before justice is served upon the spin artists and the Rape-Ponzi-Pilfer system is opened up for all to SEE. Well the water is stolen in order to keep the so called illusion of growth and has evaporated or been soaked up (455k on the part time here in town,98 MILLION in G7 countrie world without full time work. And we can tell you that the so called high part time numbers are not being floated as here in town). So growth?????
That folks is a tall order of biz that has been brewing for years and years. And as the angel stated to Gabriel,all shall be revealed for what it is. And what it has been and is,is that of Rape-Ponzi-Pilfer. A new HISTORIC high in so called comsumer setiment? Hold on! Not so fast! As we ran a small poll finding 10 out of 10 people laughing at the disgust of the last report. So all time HISTORICAL high as to what? A positive result?
It would of been best if they would have included those that were polled. HISTORICAL high of confidence comes from that 11% in favor of Rape-Ponzi-Pilfer and Sham WoW.
Yes folks time is a winding down.
May 3,2013 - PEW Report Nails the Ganis (for top 7% that is)
May 7,2013 - Wealth Declines for 93% of Households
Why run both of those articles for some sick laughs.
meanwhile,
The other day we caught the following and will follow it up with the one under it. We thank the following MEDIA sources for their efforts.
July 28,2013 - Fox News: "Something Is Up… Obama Is Trying To Run Out The Clock"

July 28,2013 - Government Promises to Stop Lying Because of Drudge Report Spotlight
excerpt - In a groveling public display earlier this week, the Department of Defense announced plans to increase its public affairs efforts due to the devastating effect independent media is having on the Pentagon's ability to control its news, more specifically, its ability to quash negative news stories before they go viral.
On Thursday, the DoD bemoaned DrudgeReport.com and the fact that, because of citizen journalists, social media and other online platforms reporting news in real time, the public is more quickly becoming aware of the constant patterns of contradictions and habitual lying by a government long ago captured by a group of corrupt interests.
Msn Refugee Board 2: The Decoy 409 POST
Say VL, Como has now joined and we look forward to yourself and others!
And for the record rarely do we use Alex.
"Doesn't matter. Were all dead anyway."
Disconnect business from survival and we stand a chance. Until the GMO is banned and natural food cultivation returns, no one gets nourished. As for the claim of 9 billion people by 2050... stagnating the world's population while a few psychotic maniacs play Global Economic Domination games cause the globe to be dunned by sexual propaganda. It's terrorism. My guess is-- the key players get killed over the next few years and the world is forced to rebuild from scratch. Fewer idle hours, no stagnation and total cooperation to achieve sustainability again. The last thing anyone will want to be is a: Financier, Accountant, Politician, Administrator, Paper or Button Pusher. These roles will either be indentured to reverse the terrorism they are generating now, or outright slaughtered for supporting it. Unless it rains for 40 days and nights again, the sheer exploitation of fresh water we are engaging in now will curb population explosions.
It's August on Thursday. That gives organized financial terrorists three whole days of manipulation to control the outcome to their favor. That's Ben Bernanke authorizing BILLIONS of fiat Dollars you and I are obligated to repay, given to banks that cannot function without his fiat money, who put it in markets that do America NO GOOD PURPOSE AT ALL. Our National Debt may be exceeding $17 Trillion but our ACTUAL INDEBTEDNESS exceeds $1 Quadrillion now (currencies, derivatives and debt notes). It's time to Close the banks, End the Federal Reserve and to get RID of Wall Street. My words are my rifle, I could use some help here.
"By The Associated Press
Four out of 5 U.S. adults struggle with joblessness, near-poverty or reliance on welfare for at least parts of their lives, a sign of deteriorating economic security and an elusive American dream. Survey data exclusive to The Associated Press points to an increasingly globalized U.S. economy, the widening gap between rich and poor, and the loss of good-paying manufacturing jobs as reasons for the trend. The findings come as President Barack Obama tries to renew his administration's emphasis on the economy, saying in recent speeches that his highest priority is to "rebuild ladders of opportunity" and reverse income inequality."
$$$$$$$$$$
This is- FAILURE. Anyone wants to take sides and point to Democrats or Republicans or Obama or Congress or whoever... STOP. Point at EVERY SINGLE PERSON engaging in market investing while Ben Bernanke arranges the end of America. Globalization is an EXCUSE. There isn't ONE real business in America today-- they all look and operate the same... a small group of educated paper and button pushers playing administrative games without actually conducting enterprise of any kind. If they want to play, they HAVE to PAY and release us 100% from the obligations that are destroying our nation. We could EASILY be building a 21st Century nation with sustainability and commonsense infrastructure instead of deadhead business practices. What the HELL are we able to do with 300,000 new millionaires a week, except to EAT THEM?
Are you sure you want to delete this comment?
DATA PROVIDERS
Copyright © 2014 Microsoft. All rights reserved.
Fundamental company data and historical chart data provided by Morningstar Inc. Real-time index quotes and delayed quotes supplied by Morningstar Inc. Quotes delayed by up to 15 minutes, except where indicated otherwise. Fund summary, fund performance and dividend data provided by Morningstar Inc. Analyst recommendations provided by Zacks Investment Research. StockScouter data provided by Verus Analytics. IPO data provided by Hoover's Inc. Index membership data provided by Morningstar Inc.
ABOUT
Top Stocks provides analysis about the most noteworthy stocks in the market each day, combining some of the best content from around the MSN Money site and the rest of the Web.
Contributors include professional investors and journalists affiliated with MSN Money.
Follow us on Twitter @topstocksmsn.