Which will go bankrupt first: J.C. Penney or Sears?
Both are expected to bleed serious red ink all of this fiscal year and even across the next 2 fiscal years.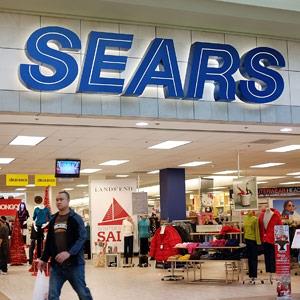 By Jeff Reeves

J.C. Penney (JCP) and Sears Holdings (SHLD) are both doomed retail stocks. To some, the only question is which will go bankrupt and wipe out investors first.
Sears is losing hundreds of millions of dollars each quarter, with SHLD down about 50% from 2010 highs even after the recent short squeeze that sent the stock soaring from $40 to $60 on the continued hopes of "unlocking value" in its real estate holdings.
As for JCPenney, the stock is down 70% from its 2012 high built on Ron Johnson optimism. The former Apple (AAPL) retail exec failed and has now become the former JCPenney exec, and shares continue to slump with his predecessor Mike Ullman back in the saddle despite his previous stint, when he basically ran JCP into the ground.
Which one is worse? Well, it's hard to say.
Both JCPenney and Sears are expected to bleed serious red ink all of this fiscal year and even across the next two fiscal years. Both have an abysmal CCC+ rating from S&P, deep in junk territory and described as "currently vulnerable and dependent on favorable business, financial and economic conditions to meet financial commitments." Not pleasant.
So how likely is bankruptcy? Well, let's look at each pick separately.
First, JCPenney. The retailer has $5.8 billion in total debt and total liabilities of $9.3 billion vs. a market cap just under $3 billion. Fortunately, however, total assets are $11.6 billion (presuming they were valued correctly at the end of last quarter) so the math shows that selling the company for parts tomorrow could pay all the outstanding bills. With almost 25% more in assets than obligations, there's plenty of wiggle room, too.
But talk of credit drying up (investorplace.com) for JCPenney in August is a real threat. Obviously, the financing games to keep the lights on and restructure the business only work so long as the banks are willing to play ball. JCPenney could be one bad headline away from a credit freeze and a bunch of bounced checks.
Sears is in a similar but slightly better position. Total debts are $3.7 billion and liabilities are $16.9 billion. With a market capitalization of about $6.3 billion, the retailer has less debt than its market value -- something JCPenney can't claim -- and liabilities that are less than 3x market cap vs. more than 3x for Penney.
The real difference, however, is in total assets that top $19.3 billion -- almost 14% above its outstanding obligations. That's a slimmer margin than JCP but still a favorable one.
So when it comes to the question of bankruptcy for Sears or JCPenney, which is driven almost wholly by lenders who think it's the only way to get paid, there is clearly no imminent threat. As long as JCP and SHLD are worth more than their obligations, they will continue to operate as usual.
But the important thing for investors to note is that with continued cash bleed at both companies, the weight of debt service thanks to a poor credit rating and the overall consumer trend that has resulted in slumping sales for these department stores ... well, the losses will keep mounting and we might not be far removed from liabilities overwhelming assets at SHLD or JCP.
Neither will be going bankrupt anytime soon, barring a turn of very bad luck in the short-term, but given the trend, it's likely that either or both could face serious solvency questions as early as next year.
Jeff Reeves is the editor of InvestorPlace.com and the author of The Frugal Investor's Guide to Finding Great Stocks. As of this writing, he did not hold a position in any of the aforementioned securities. Write him at editor@investorplace​.com or follow him on Twitter via @JeffReevesIP. 
More from InvestorPlace
DATA PROVIDERS
Copyright © 2014 Microsoft. All rights reserved.
Fundamental company data and historical chart data provided by Morningstar Inc. Real-time index quotes and delayed quotes supplied by Morningstar Inc. Quotes delayed by up to 15 minutes, except where indicated otherwise. Fund summary, fund performance and dividend data provided by Morningstar Inc. Analyst recommendations provided by Zacks Investment Research. StockScouter data provided by Verus Analytics. IPO data provided by Hoover's Inc. Index membership data provided by Morningstar Inc.
ABOUT
Top Stocks provides analysis about the most noteworthy stocks in the market each day, combining some of the best content from around the MSN Money site and the rest of the Web.
Contributors include professional investors and journalists affiliated with MSN Money.
Follow us on Twitter @topstocksmsn.