Who wins the Time Warner/CBS spat? Neither side
The fight that has left Time Warner subscribers without CBS programming has an important lesson: It's easier to do without major TV networks and cable companies.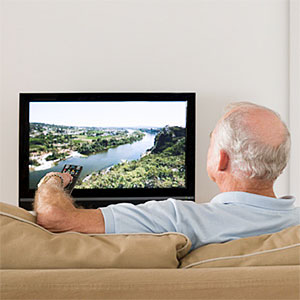 By Michael Brush, MSN Money
Being a New Yorker with Time Warner (TWC) cable service is a little weird right now. CBS (CBS) and Time Warner, of course, are arguing over fees. And Time Warner has pulled CBS content from its subscribers' televisions as a bargaining tactic.
In place of CBS, Time Warner is running old classic movies. This is mildly disturbing -- like the feeling you have several days after tossing out an old piece of furniture.
It's an odd enough feeling that it gets one to wondering what it all means -- in the Peter Lynch sense of taking investing lessons from what you observe around you. Here's one take.
Forget about the fees. The big picture is, seeing "Cars" on TV where "60 Minutes" used to be is just another indicator of the tectonic plate shift that's playing out for the traditional content producers and cable providers in TV land.
Their days are numbered
More pointedly, these two quibbling over fees is another signal that both network TV and cable companies are dinosaurs and slowly on the wane, overcome by technology and the changes it brings.
After all, many of the best shows no longer hail from the major TV networks. They come from places like Netflix (NFLX) ("House of Cards" and the latest "Arrested Development"). Or they're available only on the Internet, like Jerry Seinfeld's "Comedians in Cars Getting Coffee."
And you don't really need a cable company to watch any of this stuff, since plenty of other forms of high-speed Internet access are available. 
A good tip-off about the vulnerability of TV network and cable companies all along has been the insanely high executive pay, bonuses and perks I've reported on at many of these companies over the years -- including CBS, Time Warner and Comcast (CMCSA).
Anytime someone can extract excessive "rents" from an industry, as economists like to call it, you have a sign of an artificial and vulnerable oligopoly ripe for getting hammered by some force -- like technology.
That is exactly what's going to continue to happening. Two old dinosaurs (CBS and Time Warner) are now fighting it out for food (fees), which will be continue to get more scarce due to the climate change caused by the meteor called "technology" which hit their planet.
Even Cablevision (CVC) CEO James Dolan says he watches TV content using Netflix -- and that a time may come when his company no longer offers TV service.
They can drag this on for years, but…
CBS can no doubt carry on as a content producer for years. Comcast can soldier on as a cable provider and content provider, since it now owns NBC. But the decision by General Electric (GE) to sell NBC to Comcast may well be looked back on as one of the great smart money moves of the century. Because the oligopoly-style margins TV content producers have earned are at risk.
On the pure cable side, Comcast and Time Warner can no doubt continue to make money providing the Internet access people need to watch content made by Netflix or YouTube -- another content contender. But Internet access is a commodity business which does not merit high margins.
I wouldn't short the TV networks and cable companies because of this trend. They still have power and plenty of tricks up their sleeves. Change happens slowly, and tough old dinosaurs give up hard.
But I wouldn't suggest any of these as long-term stock to put in your portfolio, unless there's some huge change in their business models.
At the time of publication, Michael Brush did not own or control the shares of any companies mentioned in this column.  Brush is an MSN Money columnist and editor of Brush Up on Stocks, an investment newsletter.

MSN Money on Twitter and Facebook
Like us on Facebook: MSN Money and Top Stocks
Follow us on Twitter: @msn_money and @topstocksmsn
DATA PROVIDERS
Copyright © 2014 Microsoft. All rights reserved.
Fundamental company data and historical chart data provided by Morningstar Inc. Real-time index quotes and delayed quotes supplied by Morningstar Inc. Quotes delayed by up to 15 minutes, except where indicated otherwise. Fund summary, fund performance and dividend data provided by Morningstar Inc. Analyst recommendations provided by Zacks Investment Research. StockScouter data provided by Verus Analytics. IPO data provided by Hoover's Inc. Index membership data provided by Morningstar Inc.
ABOUT
Top Stocks provides analysis about the most noteworthy stocks in the market each day, combining some of the best content from around the MSN Money site and the rest of the Web.
Contributors include professional investors and journalists affiliated with MSN Money.
Follow us on Twitter @topstocksmsn.