Whole Foods' sticker shock weighs on the stock
The high prices at the grocer make Trader Joe's look much more attractive by comparison.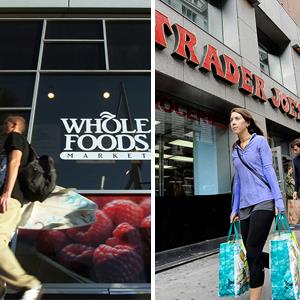 By Thomas H. Kee Jr.

I appreciate considering companies whose products and services I use regularly. This is called "Random Walk Theory," and it implies that you can find viable investment ideas by just looking around you. 

This was true for me back in 2008 when Whole Foods Market (WFM) showed up on my radar in La Jolla, Calif., for the first time. I could get a healthy prepared meal within minutes, it was less expensive than a restaurant, and only fractionally more than it would cost me if I prepared it myself. I began frequenting Whole Foods Market, and appreciated what they offered in the prepared foods section.
However, every time I shopped at Whole Foods I cringed when it came time to check out.  Almost everything it sells was 20 percent to 30 percent more than at other stores, and when your bill is $200, that can add up. The high-end consumer certainly doesn't care about this, but after a few visits the normal guy certainly does. 

I appreciate the prepared foods section. The company has tried to revamp their stores to make them a destination spot for meals, adding a service menu, beer, and television sets in designated seating areas too, and I think that is good, but that does not change the sticker shock many consumers have when they actually buy groceries.
Alternatively, Trader Joe's, Jimbo's, and other health-conscious grocers start to look much more attractive to the normal consumer, and after the first couple of shocks, normal consumers second-guess decisions to shop for everything at Whole Foods Markets. Personally, when I buy the same things at Trader Joes I am pleasantly surprised at checkout. In this case, Whole Foods' prices actually make me like Trader Joes and the other less expensive but still predominantly organic and health-conscious retailers much more than i otherwise would.
In turn, I have found myself going to Whole Foods for prepared meals regularly, as I usually do, but when I leave the house to buy groceries, if I have a choice I will go elsewhere. Of course, if after a prepared meal I need to buy something for my wife I will pay the extra 20 percent to 30 percent and buy it at Whole Foods, but I avoid shopping for everything there now.
This is the same premise that made me like Whole Foods (as an investor) so much in 2008. My Random Walk tells me that more and more people are likely to feel like me, and the primary consumer at Whole Foods will continue to be predominately the high-end consumer. That is a very limiting concept, a small market niche, but that migration also takes a while to occur.
Whole Foods carries with it a cachet, but soon after that the money-factor plays a role, and therefore after the initial swagger has waned economies of scale (on a consumer level) start to play a significant role. My Random Walk experience at Whole Foods tells me to be cautious.
In addition, my longer term Macroeconomic work, The Investment Rate, tells me we are still in the third major down period in U.S. history, and although recent stimulus has fabricated growth and induced the wealth effect, when the economy reverts back to its natural state as that is defined by the Investment Rate, the niche that Whole Foods seems to serve today with get even smaller.
Technically, the stock is poised to test the support level that is offered in our real-time trading report for WFM a second time, without testing resistance in between. That is a red flag, and if support breaks this time our trading analysis tells us to avoid the stock completely.

I always get a kick out of pretentious or precocious people..(I should coin the Term, PPP)
I can't speak of Trader Joe's place, BUT do agree completely with the attitude of shoppers at Aldi's.
Everyone is very nice and friendly...Yes the poor and the frugal (frugal being mostly Seniors and well to do, that are smart shoppers)..
I go about every 2-3 months and stock up on basics, or stock the pantry...Saving 25-30% over most anyplace else...Buy 3-6 each of everything we stock...Pancake flour, syrup, flour, spices, p-nut butter, jelly, ketchup, mustard, mayo, salad dressings, soups, beans, other canned goods and condiments....And a few other goodies.
Their quality is pretty good and usually only buy things we can store...Saves money on trips and discounts.
I always dress kind of casual or a look of "lack of money", usually gets me better "deals" in any Marketplace...(other​ places). 
If anyone puts on airs or acts pretentious too much/long; I usually mention the different types of wildlife on our Ranch...Or the couple Collector cars we still have left in one of our Barns...
Works every time and normally they shut up...Old saying:
"Never judge a person by what they wear", Underneath those rags may be a Millionaire."

I don't like Trader Joe's.  It's like a glorified Aldi.  I didn't like the customers either.  At least at Aldi, the poor are poor and the ones with money are just frugal...nobody puts on airs.  The customers at Trader Joe's seemed like they were trying too hard to be cool-n-trendy.  Kind of like "old money" versus "new money"...you know it when you see it.
Are you sure you want to delete this comment?
DATA PROVIDERS
Copyright © 2014 Microsoft. All rights reserved.
Fundamental company data and historical chart data provided by Morningstar Inc. Real-time index quotes and delayed quotes supplied by Morningstar Inc. Quotes delayed by up to 15 minutes, except where indicated otherwise. Fund summary, fund performance and dividend data provided by Morningstar Inc. Analyst recommendations provided by Zacks Investment Research. StockScouter data provided by Verus Analytics. IPO data provided by Hoover's Inc. Index membership data provided by Morningstar Inc.
ABOUT
Top Stocks provides analysis about the most noteworthy stocks in the market each day, combining some of the best content from around the MSN Money site and the rest of the Web.
Contributors include professional investors and journalists affiliated with MSN Money.
Follow us on Twitter @topstocksmsn.