Why 3-D printing is here to stay
3-D printing has quickly evolved from novelty to legitimate disruptor in both the manufacturing and consumer sectors.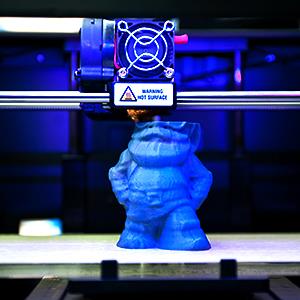 By Chris Ciaccia, TheStreet
The hype surrounding 3-D printing is enormous, given the implications for the manufacturing, retail, and technology industries. With HP (HPQ) reportedly set to enter the market later this year, not only could we begin to see increased interest in the market, but a validation, as well.
UBS analyst Steve Milunovich has initiated coverage on the sector, putting a "neutral" rating on 3D Systems (DDD) and a "buy" rating on Stratasys (SSYS). Milunovich notes that 3-D printing "is disruptive and part of the unscaling trend," building objects layer by layer. Milunovich believes that 3D printing truly has disruptive potential, as it changes facets of the manufacturing business, from aerospace companies using it for airplane parts, to consumers making toys and clothes. When combined with cloud services for additional measures, "3D printing is part of an 'unscaling' trend shifting power from mass to customized production."

The 3-D printing market is still in its early stages, with Milunovich noting it's growing "at least" 20 percent to 25 percent annually, as it moves beyond the initial hobbyist and early adopter stages, into a much greater market segment. Terry Wohlers, an industry consultant for the 3D printing market, notes the market could reach $4 billion in 2015, up from $2.2 billion last year, and potentially reach $8 billion in revenue in 2019. Despite companies like Brooklyn-based MakerBot (owned by Stratasys) focusing on the home market, and trying to drive consumer adoption, the biggest opportunities, Milunovich notes, are in the enterprise. He notes that around 25 percent to 30 percent industry revenue is from actual printer sales, with the rest from materials and services.
Shares of 3D Systems were active in pre-market trading, up 1.4 percent to $59.97, while Stratasys was not. Shares of Stratasys closed yesterday at $106.09.
The benefits of 3-D printing are enormous, including cutting down on the complexity of the manufacturing process and the skills required for actual assembly or manufacturing the parts.  3-D printing also provides the ability to use various materials to build products, such as ceramics, carbon, and other high-density elements, to form sturdy parts. "Aerospace, automotive, healthcare, machines tools, and fashion are large market opportunities," Milunovich stated in the note.


Companies like 3D Systems and Stratsys have been the early leaders in the space, and the market has reflected that in their stock prices. Shares of 3D Systems and Stratsys are up 83.5 percent and 42.9 percent over the past year, respectively.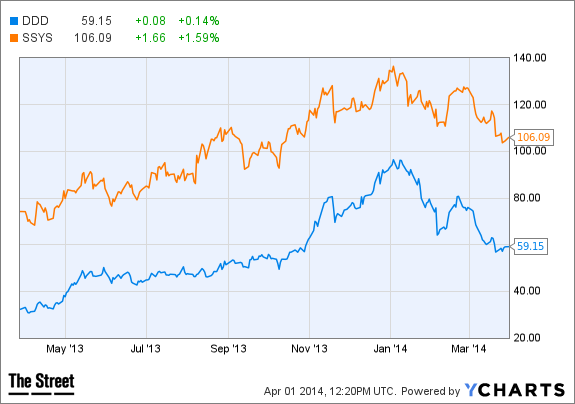 2015 may be a better year, as Milunovich expects the company to generate $922 million in revenue, up from $513.4 million in 2013. As the company continues to get better operationally, along with the long-term goal of 30 percent organic revenue growth and 55 percent to 605 percent gross margins, 3D Systems may look better in the long-term than it does in the near term. "3D Systems might look worse than competitors near term but better long term as it emphasizes sales to aerospace, automotive, and healthcare," he wrote.
Comparatively speaking, Stratasys has better near-term visibility, and is likely to be less volatile, thanks in part to its MakerBot acquisition, announced in June 2013. Milunovich expects Stratasys, which he has a $125 price target on, to generate $674 million in sales in 2014, earning $2.18 a share on a non-GAAP basis. Though the MakerBot acquisition has gotten most of the attention, the company's acquisition of Objet, completed in late 2012, may prove to provide differentiation and a competitive advantage for Stratasys. "We think planned capacity expansion in Objet printers could add material leverage in 2015," Milunovich penned in the note.
That's not to say that MakerBot and Stratasys don't have their weaknesses. MakerBot sells more than half of its systems to professional engineers, despite being a consumer-facing company. The company is projecting sales to grow 70 percent year-over-year, but it could be doing more, as the consumer market takes off. There's also the lack of using metals for printing objects, though Milunovich notes "the company says it is not a priority."
Though 3D Systems and Stratasys are two of the more dominant and well-known names in the 3-D printing space, tech titan HP has made no bones about its eventual entry into the market. It's likely Palo Alto, Calif.-based HP focuses on the industrial market, as opposed to the consumer market, but it puts a rubber stamp on 3-D printing, and legitimizes it as more than just science fiction and a hobbyist's dream. "HP's entry ratchets up competition but probably is a net positive in legitimizing and expanding the market."
More from TheStreet

"Why 3D printing here to stay" - Is that really the headline?
Because of the limitless applications and infinite possibilities of what can be accomplished with a 3D printer.
We could easily see a 3D printer in just about every home within a few decades.  Much like the early days of PCs, the real hurdle now is price.  When that comes down, I'll be a buyer for sure...
If you want to make a crap load of money, invest in the startup that develops the go-to platform for all the 3D-printer-enabled patterns and designs that are sure to flood the internet.  The industry leader in that space could make billions from the buyers and sellers of both custom products and designs, and combine that with ad revenues, licensing deals, exclusive material supplier markets, etc....
Are you sure you want to delete this comment?
DATA PROVIDERS
Copyright © 2014 Microsoft. All rights reserved.
Fundamental company data and historical chart data provided by Morningstar Inc. Real-time index quotes and delayed quotes supplied by Morningstar Inc. Quotes delayed by up to 15 minutes, except where indicated otherwise. Fund summary, fund performance and dividend data provided by Morningstar Inc. Analyst recommendations provided by Zacks Investment Research. StockScouter data provided by Verus Analytics. IPO data provided by Hoover's Inc. Index membership data provided by Morningstar Inc.
ABOUT
Top Stocks provides analysis about the most noteworthy stocks in the market each day, combining some of the best content from around the MSN Money site and the rest of the Web.
Contributors include professional investors and journalists affiliated with MSN Money.
Follow us on Twitter @topstocksmsn.