Why Amazon is your best buy for 2014
Despite low profits, the company's top-line growth is appealing in this market.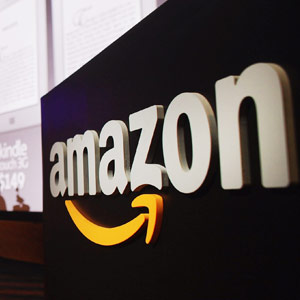 By Alyssa Oursler

Amazon (AMZN) is a head-scratcher for many investors. The e-commerce king is set to record roughly $75 billion in revenue this fiscal year, but hardly any profits. Yet the stock keeps chugging higher.
Investors seem to be banking on continued growth as the company maintains its online sales dominance and branches out into other areas, including streaming video and Web services.
However, it's more than just Amazon's innovation that's appealing to investors. Our country's slow recovery out of the Great Recession has become Amazon stock's biggest ally -- and might be the biggest reason to buy the stock right now.
Amazon keeps growing
At the beginning of 2009, Amazon shares were trading for around $50; now they're worth more than $350. Put another way, on average, Amazon has posted a 50% return per year over the last half-decade vs. just 17% for S&P 500.

Admittedly, the outperformance of Amazon comes amid some soft earnings over the last few years. Amazon not only posted a year-over-year earnings decline every quarter in 2011 and 2012, but actually lost money in three of the past five quarters.
Conventional wisdom doesn't necessarily apply here, though. Amazon is bringing in plenty of money ... but it's spending it just as quickly.
Part of the reason Amazon has been raking in so much cash in the first place? Because it offers shoppers sweet discounts -- and the crappy economy has put discounts in high demand.

The real business of Amazon
Amazon has grown sales every year since going public in 1997 and, more recently, has approximately doubled its revenue every two years. That's pretty darn impressive.

Sure, you can credit some of that to the company's endless stream of innovation and acquisitions, which are often cited in the Amazon bull case. But at the end of the day, Amazon still gets the bulk of its sales from simply selling stuff (or helping others sell stuff) online. . . and for a great price.
At its core, Amazon is a discount retailer -- and that's one reason the financial crisis has been Amazon's best friend. The Great Recession had consumers pinching pennies, and low-priced online alternative became a great avenue for savings.
Meanwhile, there has been some evidence that retail sales are getting stronger this year, but they sure haven't come roaring back. Unemployment is still high, incomes remain relatively stagnant and consumers have been facing countless headwinds, from the sequester to the shutdown and everything in between.
This benefits the broader Amazon brand as the cheap online retailer of choice for millions of Americans.
And even as the economy begins to gain some steam, there's a chance that saving money has quietly shifted from a necessity in the worst times to a habit or preference in the better ones. That means a tailwind for consumer spending -- especially coupled with the secular trends pushing more shoppers online -- could also continue to boost Amazon.
That's the case even if the company's innovative plans and big-time R&D spending don't deliver any immediate impact.
Few appealing alternatives
Of course, the impact of the broader economic landscape doesn't end there. Sure, it has helped Amazon grow sales and should continue to. . . but it's also part of the reason Amazon stock investors have been satisfied with top-line growth even in the face of big-time bottom-line weakness.
Investors would likely be less taken by the impressive organic growth coming out of Amazon if real growth wasn't so hard to find.
Even a few years out from the financial crisis, companies are struggling to grow sales. In the third quarter, for example, 74% of companies reported earnings above the mean estimate, but only 52% reported revenue about average estimate -- far below the four-year average.
In fact, blended revenue growth for the third quarter didn't even top 3%. So as sales remain tepid, companies are leaning heavily on cost-cutting, layoffs, buybacks and other inorganic gimmicks to grow earnings per share and keep investors happy.
The proposed Apple (AAPL) stock buyback, for example, suggests that the one-time tech darling can't sufficiently grow earnings the natural way -- creating and selling popular products. Similarly, blue chips like Caterpillar (CAT), Exxon (XOM), IBM (IBM) and more have been using piles of cash to take shares off the market.

Meanwhile, Cisco (CSCO) and Kellogg (K) are just two of a long list of companies that recently slashed their workforce.
Yet even with such desperate measures, earnings growth for most companies has hardly been impressive. That 74% beat rate only came after a record number of companies lowered their estimates heading into earnings season. And countless big-name companies -- including Yahoo (YHOO), Intel (INTC) and Panera Bread (PNRA) -- posted earnings beats only to then lower their outlooks.
The bottom line: Yes, Amazon boasts big-time potential as a clear leader in a booming field. But it's also, plain and simple, growing the old-fashioned way -- and that's actually quite exotic in today's low-growth landscape.
More From InvestorPlace
As of this writing, Alyssa Oursler did not hold a position in any of the aforementioned securities.

I'll repeat - As an Investor I only buy Company's that have a History of Profits and a Proven Business Model. Amazon doesn't fit that Criteria - In fact I have heard many many complaining because they now charge Tax in all states. Takes some of their advantage away. Many are seeking other alternatives to Amazon.
While I like them I don't own their stock - 

amazon stock is inflated by Obama because owner is a financial supporter.he use fed money borrowed from bailed out banks by colluded middlemen with no collateral .owner of amazon doesn't need to make profits because he makes billions selling options and stocks at high prices.Also amazon still don't pay sales taxes in more than half of us states.during Bush time stock barely moved even operating profits were better than now.If amazon has to pay sales taxes in all states its not a viable company

Are you sure you want to delete this comment?
DATA PROVIDERS
Copyright © 2014 Microsoft. All rights reserved.
Fundamental company data and historical chart data provided by Morningstar Inc. Real-time index quotes and delayed quotes supplied by Morningstar Inc. Quotes delayed by up to 15 minutes, except where indicated otherwise. Fund summary, fund performance and dividend data provided by Morningstar Inc. Analyst recommendations provided by Zacks Investment Research. StockScouter data provided by Verus Analytics. IPO data provided by Hoover's Inc. Index membership data provided by Morningstar Inc.
ABOUT
Top Stocks provides analysis about the most noteworthy stocks in the market each day, combining some of the best content from around the MSN Money site and the rest of the Web.
Contributors include professional investors and journalists affiliated with MSN Money.
Follow us on Twitter @topstocksmsn.