Why I bought Tesla on the dip
A stong Model S backlog, hopes for the Model X SUV and technical support add up to a bullish case for the stock.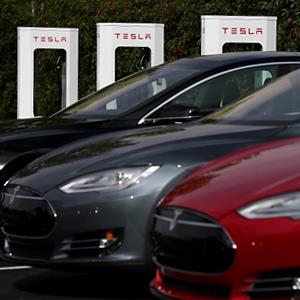 By Jeff Reeves
Tesla Motors (TSLA) has been on a wild ride lately. The stock has fallen about 35% from its high of $194.50 to around $130.
Of course, even after this decline, shares of the stock still are up about four-fold this year in 2013.
So is Tesla stock doomed for continued declines, or is the electric car manufacturer now a great opportunity for new investors now that it has cooled off a bit?
Me, I am a believer TSLA stock, its flagship Model S sedan and its iconic CEO Elon Musk.
That's why I personally bought into Tesla on this pullback -- and I think you should too if you're a long-term investor.
Here's why I invested in Tesla:
The negativity is overdone
The reasons for Tesla's rollback aren't really anything dramatic.
Sure, there have been reports of Tesla Model S sedans catching fire after crashes. But this isn't a recall issue due to shoddy manufacturing. It's just damaged Tesla vehicles, and only a handful at that.
Furthermore, the auto industry has long known the risk of fire is greater for any plug-in or hybrid using lithium ion batteries -- General Motors (GM), for instance, issued a special guide to first responders in 2011 to discuss the best way to deal with its Chevrolet Volt electric vehicle.
In other words, three fires involving damaged Tesla vehicles is hardly a sign that the company is cranking out death traps.
Furthermore, Tesla earnings in November that disappointed some investors actually met internal growth targets. The 5,500 vehicles produced in the third quarter was in line with targets, but some investors were hoping for figures as high as 7,000 on the quarter.
Exuberance clearly got the better of some analysts last quarter, but that doesn't mean Tesla isn't growing at a good clip.
Consider the company has predicted 6,000 Tesla Model S sedans manufactured in the current quarter -- another uptick in production. It's not 7,000, no, but more is more.
Dust is settling for Tesla stock
The reason I entered Tesla stock at around $135 per share recently is because I think the market has overreacted to these bearish news items. Now that the TSLA shorts have finally got the leg down they were banking on and now that the fair-weather swing traders have moved on, it's a pretty good time to make a long-term bet in Tesla stock.
Here's why:
TSLA at support: As Serge Berger noted on InvestorPlace immediately after earnings, Tesla stock had support levels at $130 and $115. Shares have comfortably settled in around the $130 range now that the fireworks have ended, meaning the downside risk is pretty low from a technical perspective.
The electric-vehicle revolution is real: This isn't just a Tesla story. Electric vehicles are the way of the future, with the Volt, the Prius plug-in from Toyota (TM) and the Nissan (NSANY) Leaf all racking up more than 10,000 units in sales each this year. Ford (F) isn't far behind with its electric Fusion and C-Max compact plug-ins.

In other words, the EV market is soaring across the board right now; it represents about 4% of the auto market -- and is growing fast. With plans for a Tesla Model X SUV and Tesla Model E midsize sedan in the works for 2014, Tesla is not just growing sales of its existing Model S but opening up new product lines for a big footprint in this important part of the auto market.
The Tesla brand is powerful: The reason I think these new vehicle lines will see tremendous success is because Tesla still is a powerful brand with consumers. After all, the Model S got the highest-ever rating for an automobile from Consumer Reports and the government's highest safety rating. Tesla's customers are evangelists of the brand, speaking with reverence and wonder of the Model S the same way early adopters of the iPod, iPhone and iPad spoke of Apple (AAPL) in the Steve Jobs era.

Sure, no company remains dominant forever. . . but if you think the Tesla brand will crumble overnight, you haven't met many Model S drivers. Furthermore, there's no brand confusion here -- Tesla is synonymous with electric vehicles, and to many consumers, it is the only EV they know of.
Tesla's growth is real: Amid all this talk of new Tesla vehicle lines and Wall Street sentiment, it's easy to overlook the fundamentals that led to this meteoric rise in Tesla stock. The company doubled revenue from $204 million in 2011 to $413 million in fiscal 2012. This year, revenue will hit $2.3 billion -- yes, with a "B" -- in fiscal 2013. Furthermore, Tesla turned its first quarterly profit in the first quarter ahead of schedule and is now operating in the black. But next year, earnings will jump from just a few cents a share to more than $1.40 per share, according to estimates.
Production is booming: And in case you're worried this growth won't keep up, remember that Tesla raised more than $300 million in 2013 via a secondary stock offering, and recently entered into China and Europe to sell its Model S sedans. Capacity continues to increase, but a backlog remains. As Musk put it in the company's recent earnings report, "We're production constrained, not demand constrained." And that production continues to expand rapidly to meet that robust demand -- meaning investors can expect continued growth in 2014 and beyond.
There still are very real risks to Tesla stock in the short term. The number of shares held short in mid-November hit the highest level since the end of April, and we'll have to wait for more recent data to see how many of those bears got washed out. Also, the forward P/E is still almost 100 based on FY 2014 earnings forecasts.
But Tesla CEO Elon Musk himself remarked that shares were overvalued before the stock took a tumble, and most analysts that called for caution did so because of valuation concerns -- not growth concerns.
Also, consider when Baird downgraded Tesla stock to "neutral" several weeks ago, it was with a price target of $178 -- and on fears that "any hiccups in execution" posed a big risk thanks to unrealistic expectations. In other words, it wasn't that Baird lost faith in TSLA. . . it just worried that investors weren't acting rationally.
Sure, another spate of vehicle fires could create bad press. And there still are plenty of naysayers who mock the peculiarities of Tesla's balance sheet -- profits booked from EV credits that it sells competing automakers, for instance, or the way it books leases and records non-GAAP profits as a result.
But while more short-term volatility might be in the cards for TSLA stock, the long-term outlook is bright as this electric vehicle icon continues to redefine how the world things about automobiles.
Plus, there aren't a whole heck of a lot of growth opportunities in domestic equity right now. The stock is one of the few places where big gains in revenue and profits are a real possibility.
To me, the worst that can happen is that Tesla does stagnate and struggles to find a leg up from here thanks to a big sentiment shift.
But considering the massive long-term potential, that's a risk I'm willing to take.
More From InvestorPlace
Jeff Reeves is the editor of InvestorPlace.com and the author of The Frugal Investor's Guide to Finding Great Stocks. As of this writing, he was long TSLA.


Well, Jeff, I am not so arrogant as to not eat crow when I should.  Today Tesla stock is up 16.5%, so it looks like you made a GREAT call!  If this holds, or even better if the stock's price recovery continues, I will admit I had it all wrong and congratulate you on you insightful timing.
Of course, if I was smart, I'd be rich, is that the saying?

From the article:  "But while more short-term volatility might be in the cards for TSLA stock, the long-term outlook is bright as this electric vehicle icon continues to redefine how the world things about automobiles."
First, consider using grammar checker in addition to your spell checker:  It should be "thinks", not "things".
More importantly,  the world has yet to think correctly about electric cars as automobiles, more specifically as "environmentally friendly" vehicles.  About 68% of the electrical energy generated in the US comes from fossil fuels, and about 37% of the total is generated by coal-fired power plants, one of the worst-polluting sources.  Modern automobiles burn gasoline as cleanly as, if not not more so, than coal-fired power plants.  About 19% of the total US electrical energy generation comes from nuclear power plants, and most people are starting to recognize the long term environment problems with these.  On top of this, on average about 7% of the electric energy generated is lost between the generating source and the point of end-use.
The end-to-end combined energy conversion efficiency of an electric-powered automobile is comparable, and may even be slightly less, than that of a modern gasoline powered internal combustion engine.
So, the electricity you get out of your home's electrical system or at a electric vehicle charging station in not at all environmentally clean or even that "energy efficient" when applied to powering an automobile.

Tesla is down about 3% just today.  Congratulations, Jeff,  on your insightful purchase.
You forgot to mention that something over 50% of Tesla's per-vehicle net income is due to Federal subsidies for electric cars.  According to some reports, it is problematic that this subsidy will continue in the future, especially with a lame duck . . . or is it just lame? . . . President.
Once the subsidies disappear, hello bottom.

I think you are Doomed there Jeff ! There is no long term future for Telsa - A nice concept but based on flawed technology. If they convert to a Hydrogen Fuel Cell engine I might give them more long term credibility !
Electric Vehicles have limited ranges, take too long to charge and there is really no public charging stations. Nothing but toys for rich people and those fools that think they are saving the planet. Nope - Not an investment for me - But look at the bright side - Fewer stock investors mean cheaper stock prices for you.
Are you sure you want to delete this comment?
DATA PROVIDERS
Copyright © 2014 Microsoft. All rights reserved.
Fundamental company data and historical chart data provided by Morningstar Inc. Real-time index quotes and delayed quotes supplied by Morningstar Inc. Quotes delayed by up to 15 minutes, except where indicated otherwise. Fund summary, fund performance and dividend data provided by Morningstar Inc. Analyst recommendations provided by Zacks Investment Research. StockScouter data provided by Verus Analytics. IPO data provided by Hoover's Inc. Index membership data provided by Morningstar Inc.
ABOUT
Top Stocks provides analysis about the most noteworthy stocks in the market each day, combining some of the best content from around the MSN Money site and the rest of the Web.
Contributors include professional investors and journalists affiliated with MSN Money.
Follow us on Twitter @topstocksmsn.