Why micro-location iBeacons may be Apple's next hit
The devices may be the company's biggest new feature for iOS 7.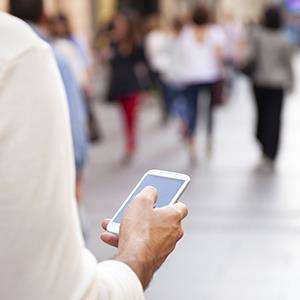 By
Anthony Wing Kosner, Forbes Contributor
With all of the "color commentary" about the next
Apple
(
AAPL
) iPhones, and the equally off-color criticisms of the design of iOS 7, we may have missed a really important new feature. Thanks to a really detailed discussion by Daniel Eran Dilger at AppleInsider, we can now see the full implications of the iBeacons ranging and micro-location capabilities included in iOS 7.
iBeacons is an implementation of the Bluetooth Low Energy (BLE) profile, which enables very precise micro-location triggers for events in iOS 7 apps. Already an industry is mobilizing to create hardware and software services to take advantage of these new geofencing capabilities.

Estimote, a Polish company with an outpost in Mountain View, Calif.  that just graduated from Y Combinator, is about to ship it's first beacons (three for $99). It's co-founder, Jakub Krzych, talks about creating "an OS for the physical world." And Roximity iBeacons has a $10 a month service for retail locations, while Adomaly claims to be the "1st Mobile Ad Network to Reach Consumers In-Store @ Shelf,"  and sells bundles of 10 beacons for $210.
BLE is already in iPhone 4S and 5 as well as iPads, Mac computers and many high-end Androids. The way iBeacons work is the mobile device is both a sensor and a signal. A BLE enabled iPhone running iOS 7 will be able to receive location-specific messages based on its proximity to a local network of iBeacons. And that phone can act as an iBeacon itself, transmitting messages to others.
iBeacon builds on top of last year's Passbook feature in iOS, and now means you might see a sale offer on your lock screen as you crossed the threshold of a store -- and then have checkout information appear as you approach the cashier. Making sure the messages are relevant and appealing will be especially important, lest users just turn the feature off (or jailbreak their phones if they can't.) The flooring ad below from Adomaly is an example of how delivering relevant, useful content will be an especially important best practice in this emerging medium.
BLE is especially useful in places (like inside a shopping mall) where GPS location data my not be reliably available. The sensitivity is also greater than either GPS or WiFi triangulation. BLE allows for interactions as far away as 160 feet, but doesn't require the surface contact of
Google
's (
GOOG
) preferred NFC standard. Google's Wallet and Android Beam implementations require contact proximity to work, and so far have not taken off.
Apple's Craig Federighi introduced WiFi-based wireless AirDrop sharing in iOS 7 at WWDC, and teased the Android Beamers that AirDrop would not require you "to wander around the room bumping your phone with one another." In a similar vein, iBeacons enable much more seamless, casual transactions based on close -- but not intimate -- ranges.
The dual nature of the iBeacons is really interesting as well. We can receive content from the beacons, but we can be them as well. It is possible that, between businesses and municipalities constructing networks of low-cost BLE beacons and us all acting as defacto mobile beacons, the addressable micro-location network could become vast and incredibly powerul -- and valuable.
It is worth noting that two of Apple's recent acquisitions, the indoor mapping company WiFiSLAM and mass transit mapper Embark, both potentially relate to this technology.

Navigating real-world commerce and public transportation are just the kind of everyday ordeals that we hope our iPhones can help relieve for us. And don't forget how important little micro-location cues will be for navigational, transactional and health-related iWatch apps. Not only can a wearable receive this kind of information through a paired smartphone, but the iWatch may be an iBeacon itself. Think of the app possibilities with all that!
More from Forbes
Are you sure you want to delete this comment?
DATA PROVIDERS
Copyright © 2014 Microsoft. All rights reserved.
Fundamental company data and historical chart data provided by Morningstar Inc. Real-time index quotes and delayed quotes supplied by Morningstar Inc. Quotes delayed by up to 15 minutes, except where indicated otherwise. Fund summary, fund performance and dividend data provided by Morningstar Inc. Analyst recommendations provided by Zacks Investment Research. StockScouter data provided by Verus Analytics. IPO data provided by Hoover's Inc. Index membership data provided by Morningstar Inc.
ABOUT
Top Stocks provides analysis about the most noteworthy stocks in the market each day, combining some of the best content from around the MSN Money site and the rest of the Web.
Contributors include professional investors and journalists affiliated with MSN Money.
Follow us on Twitter @topstocksmsn.