Will the fast-food strike hit your portfolio?
Here are some of the numbers behind the effort, plus the current dynamics at 3 industry giants.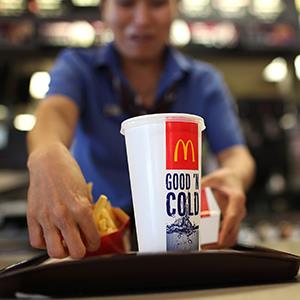 By Karen Riccio
Fast-food workers are going on strike Thursday for the second time this year with hopes that the likes of McDonald's (MCD), KFC, Taco Bell, Pizza Hut (YUM) and Wendy's (WEN) will raise their pay from an average $9 hourly to $15 an hour.
The united effort in 100 cities is indeed admirable but unlikely to spur changes in this thinly margined industry. The August version certainly didn't.
This isn't a matter of whether fast food workers deserve to be paid more, rather its whether the industry at large would or could survive paying employees $15/hour. And, if companies were forced to do so, what would the impact be on jobs and food prices?
Will investors see will any of this affect their portfolios?
A wage increase to $15/hour would force restaurant owners to increase total sales by 24% to make up for the estimated labor expense, according to IBIS World. That means by using the average industry profit or EBIT (earnings before interest and tax) of 23.6% that decrease in operating margin would put many restaurants in the red and lead to either layoffs or higher prices.
Let's use McDonald's as an example. In 2012, it generated $4.5 billion in revenue from U.S. stores. A wage increase like the one proposed would leave an operating income of $883 million. If McDonald's didn't raise prices substantially, it would be forced to shut down many locations.
A 2006 study showed that one 10% increase in the minimum wage would boost menu prices by 1.6% and could reduce industry employment by as much as 2.5%. Using those figures to project the impact,  a hike to $15 would cause as much as a 17% surge in fast-food prices and a nearly 27% slide in the industry's employment.
On paper, it sounds like a lose-lose situation. So, unless Uncle Sam ties Ronald McDonald's hands, this sort of wage hike isn't likely to happen.
Even with wages at current levels, a few of the fast food chains are seeing a slowdown in sales. That may not have striking employees concerned, but investors and potential investors ought to be.
Here's the lay of the land for three fast-food giants and their shares:  
McDonald's (MCD)
While the world's largest fast food chain has a $1.52 billion profit last quarter, up from $1.46 billion a year earlier, same-store sales were flatter than a pancake. In that vein, McDonald's could feel pressure to actually lower costs.
That could spell trouble down the road for the franchise, according to Gina Sanchez, founder of Chantico Global. "They're going to spend an increase of $200 million just for its Olympic advertising this coming year. And, they have modest inflation pressures. So, the outlook for McDonald's isn't as positive."
Up just 10% year-to-date, McDonald's is lagging the S&P 500 by nearly 15%. Looking back 11 years, during which the cost of a Big Mac went from $2.80 to $4 -- its stock is up nearly 500% compared to 103% for the S&P 500.
Again, it's your choice. Are you after short-term gains, its 3.3% dividend, or growing your retirement fund?
Yum Brands (YUM)
Yum Brands operates KFC, Pizza Hut and Taco Bell in more than 120 countries and 37,000 stores. While hamburgers aren't on the menu at this trio of restaurants, it shares a similar story with McDonald's.
Yum Brands expects to end 2013 with high single- to low-double-digit declines in earnings. Much of it can be attributed to a poor showing of KFC in its top market, China, which accounts for 50% of operating profit. Yum is the biggest Western restaurant operator in China and had almost 4,500 KFC outlets there at the end of its third quarter.
Despite the loss, investors are looking for China's KFC sales to rebound in 2014, accounting for the 14% rise in value since the start of November. The company forecasts an overall 20% growth in earnings next year. YUM is up 12% year-to-date and delivers a 1.9% dividend.
Wendy's (WEN)
I've saved the best for last. . . not necessarily the food, but the stock.
Wendy's is up 82% year-to-date thanks to a revamped menu and remodeling of stores that began Feb. 21. At Wendy's, 57%  of the 2013 growth happened since that date.
Its third-quarter earnings beat estimates while revenue came up short, and investors took money off the table. But that's perfectly normal, considering the rise from $5 per share at the end of 2012 to $8.50 today. Don't forget about the 2.2% dividend.
Wendy's earnings are expected to grow at an average rate of more than 16% a year for the next five years or so, compared to McDonald's long-term projected growth of 8%.
More from Traders Reserve
DATA PROVIDERS
Copyright © 2014 Microsoft. All rights reserved.
Fundamental company data and historical chart data provided by Morningstar Inc. Real-time index quotes and delayed quotes supplied by Morningstar Inc. Quotes delayed by up to 15 minutes, except where indicated otherwise. Fund summary, fund performance and dividend data provided by Morningstar Inc. Analyst recommendations provided by Zacks Investment Research. StockScouter data provided by Verus Analytics. IPO data provided by Hoover's Inc. Index membership data provided by Morningstar Inc.
ABOUT
Top Stocks provides analysis about the most noteworthy stocks in the market each day, combining some of the best content from around the MSN Money site and the rest of the Web.
Contributors include professional investors and journalists affiliated with MSN Money.
Follow us on Twitter @topstocksmsn.