Winning and losing stock picks in China's milk wars
6 milk powder producers are being fined by Beijing for price-fixing, as the country struggles to keep its food supplies free from contamination.
It's a milk war in China.
Six milk powder producers charged by China's National Development and Reform Commission with price-fixing have plead guilty and will be fined 669 million yuan ($109 million.)

The companies -- Mead Johnson Nutrition (MJN), Danone (DANOY) subsidiary Dumex, Abbott Laboratories (ABT), Fonterra Cooperative Group, FrieslandCampina and Biostime International Holdings -- admitted they set minimum prices for distributors in order to keep prices high.

Many of the companies had earlier cut the prices they charge in China-- Fonterra had cut the price of its Anmun brand of baby formula 9%; Abbott Laboratories had reduced prices by as much as 12% and Mead Johnson had lowered prices by 7% to 15%.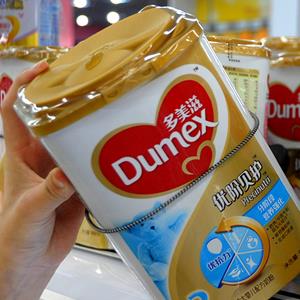 This is, CaixinOnline reports, the harshest penalty handed out under China's five-year-old anti-monopoly law. The announcement of the fine, hard on the heels of a ban by China on all imports of whey protein products from Fonterra -- after regulators found a batch of whey from a Fonterra plant in New Zealand contaminated with botulism -- makes it clear that something big is going on here.
We're talking about big dollars. Fonterra, for example, collects 89% of all milk produced in New Zealand -- and dairy sales account for 25% of all of New Zealand's exports. And China is a huge and fast growing market for baby formula for companies that include Abbott and Danone, Nestle (NSRGY), and Mead Johnson.
So, yes, something big is going on here. But exactly what?
At least three things, I think.
First, the milk wars demonstrate that China has a serious food safety problem. It's not just milk and baby formula. In 2009 the pesticide Dichlorvos was found in steamed buns, for example. In 2012 and 2013 there's been chicken with excessive levels of antibiotics and rat-meat masquerading as lamb. And there's a standing problem with "gutter oil," cooking oil either produced from low-quality or expired animal parts or used oil that has been collected and then resold.
But it's the 2008 melamine scandal has become the symbol of China's problem—and that resonates so strongly in the current news. In 2008, 300,000 people in China developed symptoms that included kidney stones and malnutrition as a result of drinking milk tainted with the plastic melamine. Melamine had been intentionally added to the milk to make it show a higher protein content. An estimated 54,000 babies were hospitalized. Six infants died. A government investigation found problems in products at 22 Chinese dairy companies. After criminal trials two people were executed; one person received a suspended death sentence; three were sentenced to life in prison; and two received 15-year jail terms.
It has turned out to be extremely difficult to eliminate even this single high-profile problem. In 2010 Chinese officials were still seizing melamine-contaminate​d dairy products in some provinces. Reuse of material from 2008 or new tainted production? Unclear.
So the first element of this story, especially the immediate ban on the botulism-contaminate​d product from Fonterra, is an attempt by authorities to be seen taking action on problems in China's food supply.
Second, the Chinese government is always extremely sensitive to food price inflation -- and is especially sensitive right now, when China's economic growth is slowing. There is no doubt the price of foreign brands of baby formula -- and only one of the companies charged, Biostime, is a Chinese company --mhas climbed in the years since the melamine scandal. Research by Bloomberg and data from the Mintel Group show that prices on some foreign brands have climbed by 25% to 40% since 2008. (Annual food inflation in China in this period averaged 7.8% from 2008 to 2012.)
A huge trade in foreign baby formula -- with individuals buying so much on trips to Hong Kong and Australia that customers have been restricted to purchases of no more than two cans at a time, and with the Chinese government cracking down on Internet purchases from overseas suppliers -- has become the most obvious example of runaway price inflation and social inequality, since poorer Chinese have been left with no alternative but the local products.
And third, the Chinese government is looking to take back market share for domestic dairy companies. The infant formula market in China is estimated at $16 billion by the Mintel Group, and the top four overseas producers have gained about a third of that market, thanks in good part of worry over the safety of Chinese dairy products.
Even before the judgment came down in this case, the Chinese government was saying it would take steps to raise the entry requirements of Chinese companies (in an effort to improve the quality of the product they produce), encourage mergers between Chinese producers to make them more competitive and increase financing so that producers can own more of their supply chain.
So, what are the effects of the milk wars likely to be?
First, China faces a much tougher task in gaining more market share for Chinese companies in the dairy sector than in steel or smartphones. With its very limited supplies of land and water for pasture -- and its big problems of polluted land and water -- I can't see how China can compete on dairy products with countries like New Zealand or the European Union. China's food safety problem isn't going away, and I think it is likely to be hardest to defeat in the dairy sector, which is very susceptible to problems with ingredients and where quality problems are extremely visible.
Second, ironically, I think the biggest losers, at least in the first rounds of the milk wars, are likely to be domestic Chinese problems of products such as infant formula. If overseas companies cut prices, Chinese companies will be forced to make cuts as big or bigger -- since they are fighting an uphill battle on perceived quality and safety. Margins for Chinese producers are likely to come under increasing pressure.
Third, overseas producers are likely to see margin cuts, too -- but if, as seems likely, they pick up share on lower prices and on the rumored end to cross-border shipments from Hong Kong (reportedly this ban will be lifted in October),  companies such as Mead Johnson and Abbott Laboratories will be able to balance lower margins against increased volumes.

Certainly the milk wars add more uncertainty to the margin and earnings stories for these companies that makes it harder to calculate a valuation for these stocks, but I don't see the story as radically different going forward. (It's a huge plus for the margin story that China banned only whey protein from Fonterra. That means producers will continue to have access to the large supplies of milk powder from this source for products sold in the Chinese market.)
As a rule of thumb, I'd use anything like a 10% dip on Mead Johnson, Danone, Abbott Laboratories, Nestle, and Fonterra (which trades only on the Australian and New Zealand stock exchanges) to pick up shares.

Full disclosure: I don't own shares of any of the companies mentioned in this post in my personal portfolio. When in 2010 I started the mutual fund I manage, Jubak Global Equity Fund, I liquidated all my individual stock holdings and put the money into the fund. The fund may or may not now own positions in any stock mentioned in this post. The fund did own shares of DANONE and Fonterra as of the end of June. For a full list of the stocks in the fund as of the end of June see the fund's portfolio.
MSN Money on Twitter and Facebook
Like us on Facebook: MSN Money and Top Stocks
Follow us on Twitter: @msn_money and @topstocksmsn

What about some talk about current issues of REAL importance?
Currency Reset in Motion - The QUADRILLION (Plus!) Ticking Time Bomb,Derivatives
We wrote this piece with help from the watchers of like ourselves. Clown patrol 50/50 spin artists such as (well we know) had a hard with such a article as there is no where to run when she goes. However these 50/50 spin artists gambling with demise all for the fame of "Look what I have" in a Jones vs Jones world (for them that is) like the gambling with purchase of Demise.

Would be pretty funny to SEE what they hoop and holler about when their credit vouchers of paper expire. As we have been barking about clickity-click and DEBT,DEBT,DEBT and these spin artists that insist that what they have made off of demise will be waiting for them.

The jokes on them folks ands we have stated all along. Why they were laughing about a interest rate at a certain TBTF that they stated just was not true when we announced 4.5% on your paper. Yes that was a year ago and the begging dept. could not cough up the cake in which was taken and deposited with them as they said it would take 10-14 days to have it back in stacks instead of a clickity-click bogus check. Why they were so upset at the asking for it back and closing the acct. they offered 4.5% to stay a loyal customer.

When we refused that they offered the clickity-click paper check. And we refused that. That brought the old pres. out of the office to SE what the noise was. Why the pres offered the same remedy and we declined. We stated to give back what had been deposited in good faith. And next stop was a theft charge as they stated that a wait of 10-14 days was needed not required in this situation. And we said no.

Was a rough day a year ago for somebody as they did give it up in paper bills measuring down to $1-$5-$10. Had to laugh as it was like all they had for all we know behind those vault doors. Similar to that of the GOLD and SILVER messy trail of where did it go. As allocated accts. have been used for recent servicing of orders.

That article from last year, The Decoy 409 POST - July 5,2011 - The QUADRILLION (Plus!) Ticking Time Bomb,Derivatives

You may want to have a look at that now and combine the following out as of recent (our thanks to the gang at Investmentwatch for keeping time),

Aug. 9,2013 - Global Currency Reset In Process: The Fed Can't Exit Easy Monetary Policy As USD Comes Under Attack, China and Russia Suggesting A New Bretton Woods, One Quadrillion Dollars of Derivatives Time Bomb Is Set To Explode
source/Investmentwat​​ch

But these are things that TRUTH brings to the surface. Daniels dream explained as in the good book. All things shall be revealed for what they are. We call the casino and the past few years of endless rising from nothing SUPER MILKER or Sham WoW.
The Decoy 409 POST / Msn Refugee Board 2
Are you sure you want to delete this comment?
DATA PROVIDERS
Copyright © 2014 Microsoft. All rights reserved.
Fundamental company data and historical chart data provided by Morningstar Inc. Real-time index quotes and delayed quotes supplied by Morningstar Inc. Quotes delayed by up to 15 minutes, except where indicated otherwise. Fund summary, fund performance and dividend data provided by Morningstar Inc. Analyst recommendations provided by Zacks Investment Research. StockScouter data provided by Verus Analytics. IPO data provided by Hoover's Inc. Index membership data provided by Morningstar Inc.
ABOUT
Top Stocks provides analysis about the most noteworthy stocks in the market each day, combining some of the best content from around the MSN Money site and the rest of the Web.
Contributors include professional investors and journalists affiliated with MSN Money.
Follow us on Twitter @topstocksmsn.