Would DirecTV-Dish merger create a monopoly?
A merger sounds like a monopoly on the surface, but is it a monopoly in reality if you consider the new normal in media and pay-TV?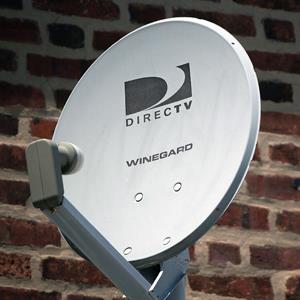 By Jon Ogg
A true monopoly is when only one major player remains in an industry, even if tiny competitors exist here and there. So ask yourself what it would mean if the two satellite pay-TV providers were to become one in a merger. Rumors have been around of the possibility of a merger between DirecTV (DTV) and Dish Network (DISH). This sure sounds like a monopoly on the surface, but is it a monopoly in reality if you consider the new normal in media and pay-TV?
A report this week from Standard & Poor's said:
"After more than a decade of speculation, rumors of a merger between major U.S. satellite TV providers DirecTV and Dish Network Corp. have once again intensified with the companies' recent open discussions of the possibility. The Federal Communications Commission (FCC) and Department of Justice (DOJ) blocked the companies' attempt to merge in 2002 because of anti-trust concerns, many of which still exist."
That being said, rumors of media mergers have been prominent, even this past summer. Some of these rumors seem more forced than they are pressing.
Here is where the question of a true monopoly comes into play. With dominant cable television having true competition with telecom providers, and now with Internet-delivered television and video, how many competitors do there really need to be in the pay-TV market? It is a question that must be asked. Perhaps the public will want to know just how profitable companies have to be allowed to get as well.
S&P's report points out that, unlike in 2002, the U.S. paid-TV market strains to add video subscribers, programming costs continue to rise, and DISH struggles to define its wireless strategy. S&P even said that it has received many inquiries from investors regarding how the credit ratings would be affected by a potential combination of the two.
The good news, if it is good news, is that S&P claimed to have no knowledge of any current negotiations between DirecTV and DISH. The ratings agency still believes that meaningful regulatory, ownership and cultural hurdles could preclude a merger from ever taking place.
Another wild card is Charlie Ergen's absolute control of DISH. S&P does believe that significant cost synergies would exist. Its base case scenario is roughly $2.0 billion to $3.3 billion in annual pretax operating cost savings, with another $400 million or so in capital spending that could be cut. Consolidating ground operations and the necessary satellite fleet are other savings opportunities, but those would take years to accomplish.
The reality is that DirecTV and DISH do far more than just compete against each other. They compete against the likes of Comcast (CMCSA), Time Warner Cable (TWC) and Charter Communications (CHTR). Even the much smaller Netflix (NFLX) is growing as a competitive threat, and Amazon.com (AMZN) and Apple (AAPL) could become far more significant powerhouses in this space if either truly wanted to do so. DirecTV and DISH even compete with AT&T (T) and Verizon Communications (VZ) in the pay-TV space. A slew of up-and-coming Internet devices also are pay-TV competitive threats, as the generation of cord-cutters is growing rapidly.
The graphic from S&P below shows how a combined NewCo would dwarf the cable companies if the total subscriber counts are kept static. Still, without a triple-play package, there might not be a true monopoly. S&P said that it would not expect the combined company to be able to increase its pay-TV market share beyond roughly 36 percent in the United States.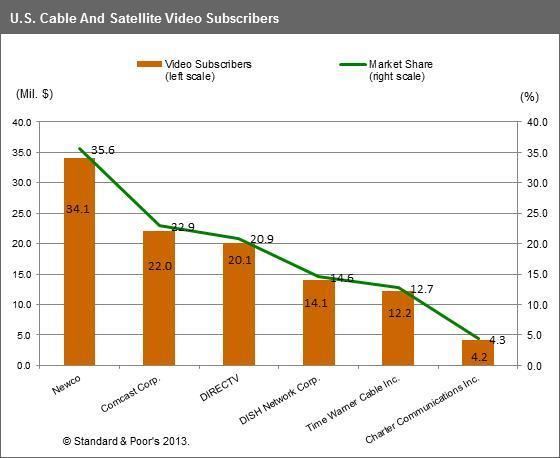 Again, S&P's report is more of a credit rating review supposition than it is a rumor of direction. Just never count anything out in the world of high finance when millions of subscribers translate to billions of dollars per year in revenue. Here are the expected 2013 or current fiscal year revenues for the major media outlets:
DirecTV is worth $31.8 billion in market capitalization, and expected sales are about $31.6 billion.
DISH Network Corp. is worth $21.3 billion in market cap, and expected sales are almost $14.4 billion.
Comcast Corp. is the largest by far in true cable, worth $116 billion and with expected sales of about $64.5 billion. Yes, it loves the triple-play.
Time Warner Cable Inc is worth $31.5 billion, and expected sales are about $22.2 billion.
Charter Communications Inc. is worth $13.3 billion, with expected sales of about $8.1 billion. Charter has been the subject of more rumors of late than any of the major pay-TV providers.
Netflix Inc. is worth $17 billion in market cap. Expected sales are about $4.35 billion, but it is also expected to grow faster than other traditional pay-TV media.
Then there is the notion that telecom giants are players in in-the-home pay-TV media via their fiber-to-the-home initiatives. AT&T Inc. has its Uverse product offering. Its market cap is almost $180 billion, and annual sales are expected to be more than $128 billion this year. Verizon Communications Inc. has a value in the market of about $132 billion, and it is expected to have just over $120 billion in revenues this year. The problem for AT&T and Verizon both is that neither has reached a critical penetration in the world of pay-TV, even if the products are said by users to be solid.
So again, would a combined DirecTV-DISH be considered enough of a monopoly that a merger would be blocked by the Department of Justice or the FCC? Imagine if the merger was encouraged, but only if the NewCo provider adopts an a la carte menu that some members in Congress would like to see from the cable companies.
More from 24/7 Wall St.
DATA PROVIDERS
Copyright © 2014 Microsoft. All rights reserved.
Fundamental company data and historical chart data provided by Morningstar Inc. Real-time index quotes and delayed quotes supplied by Morningstar Inc. Quotes delayed by up to 15 minutes, except where indicated otherwise. Fund summary, fund performance and dividend data provided by Morningstar Inc. Analyst recommendations provided by Zacks Investment Research. StockScouter data provided by Verus Analytics. IPO data provided by Hoover's Inc. Index membership data provided by Morningstar Inc.
ABOUT
Top Stocks provides analysis about the most noteworthy stocks in the market each day, combining some of the best content from around the MSN Money site and the rest of the Web.
Contributors include professional investors and journalists affiliated with MSN Money.
Follow us on Twitter @topstocksmsn.