Yes, the Dow needs new blood
The people who manage the blue-chip index are substituting Goldman Sachs, Nike and Visa for Alcoa, Bank of America and Hewlett-Packard.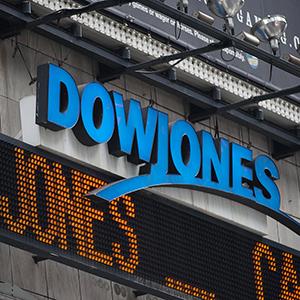 It doesn't happen often that the folks who bring us the
Dow Jones Industrial Average
(
$INDU
) bring in three new components.
But there's a reason for the fresh players: They're growing and have less of a chance to be sunk by global forces they can't possibly control.
Those coming in on Sept. 23: investment bank
Goldman Sachs
(
GS
), athletic equipment maker
Nike
(
NKE
) and transaction company
Visa
(
V
).
Saying goodbye to the Dow after Sept. 20 are
Alcoa
(
AA
), a Dow component for 54 years;
Bank of America
(
BAC
), which has struggled mightily since the 2008 crash; and
Hewlett-Packard
(
HPQ
), a tech giant from the 1970s on and inventor of the laser printer.
In the grand scheme of things, the changes won't mean much. They didn't affect departing stocks on Tuesday. Bank of America was up 13 cents to $14.61 as the Dow rallied 128 points to 15,191, its second 100-point gain in a row. Alcoa was off 3 cents to $8.06. H-P slipped 9 cents to $22.27.
The
Standard & Poor's 500 Index
(
$INX
) climbed 12 points to 1,683.99, and the
Nasdaq Composite Index
(
$COMPX
) added 23 points to 3,729. The rally reflected hopes that tensions over Syria's alleged use of sarin gas were dissipating. Crude oil and gold prices dropped sharply.
Goldman Sachs jumped $5.65 to $165.14. Nike added $1.42 to $66.82. Visa climbed $6.04 to $184.59 -- not bad for a company that went public in early 2008, just before the financial crisis erupted in earnest.
S&P Dow Jones Indexes, which owns the average, along with
CME Group
(
CME
) and
Newscorp
(
NWSA
), will change its divisor so there's a seamless transition from the Friday close to the Monday open.
Most money managers will continue to use the S&P 500 as the benchmark against which they compare their own performances.
Critics are growling already, as they always do, that the Dow is irrelevant (or just plain ridiculous,
as the Washington Post's Neil Irwin wrote today
) because it has just 30 components. Fair enough.
But the Dow has been around in one form or another since 1896 and it won't go away. For one thing, it's easier to say "the Dow was up 50 points" than "the S&P 500 was up 8 points."
The Dow is not entirely irrelevant. There are exchange-traded funds built on the Dow and its components.
Plus there's a long and growing literature of studies of the relationship between the Dow and its older sister indexes: the
Dow Jones Utility Average
(
$UTIL
) and the
Dow Jones Transportation Average
(
$DJT
).
The industrials and the transports have complex relationships. The transports are a leading indicator. If you make stuff, you have to get it to customers. Trucks and trains and jet freighters move it. If the Dow transports start to show sluggishness, that's a signal of softness elsewhere in the economy.
This gets translated into a more abstract theory: Dow theory. Among its six components, perhaps the most important is this: If either the Dow or the transports hit a new high but the other doesn't, that's a negative for stocks. Likewise, it hits a new high and is promptly followed by the other, that's confirmation of an uptrend.
So, why did S&P Dow Jones decide to dump Bank of America, Alcoa and Hewlett-Packard? The ostensible reason is to diversify the index. The more probable reason is this:
Bank of America's share price fell nearly 95% from its peak in 2006 to its bottom in March 2009. It exists because the Federal government rescued it after the crash. Never mind that it is up about 25% this year. It still is down 73% from its 2006 peak.
Alcoa's shares fell 82% between a high of $43 in June 2000 and a bottom on Aug. 30. The company's problem is that it has little control of its destiny. The global market for aluminum ebbs and flows by how much China wants to support its high-cost domestic aluminum manufacturers. When China is in support mode, the global market gets glutted .
Hewlett-Packard's shares fell 85% between April 2000 and November 2012. The company's computer business has been roiled by the rise of tablet devices and smart phones, and H-P's own internal issues. It has had three CEOs since 2005 and regular board turmoil.
So, why the replacement choices?
You could not add
Apple
(
AAPL
),
Amazon.com
(
AMZN
) or
Google
(
GOOG
) because the trio have small numbers of shares outstanding and correspondingly high stock prices. The problem is, the Dow is a price-weighted index. The higher the stock price, the more the stock affects the index. (The S&P 500 and Nasdaq are market weighted: the bigger the market cap, the more effect on the index.)
Apple, in fact, is the world's most valuable company again; taking the title back from
Exxon Mobil
(
XOM
) on July 31.
When
UnitedHealth Group
(
UNH
) replaced
Kraft Foods
in 2012, there was speculation Apple would go in. But Apple's stock price was nearing its all-time high of $705.07. To join the Dow would have required Apple to split its stock massively -- at least 5-for-1 -- so its moves wouldn't overwhelm the other Dow components. The company wasn't interested.
So that brings us to the choices.
Goldman Sachs may be controversial for its ruthless self-protection during the 2008 financial crash, but the stock is up more than 120% since the March 2009 bottom. And its business -- investment banking and trading -- is not the same as
JPMorgan Chase
(
JPM
) or
American Express
(
AXP
). Goldman shares are up about 30% in 2013.
Nike is a manufacturer based in Beaverton, Ore. It is one of those iconic American brands, like Coca-Cola and McDonald's, known around the world. Nike shares are up 29.5% this year.
Visa isn't a bank. Its global network settles credit-card and debit-card transactions. And with
MasterCard
(
MA
), Visa is slowly replacing cash. Visa shares are up 22% this year.
More from
Top Stocks
DATA PROVIDERS
Copyright © 2014 Microsoft. All rights reserved.
Fundamental company data and historical chart data provided by Morningstar Inc. Real-time index quotes and delayed quotes supplied by Morningstar Inc. Quotes delayed by up to 15 minutes, except where indicated otherwise. Fund summary, fund performance and dividend data provided by Morningstar Inc. Analyst recommendations provided by Zacks Investment Research. StockScouter data provided by Verus Analytics. IPO data provided by Hoover's Inc. Index membership data provided by Morningstar Inc.
ABOUT
Top Stocks provides analysis about the most noteworthy stocks in the market each day, combining some of the best content from around the MSN Money site and the rest of the Web.
Contributors include professional investors and journalists affiliated with MSN Money.
Follow us on Twitter @topstocksmsn.