How to invest when the world is in chaos
As geopolitical tensions threaten to spin out of control, investors are wondering how best to position their portfolios for the global turmoil.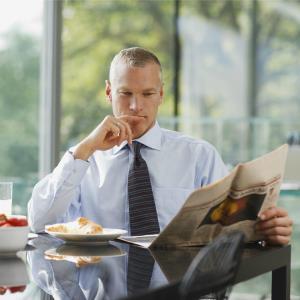 By Aaron Katsman, MarketWatch
I can't begin to tell you how many of my clients believe that we are approaching the end of the world. Well maybe not that extreme, but as the geopolitical situation the world-over spins out of control, investors are questioning how best to position their investment portfolio for the global turmoil.

Syrian genocide, Iranian nuclear proliferation, radical Islamization of Iraq, ISIS and the strengthening of radical Islamist terror groups, Ukranian pro-Russian separatists shoot down a Malaysian airliner, massive but little reported human rights abuses in Venezuela, the sieve that has become the U.S. border and other issues — and let's not forget that the global economy hasn't rebounded from the financial crisis of five to six years ago nearly as strongly as anticipated.
Throw in daily headlines about how the U.S. stock market is so high a crash is imminent, and it's no wonder that investors are nervous. What should investors do?
Stay the course
My advice? Do nothing. Just stay the course and follow the investment plan that you have created.
The world has always been a very dangerous place, pundits have always been calling for market crashes, and most of the time the market moves higher. I have had many clients over the years that try and maneuver their portfolios based on political events and how the anticipated events would play out. More than once the client was correct in the prediction but the portfolio used to try and profit from the events dropped anyway.
Let's look at the local Israeli market as a perfect example. During the recent summer military altercation with Hamas, with two-thirds or Israelis spending time in bomb shelters and productivity at work rather low, conventional wisdom would suggest that the Tel Aviv Stock Exchange (TASE) should have dropped significantly and the Israeli Shekel should have gotten hammered.
Go figure but the Tel Aviv 25 Index moved higher during the war and the Shekel strengthened (it has since weakened as the U.S. dollar has spiked against all major global currencies). The exact opposite of what any sane person would have thought the outcome would be.
Just like in Israel, the U.S. markets have continued to gain and the currency has strengthened in the face of all these issues.
Market crashes generally happen without warning, and are not usually telegraphed.
Retirement investors
While I believe that most investors should just stay the course and do nothing, retirees are different. For retirement investors that don't have a large net worth and can't afford the possibility of a 20 to 30 percent loss, pragmatism should win out.
For these investors, we may be entering a period where capital preservation takes precedence over capital appreciation and they should make some changes in the way their portfolio is allocated.
I say this for two reasons: 1) They don't have the luxury of time on their side and the ability to rebuild their wealth in the event of a market drop and 2) because the most important aspect to investing is being able to sleep well at night and not be nervous that a sudden market drop will wipe out your savings.
For these investors it pays to lower stock exposure. If you're worried that the cumulative effect of all these events portend an imminent market crash, than just sit in cash, and take a wait-and-see attitude. I don't believe that it is necessary to try and profit from a potential market drop, because if you are wrong, you are going to lose money, and that's precisely why you sold your stocks in the first place. No need to be a pig, just have some patience and then reinvest.
It will drop
Let's say you disagree. Now what? For those investors hell-bent on trying to time a major market drop and profit from it, the classic way to play a market drop is by buying put options.
A "put" is an option contract giving the owner the right, but not the obligation, to sell a specified amount of an underlying security at a specified price within a specified time. A put option is basically a bet that the market will drop. If it does, the investor makes money. If wrong, the initial investment in the put is lost.
Options can be quite complicated, and should be understood before being used. If you are worried about a market decline, speak with your financial adviser to coordinate how best to position your portfolio.
More from MarketWatch
President Obama will appear on all TV channels tonight and address the nation from the oval office to announce a continuation of the biggest welfare program in the history of the world, the centerpiece of his economic program. He will guarantee to prop up the stock and real estate markets and outline the exact timeframe in which he will order market interventions to drive the dow to 18,000, 19,000, and the coveted 20,000 level. His over-riding message is that there is no risk to the markets, and to assure that markets will not go down for "a considerable time". He will outline how his policies have resulted in a massive giveaway to the filthy rich fat cats as well to corporate America, especially the bailed out banks, in case there is an American left who doesn't understand this. And he will describe how all of the phony wealth and money that was created and given away, will directly compete with the dollars that common Americans get for the work they do. He will not rule out airstrikes or take anything off the table to keep the markets pegged at the desired levels, or to achieve any other result he deems necessary.

It's not the patient, long-term investors that get burned, it's the short-term gamblers that do.  Buying puts and calls on or off margin, playing the "short-game" in any form, jumping into and out of fad stocks like Alibaba, Facebook, Twitter, etc., will all eventually result in an ineffectual strategy that fails over any sufficiently large sample size.  Buy and hold quality companies that produce something tangible over your entire lifetime and reap the rewards of early retirement and true financial independence.  I've always enjoyed buying from pessimists and selling to optimists.  Financial freedom is the reward for decades of aggressive saving, reinvesting dividends, compounding interest and intelligent, patient investing...it's truly extraordinary.

It isn't investing in vehicles that don't generate jobs and economies. Alibaba won't generate anything more than more bad economics. No existing American business platform does real enterprise and can't find the "talent" it needs to sustain its farce operations. Think about it... the best thing America could do today is hire and pay everyone. It eliminates entitlements, creates opportunities, economy and new markets that aren't virtual junk and Kool Aid. The world owes more than $1 Quadrillion from failed gambits and from the feeble hands of very few people. During times of broad prosperity we had our best economies. 
Close the banks, end the Federal Reserve and get RID of Wall Street. Revive Main Streets before we never can again.
Are you sure you want to delete this comment?
DATA PROVIDERS
Copyright © 2014 Microsoft. All rights reserved.
Fundamental company data and historical chart data provided by Morningstar Inc. Real-time index quotes and delayed quotes supplied by Morningstar Inc. Quotes delayed by up to 15 minutes, except where indicated otherwise. Fund summary, fund performance and dividend data provided by Morningstar Inc. Analyst recommendations provided by Zacks Investment Research. StockScouter data provided by Verus Analytics. IPO data provided by Hoover's Inc. Index membership data provided by Morningstar Inc.
ABOUT
Top Stocks provides analysis about the most noteworthy stocks in the market each day, combining some of the best content from around the MSN Money site and the rest of the Web.
Contributors include professional investors and journalists affiliated with MSN Money.
Follow us on Twitter @topstocksmsn.