3 stocks for the gene therapy revolution
The next half-decade could bring dozens of new potential blockbuster treatments to the market.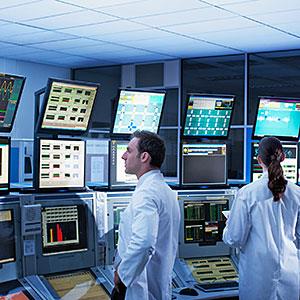 By David Sterman
Britain's Queen Victoria left an unfortunate legacy: Her descendants, spread across numerous European royal families, all inherited a genetic mutation that causes hemophilia. In fact, one out of every 5,000 to 10,000 males in the world is born with the defect.

But hemophilia may soon be a relic of the past.
Baxter International
's (
BAX
)
recent acquisition of Chatham Therapeutics
has led doctors to anticipate a reworking of the genes that cause the disease.
In fact, a wide range of genetic mutations hidden in human DNA are now being targeted by biotechnology researchers.
The notion of fixing broken genes, so-called gene therapy, has been around since 1972 -- and once seemed like a bad idea. Clinical trials involving the approach sometimes led to sudden and lethal outcomes for patients.
Yet over the past decade, as researchers have developed a better understanding of the human genome, major progress has been made. By 2012, the first gene therapy drug, Glybera,
received regulatory approval
, and the next half decade could bring dozens more.
The company behind Glybera,
UniQure
(
QURE
), has a series of other gene therapies undergoing clinical testing as well. UniQure's targets include diseases such as acute intermittent porphyria, Parkinson's disease, and Sanfilippo syndrome.
Investors have delivered an underwhelming response to UniQure's IPO in February. QURE surged to $18 in the first few weeks of trading but has since slid nearly 30 percent as biotech stocks have plunged in recent weeks.
Yet there is a lot to like about this business model: Analysts at Leerink Swan say UniQure "currently appears maturely positioned with the multitude of layers key to successful gene therapy," citing its deep pipeline of drugs in clinical trials, hefty amount of intellectual property, and looming catalysts in the form of trial progress updates. Baxter's recent acquisition of Chatham Therapeutics "reinforces large pharma's interest in QURE's deeper pipeline," they say, and see shares rising to $25, or nearly twice current levels.
UniQure isn't alone in the field of gene therapy. Other companies to track include:
1. Celladon
(
CLDN
)
This stock also had an IPO debut just a few months ago, and though its shares also plunged as part of the biotech rout, they've started to rebound. The key catalyst: On April 10, the FDA granted Celladon's Mydicar a "breakthrough therapy designation" for its approach in
altering the action of enzymes that can lead to heart disease
.
The nod from the FDA means that Celladon's clinical trial process will now be greatly accelerated. The FDA is keen to expedite the approval process for any drug that can save money. Indeed, the cost of treating heart failure is a growing burden on the health care system, especially as our population ages. Celladon's approach could conceivably save millions of dollars in health care costs. Thus far, Celladon's Mydicar has shown impressive rates of efficacy and safety.
2. Bluebird Bio
(
BLUE
)
Film buffs may recall this firm's roots in the movie "Lorenzo's Oil." In that film, a couple worked feverishly to find a cure for their son's
adrenoleukodystrophy​
(ALD). That work led to the eventual founding of Bluebird Bio, which has a pair of ALD drugs in early-stage clinical trials.
Bluebird is also seeking gene-based therapies for a blood disorder known as beta thalassemia that inhibits the production of hemoglobin. And a partnership with
Celgene
(
CELG
) is aimed at altering the behavior of chimeric antigen receptor (CAR) T-cells.
Though a considerable amount of fanfare after its June 2013 IPO pushed shares above $35 in early trading, they have since slumped to $21. In effect, its market value has slid from more than $800 million to a recent $500 million. And that highlights the inherent challenge with these stocks.
What is Bluebird's drug development platform worth? If the company's approach succeeds and opens the door to the cure for hard-to-treat genetic diseases, that market value will be many multiples higher.
Bluebird Bio has more than $200 million in cash on hand. That gives the company ample time to develop its drug platforms, as annual operating expenses are less than $50 million. Companies that remain dependent on capital markets may not be able to tap them, and highlight an extra degree of risk for biotech investors.
3. Applied Genetics Technologies
(
AGTC
)
This is the newest kid on the block (in terms of its longevity as a public company), with an IPO completed less than three weeks ago. AGTC (which is a clever ticker symbol for adenine, guanine, thymine and cytosine, the components of DNA) targets people that are vision-impaired due to genetic factors. ​
This company isn't as far along as its peers, and it will be several years before investors get a better sense of whether its key drugs can pass muster in the all-important Phase II trials, which represents a much higher hurdle rate in terms of safety and efficacy when compared to pre-clinical and Phase I trials.
Risks to consider:
Gene therapy holds a great deal of promise, but has yet to prove its efficacy on a long-term basis. If you invest in these firms, patience will be required as they will remain pre-revenue for quite some time.

Action to take:
The recent pullback in these stocks is not related to concerns about gene therapy. It's due instead to a general distrust for biotech stocks in recent weeks. For investors with the ability to stomach volatility and risk, the pullback can be seen as a great entry point. Of these companies, UniQure appears to offer the most appealing broad-based approach to gene therapy, and its sub-$150 million market value also makes it a relative bargain.
David Sterman does not personally hold positions in any securities mentioned in this article.
StreetAuthority LLC does not hold positions in any securities mentioned in this article.

More from StreetAuthority
DATA PROVIDERS
Copyright © 2014 Microsoft. All rights reserved.
Fundamental company data and historical chart data provided by Morningstar Inc. Real-time index quotes and delayed quotes supplied by Morningstar Inc. Quotes delayed by up to 15 minutes, except where indicated otherwise. Fund summary, fund performance and dividend data provided by Morningstar Inc. Analyst recommendations provided by Zacks Investment Research. StockScouter data provided by Verus Analytics. IPO data provided by Hoover's Inc. Index membership data provided by Morningstar Inc.
ABOUT
Top Stocks provides analysis about the most noteworthy stocks in the market each day, combining some of the best content from around the MSN Money site and the rest of the Web.
Contributors include professional investors and journalists affiliated with MSN Money.
Follow us on Twitter @topstocksmsn.