Inside Wall Street: A timely smart play in drones
Expanding markets for unmanned aircraft systems a big boon to AeroVironment.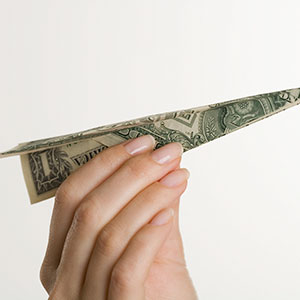 Shares of
AeroVironmnent
(
AVAV
) lost plenty of altitude because of investor fears about the impact of the budget sequestration cuts on defense spending. The stock of the maker of small unmanned aircraft known as drones has spiraled down to $19 a share on Mar. 14, 2013, from its 52-week high of more than $27.
That's a big drop in the face of the stock market's continued ascent to new highs in the past 10 consecutive trading sessions. The stock's decline has also been exacerbated by the recent controversy about whether drones should be allowed to fly over residential or commercial non-military areas.
But don't expect AeroVironment's stock to continue flying near ground level. The bulls predict the stock will start speeding upward again because the market for the computer-controlled aircrafts is expected to expand in a big way when the U.S. government allows drones to fly over non-military or commercial areas. Right now, its central use is for military surveillance and identifying enemy or terrorists targets.
Currently, AeroVironment is the Pentagon's largest supplier of small unmanned air vehicles. They provide troops an aerial view of dangerous situations that may be just around the bend or hidden behind a ridge nearby.
"The military market for drones is still in the early stages of development and can only get bigger as the nature of warfare evolves and the armed forces take advantage of the technologies that can deliver actionable intelligence without risking lives," says Charles M. LaLoggia, a veteran stock analyst who is now a contributor to both
wallstreetrebel.com
and the
superstockInvestor
newsletter.
To LaLoggia, AeroVironment has all the ingredients and profile to become an attractive takeover candidate. "AeroVironment, which appears to be sitting on the cusp of a dramatic upswing in demand for its products, would be a natural takeover target for any number of defense contractors seeking a foothold or broader presence in this near-certain growth area," argues LaLoggia.
As LaLoggia sees it, the really exciting growth potential for AeroVironment's small unmanned air vehicles is in the commercial sector, a market that is still in its embryonic stages and could literally rocket to high levels over the next two to three years. He notes that in February 2012, Congress directed the Federal Aviation Administration to open U.S. skies to drones by Sept. 30, 2015.
"These small drones can and will be used for law enforcement, traffic monitoring, as well as monitoring infrastructure for both security and safety purposes," says LaLoggia. The drones could also be used for search and rescue, border patrol, and even for mapping and analyzing terrain and geologic formations that could be of value to companies such as oil-and-gas drillers. Drones can also be used to monitor hurricanes and volcanic activities to evaluate natural disaster areas in real time, or help famers monitor crops. Drones wirelessly transmit live video and other information to hand-held ground control unit.
AeroVironment is the Pentagon's largest supplier of the small unmanned aircraft systems, notes LaLoggia. The market for drones ranges from the larger systems made by companies such as
Northrop-Grumman
(
NOC
) and privately held
General Atomics
, to the much smaller systems that AeroVironment's specialty products.
Currently, AeroVironment sells its drones primarily to the U.S. Dept. of Defense. But the commercial and law-enforcement market is only going to get bigger, which should mean the growth opportunities are going to dramatically expand for AeroVironment and Northrop and other drone makers.
The company's fundamentals are impressive: Its annual revenue has risen more than 50% since 2008, from $215.7 million to $325 million in 2012, which ended April 30, 2012. And earnings are up from $1.08 a share to $1.41 a share during the same period.
"That's a pretty solid growth trajectory in view of the fragile economy during that frame combined with the fact that AeroVironment's main product line is one whose time has not yet come in full force," says LaLoggia.
Trading a around 15 times earnings with more than $6 a share in cash and no debt, and with positive growth prospects, AeroVironment would, indeed, be an ideal takeover candidate that could command a substantial premium to its current price.

Gene Marcial wrote the column "Inside Wall Street" for Business Week for 28 years and now writes for MSN Money's Top Stocks. He also wrote the book "Seven Commandments of Stock Investing," published by FT Press.
More on Top Stocks
DATA PROVIDERS
Copyright © 2014 Microsoft. All rights reserved.
Fundamental company data and historical chart data provided by Morningstar Inc. Real-time index quotes and delayed quotes supplied by Morningstar Inc. Quotes delayed by up to 15 minutes, except where indicated otherwise. Fund summary, fund performance and dividend data provided by Morningstar Inc. Analyst recommendations provided by Zacks Investment Research. StockScouter data provided by Verus Analytics. IPO data provided by Hoover's Inc. Index membership data provided by Morningstar Inc.
ABOUT
Top Stocks provides analysis about the most noteworthy stocks in the market each day, combining some of the best content from around the MSN Money site and the rest of the Web.
Contributors include professional investors and journalists affiliated with MSN Money.
Follow us on Twitter @topstocksmsn.