Playing defense in front of the fiscal cliff
It's not as scary as many would have you believe -- and anything that results in movement is an opportunity in some way.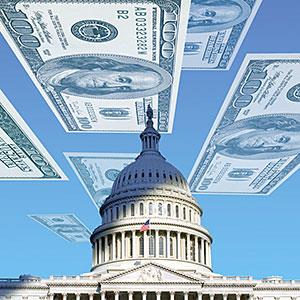 By Martin Tillier
Until now, I have avoided writing about the fiscal cliff. This is partly because I am a little bored with it -- like many others. Mainly, however, it's because I don't believe it's really that big of a deal.
If Ben Bernanke hadn't coined the scary phrase regarding a dangerous precipice, I don't think we would all be as bothered. I mean, "A return to previous tax rates and spending levels" just doesn't sound scary. 
I realize that, as we struggle through a slow recovery, tax increases and Federal spending cuts could be potentially harmful. I also have far too much experience with politicians around the world to believe that this bunch will do the obvious thing for the good of the country, regardless of party or ideology. It's just that the long-term effects of the seemingly inevitable brinkmanship and bluster are not likely to be significant.
In the event our leaders fail to reach agreement by the appointed time, budgets will be cut and taxes increased, at least for a while. One of the perks of being a lawmaker is that you have power, including the power to undo your own stupidity. This, at least, I believe they will do. Once both sides have shown their respective bases how principled they are, real negotiations will begin. This may happen just before "the cliff" or it may happen just after, but history suggests it will happen.
So what does all of this mean for traders and investors? Anything that results in movement is an opportunity in some way. The problem is that the traditional defensive move -- buying bonds -- could well be the worst thing you could do. If politicians unashamedly display their intransigence, one possibility is another downgrade of U.S. Treasuries. Don't forget that the debt ceiling will be a part of these negotiations. Bond markets may not look so fondly on a second demonstration of a dysfunctional legislature. Looking for the opportunity in equities makes more sense.
As the deadline approaches, any hint that agreement will not be reached is likely to be greeted by a wave of selling. Once the inevitable agreement is reached, ground will be recovered. Generally, I hate it when people say "buy on dips." It is an obvious, and often impractical, piece of advice. In this case, however, where the dips are the point, it makes sense. In order to buy, you need cash.
Taking profit over the next couple of weeks, particularly in dividend-paying stocks, is a sensible way to free up cash in many ways. Whether taxes on dividends increase or not, the expectation will produce weakness in traditionally high-yielding sectors such as utilities, telecom and consumer staples. If you have long-term holdings, locking in a 15% capital gains tax rate won't hurt either.
Of more interest to me is what to buy on the expected dips. Here there is room for some creative thinking. Sectors that are bound to get hit hard may offer the best opportunities for the brave. Most companies in the aerospace and defense sectors, for example, have been preparing for the worst. Anything short of massive, long-term cuts to defense is likely to present an opportunity. Northrop Grumman (NOC) has reduced headcount by 17% already and has been focusing on opportunities in other parts of the world, notably Asia.
Raytheon (RTN) is another well-known name to watch. Like NOC, they are a global business and have substantial U.S. business already obligated, in the belief that there will be cuts to future projects. These future cuts, of course, could be reversed.
There are also companies that could get dragged down despite limited impact from defense cuts. B/E Aerospace (BEAV) is one to keep an eye on. They are a supplier of cabin interior products and various fasteners and parts for the aerospace industry. What makes BEAV of particular interest is that they have significant revenue from retrofitting existing aircraft. If new orders, whether commercial or military, fall, then refitting can be expected to rise. Either way BEAV is positioned to take advantage.
There is no doubt that, in financial markets, any crisis presents risk. Exaggerated fear of a crisis that is unlikely to unfold, however, presents opportunity.
ABOUT
Top Stocks provides analysis about the most noteworthy stocks in the market each day, combining some of the best content from around the MSN Money site and the rest of the Web.
Contributors include professional investors and journalists affiliated with MSN Money.
Follow us on Twitter @topstocksmsn.