Tesla gives investors something to worry about
The company is on track to build 20,000 all-electric vehicles a year. But its disappointing fourth quarter led it to say it needs to trim costs to meet profit goals.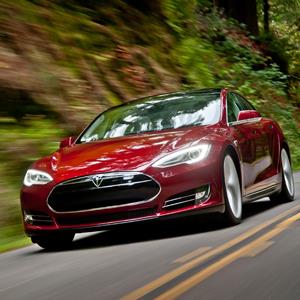 Updated: 10 a.m. ET.


Shares of
Tesla Motors
(
TSLA
), the builder of high-end electric cars, dropped nearly 10% Thursday after the company reported a
larger-than-expected​
fourth-quarter loss.
The decline came as Tesla said late Wednesday it was on track to produce 20,000 vehicles a year and expected to post a small profit in the first quarter.
The company also produced fewer cars than projected in the fourth quarter. Tesla expects a round of cost cutting to meet 2013 profit targets.
The stock price appeared to fall because of higher-than-expects costs during the quarter and a concern over the rate of cancellations from original reservations for vehicles.
The fourth-quarter net loss widened to $89.9 million, from $81.5 million a year ago, the company said. Excluding some items, the loss was 65 cents a share, compared with 69 cents a year ago. Analysts had expected a loss of 53 cents.Customers placed orders for some 6,000 Model S cars in the fourth quarter, Telsa said, up from about 2,900 orders in the third quarter.
Net of cancellations, Tesla said it has "reservations" for about 15,000 Model S cars, up from 13,000 as of Sept. 30. Investors are closely watching the pace of new orders and cancellations, in part because Tesla has to refund deposits from customers who decide not to take cars.
Tesla takes reservations that require a payment -- $5,000 for a Model S and $40,000 for the new Model X SUV that's coming. It often gets cancellations when its asks a customer how to configure his vehicle and sign a purchase agreement -- and make a substantial deposit for the vehicle.
If the buyer chooses not to do so, he gets his reservation payment back. In the fourth quarter, Tesla had 1,500 cancellations, meaning refunds of $7.5 million.
In November, the company projected that it would be "approximately halfway to the 25% gross margin target" by year-end.
However, the company also said Wednesday that its fourth-quarter gross margin was 8% of sales. Higher costs for parts and high costs in the company's Fremont, Calif., factory weighed on margins.
Tesla said now that Model S production has stabilized, it has "shifted our focus to cost reduction" and says it expects to achieve a 25% gross margin by the end of this year. It also expects to start marketing in Europe and Asia.

Tesla plans to start deliveries of the Model X SUV in 2014. The seven-seat vehicle is expected to cost about as much as its Model S sedan. That means $67,400 for a version with a battery capable of driving 210 miles before recharging. The price would jump to $77,400 for a model that can go 270-miles before recharging.

The stock was up 18.6% in 2012 and is up 13.8% this year. The share are up 61.3% since the company went public in June 2010.

Tesla was co-founded by entrepreneur Elon Musk, who co-founded PayPal, now part of eBay (EBAY), and Space Exploration Technologies, or Space X, which makes rockets for commercial markets.

Its Model S became a national story when New York Times reporter John Broder drove a model from the Washington, D.C. area to Connecticut, and the vehicle ran out of power. Musk accused the subsequent report of being faked and that Broder had deliberately caused the car to fail.

In a blog post, The Times' public editor, Margaret Sullivan, conceded Broder made some errors but said the story was done "in good faith."
Late Wednesday, Musk in a twitter post said, "Appreciate thoughtful @Sulliview article. Faith in @nytimes restored."


Every electric car produced costs tax payers. Without government subsidies the electric car market couldn't even get off the ground. We have pretty good hybrid technology that could be coupled with already proven safe and cheap CNG. CNG runs super clean, is safer than gasoline we ride around with in a thin plastic tank, and it doesn't require costly refineries that for years have been the cause of price hikes. A CNG hybrid would easily go 400 miles on a tank and cost no more than current gasoline hybrids to produce. CNG is going for around $2 a gasoline gallon equivalent.

I kind of thought from all the Hoopla...That it was going to be a fair weather, Novelty vechicle.
Had a chance at IPO and shied away, because of my beliefs.
Reminds me a lot of the DeLorean....But runs on electric and not very far..?
Not gonna pay the price, if it doesn't get me where I want to go..Back to the Future..?
But probably would have made a couple bucks, if it was traded wisely.
If you are going to sell them, you have to produce on your agreements..
Stories like this(and others) have a tendancy to have Consumers, shopping for Corvettes.

Chum....I think the CNG, is an excellent idea....But they have to bring the sources on-line...And then like the Electrics....Have safe and plentiful places to refuel them..
That always seems to be the problem with these "innovations", too much money being made the "old ways" and nobody wants to be involved in "change overs" UNLESS it is SUBSIDIZED..
Usually the Government has to buy some fleets and then Large Corporations like Utilities or Military.? 
Are you sure you want to delete this comment?
DATA PROVIDERS
Copyright © 2014 Microsoft. All rights reserved.
Fundamental company data and historical chart data provided by Morningstar Inc. Real-time index quotes and delayed quotes supplied by Morningstar Inc. Quotes delayed by up to 15 minutes, except where indicated otherwise. Fund summary, fund performance and dividend data provided by Morningstar Inc. Analyst recommendations provided by Zacks Investment Research. StockScouter data provided by Verus Analytics. IPO data provided by Hoover's Inc. Index membership data provided by Morningstar Inc.
ABOUT
Top Stocks provides analysis about the most noteworthy stocks in the market each day, combining some of the best content from around the MSN Money site and the rest of the Web.
Contributors include professional investors and journalists affiliated with MSN Money.
Follow us on Twitter @topstocksmsn.