Inside Wall Street: Take some money off the table!
As the Dow hits new highs, investors should cash in part of their profits.
Now that the Dow and S&P have hit new highs, the big question is: what to do next?

Here one simple if difficult-to-do piece of advice from one who has been watching the stock market for over three decades: take some money off the table -- or more specifically, cash in part of the profits from your stock winners. But make sure you keep much of your original investment.
That way, you are safe and protected whether or not this rally keeps on roaring higher
And here's another bit of strategic advice: Check out your already well-researched favorite stocks and see which of them have yet to react positively to the market's stunning record-breaking advance. Pick out some shares in those fine companies that have not yet joined the rally.
But then, at the appropriate time, wait for that predictable pullback -- which some talking heads on TV love to label as corrections or consolidations. Whatever. But when that anticipated decline comes, as well they should after the market's huge upward leap, make sure you buy shares in those companies.
Be ready with a list of your favored fine-quality stocks, so you can buy shares of them when that opportune time comes -- and when most everyone else is selling them.
You should buy when they drop, say after some 10% or more, depending on your taste or dislike for risks. You may never have a chance to buy those favorites of yours should the market keep on marching upward.
But if they should move lower, you could buy them at even lower or cheaper prices. Make sure, however, that you have done enough research on them.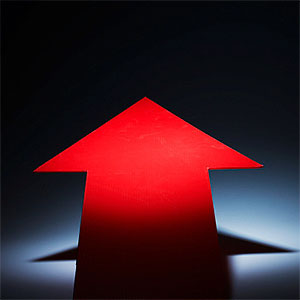 And when the market does continue to post record highs, as i think they will, keep on taking out part of your gains. Don't worry about missing some of the gains should your favorite stocks continue to climb. You can always buy them back when they drop on the next downswing. 
The name of the game is to make money, right? So do make money by taking out some of your profits out! You can never see those gains unless you take you winnings at the right time.
How much of your profits should you take off the table? My basic rule and those of many money or investment managers is to cash in profits whenever a stock delivers a 20% to 30% or more in profits. You don't necessarily have to take out all of your gains, but it makes sense to cash in only a big portion.
It's important for investors to have a stash of cash for future stock buying -- when the market starts to drop sharply. Always keep in mind: The time to buy is when the market or market averages are in a downswing. And the time to sell is when the markets are in an upswing, as they are now.
I don't mean to suggest that trading in and out of stocks is the way to go. Not at all. Don't trade stocks unless you are well trained in trading or are a professional trader. But it makes sense to take out some money when a stock has delivered enough gains that you can continue to enjoy the market.
Long-term investing is the best way to make real money, and the only way to do that is not to take out all of your money from your winning stocks. Stay with your winners'  but there's no investing law that says you should not enjoy taking profits out when your stocks are doing well.

Gene Marcial wrote the column "Inside Wall Street" for Business Week for 28 years and now writes for MSN Money's Top Stocks. He also wrote the book "Seven Commandments of Stock Investing," published by FT Press.  

More on Top Stocks

DATA PROVIDERS
Copyright © 2014 Microsoft. All rights reserved.
Fundamental company data and historical chart data provided by Morningstar Inc. Real-time index quotes and delayed quotes supplied by Morningstar Inc. Quotes delayed by up to 15 minutes, except where indicated otherwise. Fund summary, fund performance and dividend data provided by Morningstar Inc. Analyst recommendations provided by Zacks Investment Research. StockScouter data provided by Verus Analytics. IPO data provided by Hoover's Inc. Index membership data provided by Morningstar Inc.
ABOUT
Top Stocks provides analysis about the most noteworthy stocks in the market each day, combining some of the best content from around the MSN Money site and the rest of the Web.
Contributors include professional investors and journalists affiliated with MSN Money.
Follow us on Twitter @topstocksmsn.