Newmont Mining surprises with a dividend cut
Normally, companies go out of their way to avoid sending this kind of negative signal. Here's what happened.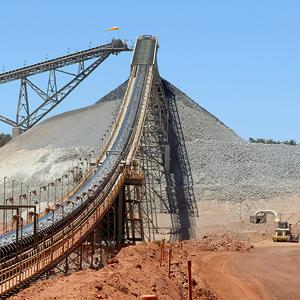 More bad news for gold mining companies yesterday, although not for all gold miners.
Newmont Mining
(
NEM
) cut its dividend by 17.6%.
Now a dividend cut of any sort is extremely unusual. Boards of directors consider carefully before instituting a dividend -- because they know investors take a dividend increase or decrease as an important sign from inside the company about the company's long-term prospects.
A 17.6% dividend cut, then, is a big deal -- both because companies go out of their way to avoid sending out such a negative signal and because 17.6% is a BIG cut.
So what's going on here? It's called a funding gap. With the price of gold plunging from $1778 an ounce back in October to the neighborhood of $1400 an ounce last week, some gold mining companies are facing a cash crunch.
These companies set their capital spending plans to explore and develop new sources of gold, and to expand existing mines based on selling their current production at $1600 or $1700 an ounce.

Now that gold is so much lower, the companies face a series of unpalatable alternatives. They can cancel or postpone current spending (and take a beating in the stock market as analysts cut their estimates for future production); or they can raise money in the capital markets -- and so either add debt or dilute current shareholders by selling stock; or they can cut dividends and take cash that would have gone to shareholders and use it to fund capital spending.
That latter alternative looks like what Newmont has decided. The company was one of the first gold mining companies to increase its dividend in order to compete for investor dollars against gold and gold ETFs that didn't pay a yield. Before the announced cut Newmont was paying a 4% yield.
There are other gold miners that might be facing this kind of crunch and could look to cut their dividend -- if they pay any. Deutsche Bank put together a short list that included
Barrick Gold
(
ABX
),
Kinross Gold
(
KGC
) and, of course, Newmont Mining. On average Deutsche Bank cut its target prices for these stocks by 30%.

At the time of this writing, Jim Jubak didn't own shares of any companies mentioned in this post in personal portfolios. When in 2010 he started the mutual fund he manages, Jubak Global Equity Fund (JUBAX), he liquidated all his individual stock holdings and put the money into the fund. The fund may or may not own positions in any stock mentioned. For a full list of the stocks in the fund as of the end of the most recent quarter, see the fund's portfolio here.
MSN Money on Twitter and Facebook
Like us on Facebook: MSN Money and Top Stocks
Follow us on Twitter: @msn_money and @topstocksmsn

Newmont Mining Corporation has a gold price-linked dividend policy, so as the gold price increases or decreases, so does the amount of the dividend payout.
The reason this quarter's dividend decreased from last quarter is that average London P.M. Fix for the first quarter 2013 was $1,632 per ounce. This compares to an average London P.M. Fix for the fourth quarter 2012 of $1718 per ounce.
Based on Newmont's dividend policy, the dividend payout when the price of gold is between $1,600 and $1,699 is $1.40 annualized, or $0.35 per quarter. When the price of gold is between $1,700 and $1,799, per the policy, the dividend payout is $1.70 annualized, or $0.425 per quarter. 
The article failed to mention that per the Company's gold price-linked dividend, in 2012 Newmont returned $1.40 per share in dividends to shareholders compared to a return of $1.00 per share in 2011 -- a 40 percent increase.
More information about Newmont's dividend policy can be found at:

Newmont had an unsustainable dividend policy supported only by a  short term rise in the price of gold; caused by over-speculation.
Now they have to cut the dividend because they don't have enough money to pay it.  Boy, this stock stuff sure is complicated.  Thanks for explaining it to us Jim.

Guess Newmont isn't doing that great, eh..??
Gold isn't doing that great. eh...??
Maybe Newmont should get their shidt together, eh...??
Most gold companies operate on appreciation and production...??
You are either making it or you are not....
Never owned Newmont, never thought they were WORTHY....eh.?

I have been waiting a long time for an opportunity to buy Newmont.  The size of the dividend is tied directly to the price of gold and that information has been published by Newmont for several years.  They have not missed a dividend amount as stated in that information.

Examples:
At $1200 gold, the dividend is $0.15 per quarter.
At $1800 gold, the dividend is $0.45 to $0.50 per quarter.
At $2400 gold, the dividend is $0.75 to $1.075 per quarter.

To see the complete dividend schedule, google "Newmont's Dividend Policy".

Right now, Newmont is a bargain.  Gold will be bottoming this summer and then start rising again.  Newmont's dividends will automatically rise as well.





people are fed up with stocks and no (not low) interest rates. we have been manipulated by the Gov't and we pay while they spend our money.. Now they are trying to exempt themselves from Obama CARE? No answers, just tired of it, I'm going to go on welfare! Screw it!
Who is John Galt or Ann Rand?
Are you sure you want to delete this comment?
DATA PROVIDERS
Copyright © 2014 Microsoft. All rights reserved.
Fundamental company data and historical chart data provided by Morningstar Inc. Real-time index quotes and delayed quotes supplied by Morningstar Inc. Quotes delayed by up to 15 minutes, except where indicated otherwise. Fund summary, fund performance and dividend data provided by Morningstar Inc. Analyst recommendations provided by Zacks Investment Research. StockScouter data provided by Verus Analytics. IPO data provided by Hoover's Inc. Index membership data provided by Morningstar Inc.
ABOUT
Top Stocks provides analysis about the most noteworthy stocks in the market each day, combining some of the best content from around the MSN Money site and the rest of the Web.
Contributors include professional investors and journalists affiliated with MSN Money.
Follow us on Twitter @topstocksmsn.