Expect the market's old highs to be smashed in 2013
After the most powerful January in years, stocks should be able to withstand all but the most vicious sell-offs.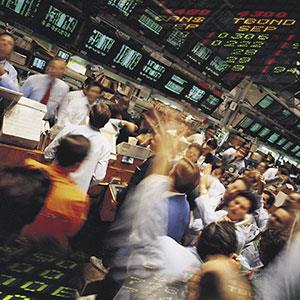 By Sam Collins

The stock market closed out January with the Dow Jones Industrial Average turning in its best performance for the month since 1994, and the S&P 500 its best since 1997. While both indices closed lower Thursday amid profit-taking and disappointment at weekly initial jobless claims, they resumed their rally Friday.
Aside from the unemployment figures, other economic reports were positive. Personal income rose 2.6% in December, and the Chicago purchasing managers index jumped to 55.6 in January, whereas analysts were looking for just 50.5.
 At Thursday's close, the Dow was off 50 points at 13,861, the S&P 500 fell 4 points to 1,498, and the Nasdaq closed flat at 3,142. The NYSE traded 933 million shares and the Nasdaq crossed 534 million. Advancers and decliners were even on the Big Board, but on the Nasdaq, decliners were ahead by 1.6 to 1.

Those who have followed the simple strategy of the S&P 500's 17-month moving average have done quite well over the last 12 years. Now the S&P 500 is charging toward the big prize, which is the Oct. 31, 2007 high at 1,576. But before it can attain that goal, the S&P 500 must close above the high at 1,552 made on March 31, 2000. The chances are strong that it will surpass both goals before the end of the year.
The saying, "As goes January so goes the year," is often referred to as the "January Effect." This Wall Street adage has been accurate more often than not. Since 1900, when January has been positive stocks have been up 67% of the time, according to S&P. This January turned in the strongest performance in 16 years, so I would expect the old highs to be smashed.


The Nasdaq has plodded along since the November bottom. And now, just as it is within reach of two important highs, the Oct. 5 high of 3,171 and the Sept. 21 high at 3,197, it appears to be struggling.
Wednesday's decline of 11 points triggered a sell signal from the MACD, and that could slow the advance. However, a host of support lines and zones have been established since last summer, and they should hold any retreat from the current levels.
Support exists at the March high of 3,134, the 20-day moving average at 3,125, the major support line at 3,100, the December high of 3,061, and finally, the 50-day moving average at 3,042, which happens to join with the intermediate trendline.
Conclusion: The most powerful January in years should be able to support all but the most vicious sell-offs. Thus, all pullbacks should be viewed by investors as buying opportunities. Long-term investors should add to high-quality positions, and traders should focus on those sectors that have the best success records. Be long in 2013 or be wrong.

More from InvestorPlace

The problem with the two dramatic drops over the past 12 years is because of the Dot-com busts and of course the financial meltdown.  Put things into prospective, we have US strong earnings and decent growth, China expected to outperform and Europe containing their issue.  What major problems do we have for this year?  I believe higher commodities will hamper growth because of stagnant wages among a lot of us and higher costs.

I concur ,the dollar is becoming very cheap due to various stimulus programs.In effect inflation has been going on at a  radical pace over the past 5 years .One only has to look at the price of gold .In 2007 gold was worth $700 /once now its about $1700/once .This causes oil prices to increase and consequently everything else we purchase.Food ,clothing,building materials to name just a few.
With today's dollar index the market would have to be equal to 30000 not 14000 when compared to 2007.Our national debt is so high ,the government had to cheapen the dollar to pay the interest on this debt in cheaper dollars.So we are paying for this debt indirectly with similar wages and higher prices on almost everything.
In my opinion we are heading for a major meltdown and soon.

Still a lot of sideline cash...NOT IN THE MARKETS..
A lot of people are still scared..
That's really too bad...
I do sense more or some slowly coming back..
Only crazy traders and unscrupulous Brokers and FAs could turn it into a frenzy, using their client's money...And many of those clients are still skeptical.
Along with the Brokers being careful, not to piss off or lose their clients...
Now with prices of many Companies at or near "some of the all time highs"
Not such a great time to come back at full force, but it may happen or happen over the next 6-12 months..?? 

The market will move higher as long as Helicopter Ben prints 85/billion a month.  When the printing stops everyone will head for the exits at once.   The first  quarter will be negative as well as high gasoline price and Obama's tax increases effect the consumer.   A troubling trend is the massive run of guns, magazine and ammuntition.  Even the government is buying massive numbers (7,000 assualt rilfes (real ones), billions of rounds of ammo).   It is like the people and government are expecting a complete economic collapse.   Our debt is out of control and will top 21 trillion before Obama leaves office.  Our spending is up from 2.95 trillion in W's last year to well over 3.8 trillion now.  Our tax revenue is also at an all time high...   Unemployment is INCREASING, it was 7.2% the day Obama took office.
Obamanomics will not end well, most of America sees this trend, and are arming for they know is coming. 
Are you sure you want to delete this comment?
DATA PROVIDERS
Copyright © 2014 Microsoft. All rights reserved.
Fundamental company data and historical chart data provided by Morningstar Inc. Real-time index quotes and delayed quotes supplied by Morningstar Inc. Quotes delayed by up to 15 minutes, except where indicated otherwise. Fund summary, fund performance and dividend data provided by Morningstar Inc. Analyst recommendations provided by Zacks Investment Research. StockScouter data provided by Verus Analytics. IPO data provided by Hoover's Inc. Index membership data provided by Morningstar Inc.
ABOUT
Top Stocks provides analysis about the most noteworthy stocks in the market each day, combining some of the best content from around the MSN Money site and the rest of the Web.
Contributors include professional investors and journalists affiliated with MSN Money.
Follow us on Twitter @topstocksmsn.