Did BlackBerry 10 arrive too late?
The long-awaited smart phone is finally here, but the company's challenges are far from over.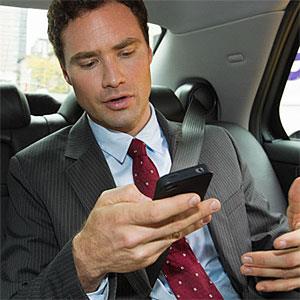 By 
Louis Bedigian
On Monday, its first day of trading as BlackBerry (BBRY), the company formerly known as Research In Motion rose more than 9%. The stock continued to climb Tuesday, as well, up over 11% in morning trading.
The company, which changed its name to match the product it is best known for creating, officially unveiled its new mobile operating system on Wednesday, Jan. 30.
In the hours and days following the announcement, BlackBerry's value plummeted more than 16%. This week's gains so far indicate that the sell-off may have been premature. At the very least, it shows that some investors are happy to buy BlackBerry at the new low price.
What do consumers think of BlackBerry 10? The company's Facebook (FB) page is overwhelmed with positive comments and 24 million general "likes" (which are for the overall brand, not necessarily BB10).
Twitter is inundated with article and promotional tweets that make it difficult to decipher what its users think of the new OS.
In a poll on Computerworld, the publication asked, "The company formerly known as Research In Motion will try to score in the smartphone game with the launch of a new OS, two new handsets and a new company name. Can they do it?"
Yes, BB10 and new phones will woo back buyers (275 votes) - 25.39%
Maybe, but it'll depend on the BB10 app ecosphere (266 votes) - 24.56%
Not unless iOS or Android slip up (128 votes) - 11.82%
No, BlackBerry waited too long to catch up (352 votes) - 32.5%
What's a BlackBerry? (62 votes) - 5.72%
While the survey is relatively small (only 1,083 people have currently voted), it is yet another sign that BlackBerry's challenges are far from over.
Adam Leach, principal analyst at Ovum, believes that the platform will attract short-term interest from existing users. Even so, the company will "struggle to appeal to a wider audience and in the long-term will become a niche player in the smartphone market," he said (see Benzinga).
Last week Yahoo Finance found that 76% of its visitors (most of which are investors) are not interested in BlackBerry's new OS.

More from Benzinga
BB will always have an appeal to business users. Also the company knows their head is on the chopping block which will keep the fire lit under their rear ends. I expect it to remain in business.
The typical consumer is satisfied with his smart phone and tablet. He really doesn't need or want a PC. In fact, he doesn't want a digital camera or even a watch! What he is attracted to is the  flash and trash of gadgets!
Those of us who are in business and of course have some taste for the finer things in life, will want a BB10, a high end digital camera, and a fine watch. 
Now I must run. Mr Brucey is laying out my wardrobe for tonight where I and Ms Bambi, the most beautiful woman in the world, step out for some fine dining and dancing at our favorite nite club - the Golden Parrot!
Har har har! 

to Apple owners - Apple is God no matter the iPhone is no longer close to the best and soooooo overpriced. Samsung is establishing a 1.1 million sq feet R&D center in California and Apple as desribed in Fortune is like working in a privacy prison - Steve Jobes was brilliant and angry - and heleft with a chip on his shoulder - chips only weight you down. The opeinons you see here about non iphones, if negative, are typically by those who have only seen them at a glance. I am perfectly Happy with my HTC and $6) unlimited plan with Virginn Mobile and 4G too. It's a gadget, it does some cool things who care about brand if something works - oh, ya the stock holders

Crackberry has rendered itself obsolete.   Windows 8 phones will die a slow painful death just as previous Windows phones have.   Unfortunately w/ the tablets and readers and such, people just go with what they know.  It's not really an IOS & Android war anymore, if you have pods & pads, you just tend to gravitate to the iphone for ease of access to everything at once.  
Are you sure you want to delete this comment?
DATA PROVIDERS
Copyright © 2014 Microsoft. All rights reserved.
Fundamental company data and historical chart data provided by Morningstar Inc. Real-time index quotes and delayed quotes supplied by Morningstar Inc. Quotes delayed by up to 15 minutes, except where indicated otherwise. Fund summary, fund performance and dividend data provided by Morningstar Inc. Analyst recommendations provided by Zacks Investment Research. StockScouter data provided by Verus Analytics. IPO data provided by Hoover's Inc. Index membership data provided by Morningstar Inc.
ABOUT
Top Stocks provides analysis about the most noteworthy stocks in the market each day, combining some of the best content from around the MSN Money site and the rest of the Web.
Contributors include professional investors and journalists affiliated with MSN Money.
Follow us on Twitter @topstocksmsn.