An investor's choice: J&J or Baxter International?
It may be easier for the smaller health care company to increase dividends going forward than the one-time 'Dividend King.'
Recently I read an article about the top dividend-paying companies. It won't surprise many that Johnson & Johnson (JNJ) was highlighted.
What may surprise you is that the article I read was written back in the middle of January 2013, when the shares of JNJ were trading around $72 and the dividend yield-to-price was nearly 3.4%.
As of Thursday, shares of JNJ hit a new 52-week high of $84.29, which drops the yield-to-price down to 2.9%. Perhaps that's why it ended the trading session lower at $83.18. Some investors are a bit queasy about getting less than a 3% dividend on what some call "The King of Dividend Growers."
Let's take a look at a one-year chart that illustrates where we have been and where we are with JNJ's stock price. This doesn't mean that JNJ isn't going to move up to $100 someday but earnings, revenue per share and the dividend itself will most likely need to go higher as well.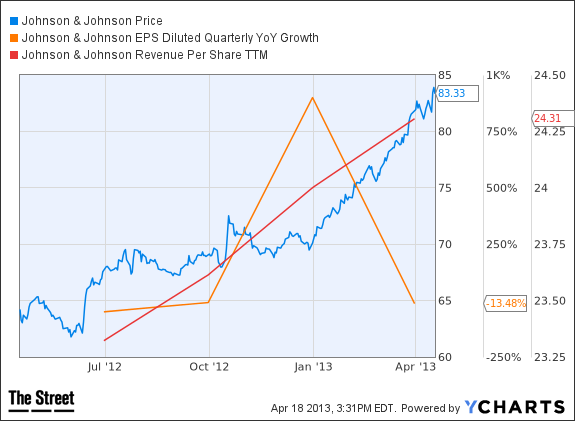 It's clear from the chart above that the share price has followed the trailing 12-month revenue per share growth. As long as that revenue trajectory continues to go higher, and especially if the earnings per share (EPS) moves in the same direction, JNJ should do just fine in the long run.
This is founded on the historical fact that this diversified purveyor of all sorts of health care products has raised its dividend for 50 consecutive years. Over the past 10 years the average annual increase of its dividend payout has been close to 12% per year. 

Yet, we should also be prudent and note that as the dividend payout has increased, so has the payout ratio. As of March 31, that payout ratio is now at 62%. For comparison, one of its smaller competitors, Baxter International (BAX), with its 2.6% current yield-to-price, has a payout ratio of 38%.
Before the U.S. markets opened on Thursday Baxter announced that it had achieved its first-quarter earnings and revenue expectations (Baxter website). The company also triumphantly confirmed its full-year guidance.
Let's focus for a minute on what BAX does to drive sales growth and EPS numbers.
Its product mix is not as diversified as JNJ. BAX develops, manufactures and markets products that save and sustain the lives of people with hemophilia, immune disorders, infectious diseases, kidney disease, trauma, and other chronic and acute medical conditions. That alone is a wide target market needed by every virtually every nation on the planet.
As a global, diversified health care company, Baxter applies its unique combination of expertise in medical devices, pharmaceuticals and biotechnology to create products that advance patient care. The Deerfield, Ill., company, with a market cap of around $37.6 billion, has been around since 1931, an inauspicious year to go into business.
As its press release explained, "Baxter reported net income of $552 million and earnings per diluted share of $1.00, compared to net income of $588 million and earnings per diluted share of $1.04 in the same period last year." When excluding one-time expenses the company earned $1.05 per share in the latest quarter.
First-quarter 2013 results included after-tax special items totaling $29 million (or 5 cents per diluted share) primarily for the costs associated with Baxter's planned acquisition of Gambro AB, a global medical technology company focused on developing, manufacturing and supplying dialysis products and therapies for patients with acute or chronic kidney disease. 

Baxter agreed to buy Gambro back in December for $2.76 billion, and it cost around $29 million to transact the deal during the first quarter. Gambro has annual sales of around $1.6 billion and BAX hopes to seal the deal by the end of the second quarter of 2013.
BAX's revenue in the first quarter increased 2% to $3.45 billion from $3.39 billion in the year-ago quarter. This figure is not reflected in the chart below that looks at BAX from a one-year perspective with the same metrics applied to JNJ at the beginning of this article.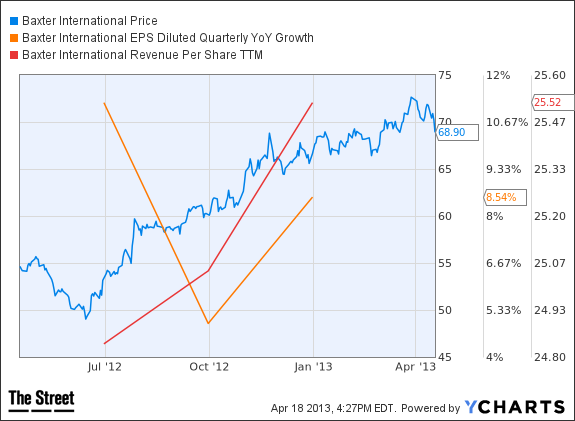 Although first-quarter results aren't shown in the chart above, after the exclusion of the one-time items the EPS was 4% higher than the year ago quarter and as mentioned above the first-quarter revenue per share (trailing 12-month) did increase 2%. Shares of BAX closed down 1.89% on Thursday at $68.90.
With the positive impact of the Gambro purchase kicking in by the beginning of the third quarter 2013 Baxter was confident in its forward guidance.
In the company's own words, "For full-year 2013, Baxter continues to expect sales growth, excluding the impact of foreign exchange, of approximately 10 percent. In addition, the company expects earnings of $4.60 to $4.70 per diluted share, before any special items, and cash flows from operations of approximately $3.3 billion. The company's full-year guidance includes the impact of the Gambro AB acquisition, which is projected to be dilutive to full-year 2013 earnings by 10 cents to 15 cents per diluted share."
As an investor that wants both growth and income, I want proof that a company can sustain its dividend payout and has the muscle to drive earnings higher to do that. From looking at the two charts I've presented, I believe it will be easier for Baxter to increase dividends going forward than J&J.
My conclusion for the time being is that BAX is a more compelling value at current price levels than JNJ. I'll be a JNJ shareholder if I can find more reasons to believe the company can continue raising dividends while lowering its high payout ratio. Remember, investments can fall more easily than they rise. Just ask any gold investor these days if you need a contemporary example.
At the time of publication the author had no position in any of the stocks mentioned.
More from TheStreet.com
DATA PROVIDERS
Copyright © 2014 Microsoft. All rights reserved.
Fundamental company data and historical chart data provided by Morningstar Inc. Real-time index quotes and delayed quotes supplied by Morningstar Inc. Quotes delayed by up to 15 minutes, except where indicated otherwise. Fund summary, fund performance and dividend data provided by Morningstar Inc. Analyst recommendations provided by Zacks Investment Research. StockScouter data provided by Verus Analytics. IPO data provided by Hoover's Inc. Index membership data provided by Morningstar Inc.
ABOUT
Top Stocks provides analysis about the most noteworthy stocks in the market each day, combining some of the best content from around the MSN Money site and the rest of the Web.
Contributors include professional investors and journalists affiliated with MSN Money.
Follow us on Twitter @topstocksmsn.