What should investors do now?
The S&P 500 is up more than 60% from its low. Should you sell your stocks and wait for a correction?
As we end a dramatic year, a lot of investors are wondering if they have missed the buying opportunity of a lifetime and they're agonizing over whether to invest more money in stocks so soon after getting badly burned.
Here are the highlights from our recently published report, What Should Investors Do Now?, detailing the end-of-year judgment calls we are making for our clients. If you would like to receive the full report,
click here
.
The old rules have not worked
Take a look at the chart of the S&P 500 going back 60 years. Notice how different the chart for the last 15 years looks from the previous years. It is much more volatile.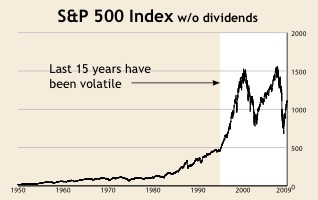 For the first 45 years of this chart, the S&P 500 averaging about 10% a year without much volatility. In this kind of market, it made sense to buy the whole market and stay fully invested all of the time. In fact, the longer your investment horizon, the more confident you could be that you would make money, and you could feel comfortable using the market's long-run average return to build your financial plan.
The problem is that for the past 15 years, the market has not followed this script. Instead of steady growth, we've seen huge run-ups followed by devastating crashes. During the past decade, there S&P 500 has suffered drops of 46% and 56% and it can happen again.
The next 10 years are going to be critical
We think the next 10 years are going to be more like the last 15 years -- boom and bust -- than the steady growth of the previous 45 years. If you cannot afford a 50% loss, you can't afford a strategy of being 100% invested in the market all the time even if you have a diversified portfolio. Why?
Because the big risks we are facing are systemic risks from which diversification will not offer much downside protection. In the past, systemic risk was generally ignored because there was little we could do and the emphasis was placed on diversifying away other kinds of risks. Now that we have seen that a systemic crisis can result in the whole market losing half its value, we can't afford to ignore it anymore.
For this reason, investors need to pay as much attention to protecting their portfolios as they do to the performance of their portfolios.
The epicenter of the systemic risk we are facing is still the financial sector. One of the financial crisis' biggest lasting impact has been the collapse of credit for small companies like those in the Russell 2000. The prospects for smaller companies are also more tightly linked to the health of U.S. Economy. A contracting (or slow growing) U.S. economy combined with continued lack of bank financing create strong headwinds for small companies even if the overall market does well. However, if there is another crisis, small companies will fall hard, just like last time. The ProShares UltraShort Russell 2000 ETF (TWM) is designed to rise by 2x the drop in the Russell 2000. This makes the TWM a good choice for investors looking for some protection from another devastating systemic crash.
The financial industry tells you to ignore market volatility, and most advisors would tell you that it's too hard to "time the market" so you may as well stay 100% invested. Even sophisticated mutual fund managers stay nearly fully invested all of the time, and index ETFs certainly do, too. But if the stock market can drop more than 50% in a very short period of time, it's not safe to keep your life savings 100% invested all of the time.
In this era of systemic risk, there are very few people who have a good track record for making the big decisions that will determine an investor's results. I sincerely hope you find the full report useful as you evaluate your investments at the end of the year.
If you would like to receive the full report, What Should Investors Do Now? detailing the end-of-year judgment calls we are making for our clients and an explanation of how we make them,
click here
.
Ken Kam, Marketocracy Data Service's Editor in Chief, also is portfolio manager for mutual and hedge funds advised by a Marketocracy affiliate. Before relying on his opinions, always assume that he, Marketocracy, its affiliates and clients have material financial interests in these stocks and hold or trade them contrary to those opinions.
Click here
to continue reading for more detailed and important disclosures, disclaimers, limitations and material conflicts of interest.
DATA PROVIDERS
Copyright © 2014 Microsoft. All rights reserved.
Fundamental company data and historical chart data provided by Morningstar Inc. Real-time index quotes and delayed quotes supplied by Morningstar Inc. Quotes delayed by up to 15 minutes, except where indicated otherwise. Fund summary, fund performance and dividend data provided by Morningstar Inc. Analyst recommendations provided by Zacks Investment Research. StockScouter data provided by Verus Analytics. IPO data provided by Hoover's Inc. Index membership data provided by Morningstar Inc.
LATEST POSTS
Up next: The biggest bank IPO ever
The expected $3.36 billion offering from Citizens Financial Group won't come close to Alibaba's, but it will be an important one for the market.
ABOUT
Top Stocks provides analysis about the most noteworthy stocks in the market each day, combining some of the best content from around the MSN Money site and the rest of the Web.
Contributors include professional investors and journalists affiliated with MSN Money.
Follow us on Twitter @topstocksmsn.