A rebuttal to the Twittering masses
Doomsayers and critics abound, but they are missing the point -- and missing opportunities to make money.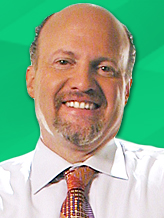 You can learn so much from Twitter. You can learn how total amateurs think (there are a lot of good people out there, too, but that's not the point of this post). You can learn how people are adept at losing money and have a total loser's mind-set. You can see how far people need to go to stay in the game and make money. In fact, you want to kick them out of the game!
Let me detail some of the loser attitudes I am seeing. By far the most common one is "Is this a top?" for the stock they want to know about. A top? This kind of illogic is something we seek to combat every day in Action Alerts Plus. If you think the fundamentals are deteriorating, that sales are decelerating, that margins are being compressed, that the end markets are getting weak, that the execution is getting sloppy, that the competition is heating up, then you very well might have a top on your hands.
If you think that gross margins are good and maybe getting better and sales are strong, you most likely don't have a top on your hands. You have a stock that can churn higher that might have excellent earnings power in the out years.
Does that mean that Caterpillar (CAT) might go down? Of course. These are stocks. Imagine them as great pitchers, now that the pitchers and catchers are gearing up for the season. Roy Halladay is the best pitcher going today. But does that mean he wins every game? The odds for Caterpillar might be exactly the same kind of thing. The analogy works. Caterpillar is going to lose some games because of a variety of forces, worldwide forces, forces that are in flux.
Second common trait: calling winners losers. I see a constant bit of catcalling about stocks that go higher. That's the case with Lululemon Athletica (LULU), a frequently attacked stock on @JimCramer. The typical riposte: "This is a loser overpriced company with product that is made of fibers that are getting expensive. Its future is not as bright as its past."
Now, the problem with this argument is that it could have been made at $30, $40, $50, $60, $70 and $80. At no time were those criticisms invalid. But obviously they have not been enough to stop the stock from going higher. These very "Heard on the Street" Wall Street Journal arguments misjudge why a stock moves.
Stocks are an asset class, and within the asset class are certain orders: the highest-growth stocks. There are mutual funds that seek the highest-growth companies, and these funds have been very right, so they get more money in, and they buy Lululemon. As long as LULU hits the funds' high-growth benchmarks and as long as they can model an earnings estimate in the out years -- 2014, say -- that doesn't carry a price-to-earnings multiple that is more than twice its growth rate, they are going to keep buying. If LULU doesn't hit the benchmarks, they will dump it from whatever level it might be trading at right at that moment. If you want to short LULU and not get your head taken off, you have to wait until that moment, even if the stock is off 10% that very day.
I know this. How do I know this? Because I made a living doing it, which the @JimCramer Tweeters don't and most likely won't. Again, if you have played in the majors, you are better than the amateurs, unless there is some young phenom out there. But I am not seeing any yet in the 140-character, totally unrigorous Twitter world.
Then there is the "Why do you hate Advanced Micro Devices (AMD) so much, this is a company at the top of its game" argument, with AMD being the perfect metaphor for this kind of inanity. I come and say I don't hate AMD, it is just a company, not really all that hateable. But it hasn't made you any money in a generation. It's basically where it was two decades ago.
Again, relating it to sports: That's a terrible record befitting a terrible franchise, perhaps like the Pittsburgh Pirates now, or the Detroit Lions. You don't want to bet with them, you want to bet against them. There is a culture, a mentality, and a product profile that isn't good enough in a business that is up against Intel (INTC), which, like it or not, does have a positive long-term history of being a tough competitor, tough enough to repeatedly arouse the Justice Department. So to call it "top of its game" is just insanity. Does that mean it can win some games? The worst teams ever, like the 9-and-73 Philadelphia 76ers, did win, well, nine games.
Finally there are the people who simply want to know how I can still like something like Netflix (NFLX) or Chipotle Mexican Grill (CMG) as if it is some sort of unconscionable act of recklessness. To them, I simply say, "Go sell it." You don't need to own everything. The reckless side was to miss it, because you had a chance to retire on that stock, and believe me, I have seen plenty of people retire on stocks.
The goal is to find a Netflix or the next Netflix, not to laugh at or dismiss those who found it and then stayed with it and might suggest selling a few shares to lock in profits but returning to it if it goes down. That's just smart. Making money in a bull market like we have -- and any market that is the quickest to double in history is a bull market, arguably the best ever -- is something that you must strive for. Missing it is the sin.
Finally, there are the people who just say, "Cramer likes it, it must be the top." For those, I say, "Boy, there's an argument that could have been made at Dow 7,000, 8,000, 9,000, 10,000, 11,000 and now 12,000." To which I say, "Good luck with that."
At the time of publication, Cramer was long CAT and INTC.
Jim Cramer is co-founder and chairman of TheStreet. He contributes daily market commentary for TheStreet's sites and serves as an adviser to the company's CEO.
Follow Cramer's trades for his charitable trust.
Related Articles
DATA PROVIDERS
Copyright © 2014 Microsoft. All rights reserved.
Fundamental company data and historical chart data provided by Morningstar Inc. Real-time index quotes and delayed quotes supplied by Morningstar Inc. Quotes delayed by up to 15 minutes, except where indicated otherwise. Fund summary, fund performance and dividend data provided by Morningstar Inc. Analyst recommendations provided by Zacks Investment Research. StockScouter data provided by Verus Analytics. IPO data provided by Hoover's Inc. Index membership data provided by Morningstar Inc.
ABOUT
Top Stocks provides analysis about the most noteworthy stocks in the market each day, combining some of the best content from around the MSN Money site and the rest of the Web.
Contributors include professional investors and journalists affiliated with MSN Money.
Follow us on Twitter @topstocksmsn.