Time to bet against the bulls
With stocks and commodities sliding as the US dollar strengthens, here are 2 new short ideas to profit from the decline.
For months, the bulls have had it all their way. The anti-dollar "carry trade" -- fueled by a falling dollar -- helped push up risky assets across the board as hedge fund types crowded into popular trades like crude oil, silver and foreign stocks. It was all about momentum. And the gauge of sentiment was the undulations of the euro-dollar exchange rate. When it was rising, all was right in the world.
That's changing now as the U.S. dollar perks up against the euro in a big way. Why? Concerns over inflation, slowing economic growth and a dramatic bursting of the commodities bubble as speculators get squeezed out of crude oil and precious metals. 
In my recent columns and blog posts, I've highlighted all of these concerns and have recommended targeted short positions against energy and emerging-market stocks. Today, I want to recommend a few more that are focused mainly on European equities, which are showing fresh signs of weakness as the euro drops hard.
I found them using a technical analysis screen developed with the help of Fidelity's Wealth-Lab Pro back-testing tool set. (Fidelity sponsors Money's Investor Pro section.)
European equities are getting hit particularly hard as the euro falls against the dollar. Bank issues are under particular selling pressure, given the ongoing and lingering sovereign debt woes. A European Central Bank official didn't help sentiment  Friday when he announced that Europe is in its worst crisis since World War II. Here are two attractive short ideas that I've already recommended to my newsletter subscribers.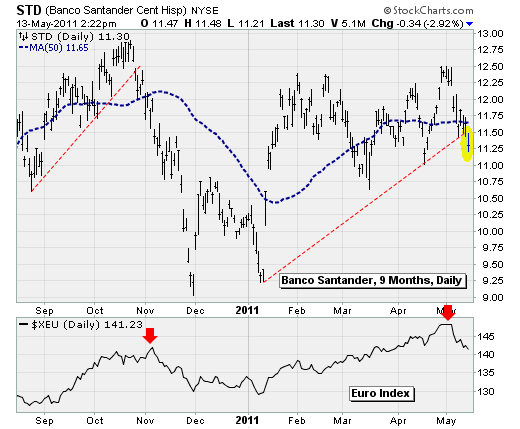 Banco Santander (STD) is a Spanish money center bank with the bulk of its operations in Spain and Portugal -- two markets being hit hard by the eurozone debt contagion. Shares have dropped to the lower boundaries of a five-month consolidation range and look ready for additional losses as the euro weakens. The lower pane of the chart above shows the tight correlation between STD and the euro. Current setup looks very similar to the decline last November that took STD down for a peak-to-trough decline of more than 30%.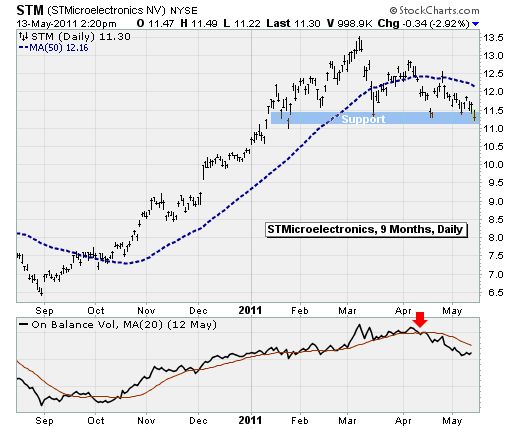 STMicroelectronics (STM) is a semiconductor company based in Switzerland that designs, develops and makes microchips used in a variety of applications. The company's profitability is very sensitive to the euro's valuation. The currency's recent strength is set to weigh on results. Shares look ready to break down and out of a rounding top pattern that started in January. A big drop in On Balance Volume shows investors are fleeing.

Disclosure: Anthony has recommended STM and STD to his newsletter subscribers.
Check out his new investment advisory service, The Edge. A two-week free trial has been extended to MSN Money readers. Click here to sign up.
The author can be contacted at anthony@edgeletter.c​om and followed on Twitter at @EdgeLetter. Feel free to comment below. 

Absolutely-Here he goes again.All fiat money is dying a slow,painful death.Most people are completely clueless about the sinister forces at work in our daily lives.I can't wait for the end of QE2 in June.The ponzi scheme that is the stock market will endure a major correction, and I'm hoping that silver will pull back  to the high 20's so I can buy much more.Strip away the  obvious Wall Street fraud, bogus inflation numbers,bond purchasing by the Fed,margin hikes by the Comex,manipulation by JP Morgan,Goldman Sachs et al,and this masquerade parading as a recovery is exposed for what is:the redistribution of the entire world's wealth.The USDollar index is only going up because of the obvious manipulation by central banks around the world.Unfortunately for the global oligarchs,the internet has made it possible to acquire knowledge and insight from many quality sources.Once you know what to look for(like the Comex manipulation of Silver at the beginning of the month) and stop watching CNN,FOX and other main stream propaganda shills for the ruling class,the situation becomes clear:THINK FOR YOURSELF AND GET OUT OF ALL PAPER ASSETS ASAP.
Look for QE to infinity.The coming downturn in the market coupled with the continuing housing market saga will be just the impetus the Bernank needs to fire up the printing press once again, thus all but ensuring economic oblivion for all Americans within the next 10 years.Prepare yourself while you still can.
GOOD NIGHT ALL

I don't think I have ever read an article by this cat where he wasn't predicting gloom and doom. He keeps betting against the bulls and sooner or later the guy will be right and we will have a correction...probabl​y sooner than later too...but you never know. In the mean time though look at the run up you would have missed if you listened to his crying wolf for the last two years. Got to admit that targeting short positions against energy really isn't the smartest strategy I have ever heard of either. He might be right in the short-term but not long-term and regardless I wouldn't short energy now or ever most likely.....and especially with the money printing press still rolling out dollar bills.

"...Spanish money center bank with the bulk of its operations in Spain and Portugal -- two markets being hit hard by the eurozone debt contagion". Clearly this guy hasn't done his homework. This year, Santander's profit from Spain fell 32% to 593 million Euros from a year earlier and this trend is not going to reverse in the foreseeable future. If we agree that bulk means the vast majority (i.e. >60%), the BULK from its operations is coming now from Latin America (Mexico and Brazil, two outperformers), Turkey, UK etc.
Santander is also making great efforts in rural China where the future growth in that country is expected to happen.
I think going short in financials is not necessarily a bad idea but before Santander, in my opinion, there is at least a handful of other institutions that are offering a better bet right now.
Are you sure you want to delete this comment?
DATA PROVIDERS
Copyright © 2014 Microsoft. All rights reserved.
Fundamental company data and historical chart data provided by Morningstar Inc. Real-time index quotes and delayed quotes supplied by Morningstar Inc. Quotes delayed by up to 15 minutes, except where indicated otherwise. Fund summary, fund performance and dividend data provided by Morningstar Inc. Analyst recommendations provided by Zacks Investment Research. StockScouter data provided by Verus Analytics. IPO data provided by Hoover's Inc. Index membership data provided by Morningstar Inc.
ABOUT
Top Stocks provides analysis about the most noteworthy stocks in the market each day, combining some of the best content from around the MSN Money site and the rest of the Web.
Contributors include professional investors and journalists affiliated with MSN Money.
Follow us on Twitter @topstocksmsn.