Taco Bell puts cheapness before quality
Opinion: As other fast-food joints roll out premium menu items, Taco Bell's challenge to accusations about its beef shows it cares more about offering inexpensive eats.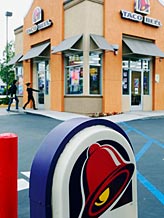 By Jeff Reeves, InvestorPlace.com

At fast-food restaurants, there has been a recent focus on raising quality and using natural ingredients. Wendy's has introduced skin-on fries with natural sea salt and has embraced the slogan "Quality is our recipe." Burger King revamped its breakfast menu to include fancy offerings such as a ciabatta breakfast sandwich with eggs, ham, bacon, tomato and cheese. And then there's McDonald's, which has seen sales soar, thanks to a push for a premium line of McCafe beverages that make it as much of a destination for mochas as for McNuggets.

Then you have the other side of the coin in Taco Bell, which now faces a lawsuit charging its taco filling isn't even beef.
Regardless of whether the legal action has merit -- the company has started denying the claims vehemently in a recent ad blitz -- it highlights the fact that Taco Bell hasn't really been focused on quality recently as other restaurants have. And this should serve as a wake-up call for the company and its corporate parent, Yum Brands (YUM).
Post continues after video:
Taco Bell has been late to this industrywide focus on higher prices and higher quality, with even its most recent product pushes including a $5 snack box and $2 meal deals. While the competition for cheap eats is important, it hasn't been balanced with the push for premium offerings we've seen at other fast-food businesses.
But Taco bell is doing its best to play catchup now that it is squarely in the spotlight. Its first move: to "set the record straight" about its beef. Here's what it claims is really in those beef and cheese burritos:
An advertising blitz that starts today -- featuring full-page ads in newspapers like The Wall Street Journal and USA Today, coupled with a massive online push -- is getting the company's rebuttal out there. The print ads say, in huge letters: "Thank you for suing us. Here's the truth about our seasoned beef." The ads then go on to outline the meat's ingredients:
88% USDA-inspected beef
3%-5% water for moisture
3%-5% spices (including salt, chili pepper, onion powder, tomato powder, sugar, garlic powder, cocoa powder and a proprietary blend of Mexican spices and natural flavors).
3%-5% oats, starch, sugar, yeast, citric acid and other ingredients.
That's not what the Alabama lawsuit claims, of course. Attorney Dee Miles, who filed the suit, claims the concoction is just 35% beef, with the remaining 65% containing water, wheat, oats, soy lecithin, maltodrextrin, anti-dusting agent and modified corn starch.
As for who's scientifically correct on this, it's pretty irrelevant. The fact of the matter is that to the casual consumer, Taco Bell has carved out a niche for itself via its cheap eats and appeal to late-night snackers. And winning a lawsuit won't change the menu and ads screaming about 99-cent burritos or cheap meal deals.
It's worth noting the premium push at restaurants like McDonald's (MCD) and Wendy's (WEN) isn't to win any awards. The move is largely because cheap eats have squeezed margins almost to nothing. A focus on higher-quality, higher-priced products allows for better profits, and it taps into a broader base of consumers who eat there because they want to and not just because it's all they can afford.
Take BK, with its summer push into barbecue ribs at Burger King. They were offered up north of $7 an order and sold out before the restaurant planned to end the promotion. Or take McDonald's and its premium Angus burgers that can also run $5 or more per sandwich.These are big money-makers, and they are good for branding.

Though Taco Bell's slogan is "Think Outside the Bun," the restaurant would do well to take a peek at the kind of burgers the competition is serving up. Because whether the lawsuit about its beef is frivolous or not, the bottom line is that consumers in general see Taco Bell as a place to get cheap eats. And in the restaurant biz these days, quality cannot be an afterthought.
Jeff Reeves is editor of InvestorPlace.com . As of this writing, he did not own a position in any of the investments named here. Follow him on Twitter @JeffReevesIP.
Related Articles:
DATA PROVIDERS
Copyright © 2014 Microsoft. All rights reserved.
Fundamental company data and historical chart data provided by Morningstar Inc. Real-time index quotes and delayed quotes supplied by Morningstar Inc. Quotes delayed by up to 15 minutes, except where indicated otherwise. Fund summary, fund performance and dividend data provided by Morningstar Inc. Analyst recommendations provided by Zacks Investment Research. StockScouter data provided by Verus Analytics. IPO data provided by Hoover's Inc. Index membership data provided by Morningstar Inc.
ABOUT
Top Stocks provides analysis about the most noteworthy stocks in the market each day, combining some of the best content from around the MSN Money site and the rest of the Web.
Contributors include professional investors and journalists affiliated with MSN Money.
Follow us on Twitter @topstocksmsn.