Will higher interest rates kill the bull market?
The stock market's recent volatility has a lot to do with the Federal Reserve and the end of cheap money
Stocks dropped earlier this week on fears a strengthening economy will force the Federal Reserve to drop the easy money policy that has had it purchasing around $3 billion in mortgage securities per day while keeping short-term interest rates pegged near zero. Late last week the futures market put the probability of an interest rate increase by June 2010 at 68%.
Over the past few days, the probably has dropped to 36% and stocks have recovered. This has happened for two reasons. One, investors realized that because of all the extra support being rendered by the Federal Reserve, it will take a long time to push interest rates higher. First, so-called "quantitative easing" programs will end. Then, excess cash will need to be drained from the system by paying banks interest to keep reserves parked in the Fed's vaults. Finally, the Fed will raise short-term interest rates.
More importantly, the other reason is that investors had come to think that the stock market needs low rates to keep up its momentum, but this is just not true. Stocks and interest rates can all rise together -- and have many times in the past. Still, my research suggests the market could indeed hit a soft spot next spring as the bull market matures before continuing higher. Here's why.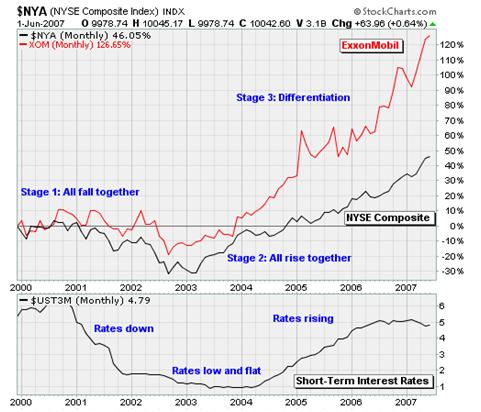 Take a look the 2000-2007 chart above for some insight on this. The top clip shows the shares of energy goliath ExxonMobil (XOM) in red and the New York Stock Exchange Composite (NYA.X) in black. The bottom clip shows the yield of the 3-month Treasury note, which is a proxy for short-term interest rates.
As you can see, the cost of short-term money has a significant influence on the broad market.
Rising rate environments like the one we'll likely see next year are still positive to stocks, although gains are usually more muted. As ExxonMobil shares demonstrate, individual stocks with exposure to whichever industry is leading the economic growth cycle -- energy in the case of the mid-2000s -- can significantly outperform.
In short, don't fear the prospect of rising interest rates. They usually mean that the economy is improving, and that money is increasingly allocated at higher prices to those who want it most.
Another way to view interest rates is to consider the lifecycle of bull markets. They are born in the cold of winter, when rates are low and expectations for the future are even lower. This happened in March. When young, towards the start of the low rate period, all risky assets will participate in the rally with riskier, low-quality stocks performing best as the threat of bankruptcy and failure passes.
Springtime then blooms, businesses become more optimistic, hiring commences, and interest rates start to rise. Stock performance starts to become more differentiated. You can think of this as the mating season: Only the strongest and most capable companies will attract investor attention as cash become scarcer. Fundamental stock analysis returns to the forefront. This is where we're headed.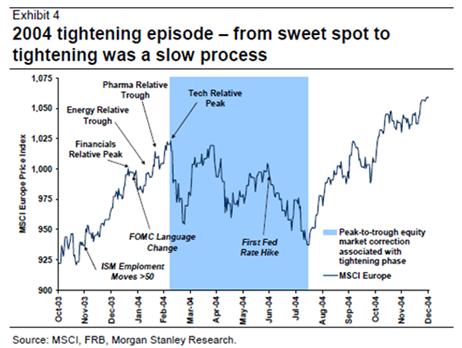 So what's on the horizon? Morgan Stanley researchers note that stocks tend to consolidate for a few months as interest rates first start to climb. During this period, commodity and ''defensive'' stocks with the least sensitivity to the economy do best. This could explain the outstanding performance we've seen recently among health care, food, personal product and utility stocks. Technology and bank stocks tend to suffer the most. This is also in line with recent observations.
During the 1994 rate hike cycle, the S&P 500 dropped 9% over two months. During the 2004 tightening, the S&P 500 lost 8%. The timing can be tricky. On average, the Fed has raised rates after six months of rising employment. Assuming payrolls start expanding in February, this would put the first rate hike around August. So expect some weakness next spring as the market anticipates this.
To close with another metaphor, the environment that results from low interest rates and a depreciating currency (which is ending now) provides an opportunity to invest with a shotgun-style approach. Even if you fire indiscriminately, you'll still probably hit something and earn healthy returns on your portfolio. The important thing is to get out of cash and into stocks and other risky assets. In contrast, investing amid a rising rate environment is more like trying to knock down a rabbit on the run at 50 yards with a rifle. You'll have to take your time, measure your breathing, and concentrate.
The best way to play the current phase is by maintaining broad exposure to stocks via low-cost ETFs like Vanguard Total Market (VTI) and Emerging Markets (VWO), and avoiding bonds. In the next phase, you'll need to focus more on the specific sectors demonstrating the best fundamentals, lowest valuations and relative strength. Be sure to check back here over the next few months as I help guide you through this transition period. Also, be sure to keep an eye on my trades at Wall Street Survivor.
Disclosure: The author does not own or control a position in any of the funds or companies mentioned.
Anthony Mirhaydari is a researcher for the Strategic Advantage investment newsletter. He can be contacted at anthony.mirhaydari@live.com. Feel free to comment below.
DATA PROVIDERS
Copyright © 2014 Microsoft. All rights reserved.
Fundamental company data and historical chart data provided by Morningstar Inc. Real-time index quotes and delayed quotes supplied by Morningstar Inc. Quotes delayed by up to 15 minutes, except where indicated otherwise. Fund summary, fund performance and dividend data provided by Morningstar Inc. Analyst recommendations provided by Zacks Investment Research. StockScouter data provided by Verus Analytics. IPO data provided by Hoover's Inc. Index membership data provided by Morningstar Inc.
ABOUT
Top Stocks provides analysis about the most noteworthy stocks in the market each day, combining some of the best content from around the MSN Money site and the rest of the Web.
Contributors include professional investors and journalists affiliated with MSN Money.
Follow us on Twitter @topstocksmsn.