Stock bulls await the dollar's collapse
Carry traders bet big against the greenback as they pour cash into equities
While the primary trend for stocks continues to arch skyward, we are beginning to see equity traders react to some new developments over in the world of fixed-income, commodities, and currencies.
Much of the catalyst for the recent gains in equities has been the depreciation of the U.S. dollar. Traders are using the greenback as a funding currency in carry trades with riskier, higher yielding assets because of super-low U.S. interest rates. They borrow dollars cheaply, sell them short, and use the proceeds to buy commodities and bonds in countries like Brazil and Australia.
They can do this with confidence because of the apparent support for dollar devaluation among officials in Washington -- who are hoping to boost employment by reviving the competitiveness of our exports -- along with prolonged support for low rates at the Federal Reserve.
With so much leverage at work in the carry trade, investors are very sensitive to unfavorable position movements. So whenever the U.S. dollar rises, stocks fall, bonds fall, gold falls, and the yen sinks, causing carry traders to cringe in agony. Any indication that cross-asset correlation trends are changing, be it statements by policymakers or rumors in the newspapers, will cause unease.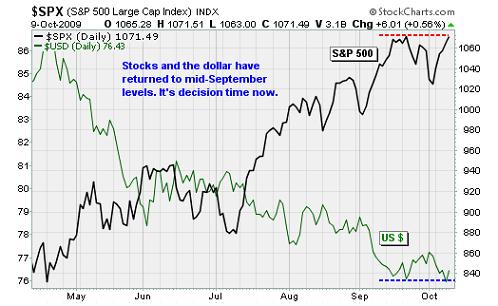 This is important because you must recognize that at this point in the cycle, it's not corporate earnings reports or economic data causing the most volatility lately: It's changes in currency relationships as traders react to government or central bank officials' comments.
There were a few developments over the past week that furrowed the brows of hedgies in the carry trade.
The first were those comments from Bernanke that the Fed won't print money forever. During a speech last Thursday night, Bernanke discussed how the bank plans to exit its accommodative policy stance. There was lots of talk about reducing the amount of reserves held by money center banks along with interest rate increases to discourage lending.
This is a big change in tone from just a few months ago, when all the Fed could talk about was how much debt it wanted to buy. But I still think he is only saying this to keep the decline of the dollar from being a completely one-way trade. Before becoming Fed chairman Bernanke made a career out of studying and explaining why the Fed should not curb easy-money policies amid a deflation threat until the danger has clearly passed. That moment has been defined by him and others as a point at which rock-solid employment growth has been established. Figure late 2010 at the earliest.
We also had reports that central banks in Thailand, Malaysia, Hong Kong, Singapore, and Taiwan were actively buying the dollar to check its fall against their currencies. The idea is that their exporters can't handle such a dramatic drop in profitability and competitiveness. Since the Asian financial crisis of the late 1990s, export-oriented countries on the Pacific Rim have enjoyed a period of prosperity enabled by their devalued currencies, a strong dollar, and the accumulation of foreign exchange reserves. These people aren't going to give all that up easily.
All of this, along with building political pressure from the Republican Party to halt the dollar's slide, has helped stabilize the dollar over the last month. Yet if stocks are to push higher from here, as I believe they are, then it may be on the back of continued declines in the dollar. U.S. officials will talk about how they prefer a strong dollar, but won't do anything about it.
Disclosure: The author does not own or control a position in any of the funds or companies mentioned.
Anthony Mirhaydari is a researcher for the Strategic Advantage investment newsletter. He can be contacted at anthony.mirhaydari@live.com. Feel free to comment below.
Related reading:
The rebirth of the American consumer
Federal Reserve restarts the money pump
DATA PROVIDERS
Copyright © 2014 Microsoft. All rights reserved.
Fundamental company data and historical chart data provided by Morningstar Inc. Real-time index quotes and delayed quotes supplied by Morningstar Inc. Quotes delayed by up to 15 minutes, except where indicated otherwise. Fund summary, fund performance and dividend data provided by Morningstar Inc. Analyst recommendations provided by Zacks Investment Research. StockScouter data provided by Verus Analytics. IPO data provided by Hoover's Inc. Index membership data provided by Morningstar Inc.
ABOUT
Top Stocks provides analysis about the most noteworthy stocks in the market each day, combining some of the best content from around the MSN Money site and the rest of the Web.
Contributors include professional investors and journalists affiliated with MSN Money.
Follow us on Twitter @topstocksmsn.