Derivatives: A survival guide
Don't be afraid of derivatives as some wooly concept. Use them to your advantage.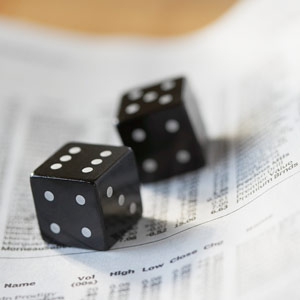 By Martin Tillier
I would wager that, before 2007, most mainstream investors had not even heard the word "derivative" other than as a dismissive description of a song or movie. During the financial crisis, however, the word was everywhere, usually with scare quotes.

There were articles, seemingly every day, claiming that derivatives were the problem. They were bad things, designed to take investors' money away and further enrich the fat cats on Wall Street. They were inherently flawed and always had been doomed. They should be banned. But market insiders put on their wry smiles and muttered to themselves, "This too shall pass." Overreaction usually looks ridiculous with hindsight.
Now that the hysteria has died down, it may be a good time to address a few basic questions.
What is a derivative?
What was the problem?
Can they be useful to an average investor?
What should you know before getting involved?
In market terms a derivative is, as its name implies, an investment vehicle whose value is derived from something else. They come in many forms and many levels of complexity. The best known and most widely used are probably futures and options. At their simplest, both give the investor the right to buy or sell an asset at some time in the future. At the other end of the spectrum are complicated, esoteric things like the VVIX. This is a measure of the volatility of the VIX ($VIX). The VIX is a measure of the volatility of options. In other words the VVIX is a derivative of a derivative of derivatives! It's no wonder people don't trust them.
The problems of 2007 through 2009 came from a different type of derivative, the dreaded bundled mortgages. In theory, they were, and still are, a good idea. The principle of diversification to reduce risk is understood by most investors. That same idea is behind mortgage-backed securities (MBS). If you own one mortgage and the borrower defaults, you have nothing. If you own a piece of hundreds, or thousands, of mortgages, that risk should be reduced.

The problem, though, was not in the theory but in the practice. Firstly, the assumption was made that the default rate on a large number of mortgages was predictable. We all know how that worked out. Secondly there is some evidence that Wall Street firms knowingly bundled bad risks together in order to bet against them using another derivative, a credit default swap. The relative importance of these things, along with the role of the ratings agencies and the government, have been debated at length and are not at issue here. The point is that many public investors were buying things and not understanding the risks. They therefore felt aggrieved when they lost money.
This does not mean that derivatives should be avoided. Rather it means that a little homework goes a long way. Options in particular are useful to many investors. Covered calls can generate income, and puts can provide protection. More advanced strategies can provide profit in flat markets, or lock in profit taking and stop losses at little or no cost.
Covered calls in particular are fairly simple and can create income from stocks that don't pay a cash dividend, such as Google (GOOG), Amazon (AMZN) or eBay (EBAY). The price you pay is that you can be obliged to sell your stock if a particular level is reached. It is important that you understand what you are doing and the risks involved, however. That is why at Options Animal we focus heavily on education.
The answer to the last question "what should you know before getting involved" is fairly simple. It is the same as you should know before buying any security.
What are the risks?
What are the potential rewards?
What is going to affect the likelihood of a profit or loss?
Notice that I did not say that you must understand every facet of how the instrument does what it does. The hysteria after the crash had us all believing that no derivative should be touched as we couldn't possibly understand how they work. If we applied that principle to everyday life we wouldn't buy anything. I mean, who really knows how their phone works? What we really need to know is; if A happens how much will I lose, and if B happens how much will I make.
Don't be afraid of derivatives as some wooly concept. Use them to your advantage. They are not risky by definition. It depends how we use them. In the case of options, even if trading them on a daily basis is not for you they may well have a purpose as part of an overall investment strategy. Certainly don't dismiss any investment just because it is a "derivative".
Martin Tillier spent 18 years working in the foreign exchange market, and then as a financial adviser with a major firm.
DATA PROVIDERS
Copyright © 2014 Microsoft. All rights reserved.
Fundamental company data and historical chart data provided by Morningstar Inc. Real-time index quotes and delayed quotes supplied by Morningstar Inc. Quotes delayed by up to 15 minutes, except where indicated otherwise. Fund summary, fund performance and dividend data provided by Morningstar Inc. Analyst recommendations provided by Zacks Investment Research. StockScouter data provided by Verus Analytics. IPO data provided by Hoover's Inc. Index membership data provided by Morningstar Inc.
ABOUT
Top Stocks provides analysis about the most noteworthy stocks in the market each day, combining some of the best content from around the MSN Money site and the rest of the Web.
Contributors include professional investors and journalists affiliated with MSN Money.
Follow us on Twitter @topstocksmsn.