Why some companies are on a stock shopping spree
A surge in buyback activity should help boost earnings per share just as more economic headwinds are expected.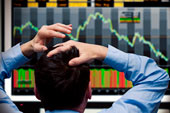 By Suzanne McGee,
The Fiscal Times
If the
economy
fails to deliver higher earnings per share in the fourth quarter, companies may generate it themselves by using surplus cash on their balance sheets to buy back shares.
That's the message in the latest report on corporate stock buyback activity by Standard & Poor's. In the third quarter, buybacks totaled $118 billion, nearly 50% above year-earlier levels. But the big news, says Howard Silverblatt, senior index analyst at S&P, is that companies are buying back more shares than they need in order to cover the dilutive impact of issuing options to employees.
Indeed, Silverblatt calculates that nearly a fifth of the S&P 500 companies have trimmed their outstanding shares by at least 4% in the last year. Theoretically, even if those companies see absolutely no growth in their earnings from operations, their reported earnings per share could jump 4% in the fourth quarter.
Share buybacks
have always been somewhat controversial. If a company can't come up with a better way to deploy surplus cash, this is one way it can give back to shareholders --  albeit in a less direct way than, say, introducing or raising its dividend. Companies have also announced big buybacks to restore confidence in their businesses at times of market stress -- although analysts have often been skeptical that buybacks generate any kind of lasting value.
This recent surge in buyback activity, which Silverblatt dubs the beginning of a new trend, is something that investors should keep in mind next month, as companies begin to report fourth-quarter and
year-end earnings
. The headlines about those reports will emphasize earnings per share, not the source of those earnings, revenues or cash flow -- some of the metrics that are more likely to signal a fundamental improvement in a company's prospects.
If the economy stays bumpy and operating earnings prove harder to generate -- as a number of companies warned when they reported third-quarter results this fall -- the temptation to boost reported per-share earnings may prove too great to resist. It will be up to investors to separate those companies that are really producing better operating earnings -- something that will be worthy paying up for -- from those that report higher earnings simply because those profits are distributed among fewer shares.
Related Links:
The Green Bay Packers: Worst Investment Ever
BofA: Stocks May Be Headed for a 20 Percent Drop
Wall Street Banks: $2 Billion Lost, More Pain Ahead

This article totally misses the point.

Companies don't buy back their shares to make their earning per share number look better.  They buy back their stock because they believe it is undervalued and believe that the shares can be reissued at a later date at a higher price.  In effect, when a company buys back it's shares, it's investing in itself.

The fact that it temporarily improves their earning per share numbers is just a nice consequence.  I believe that a company that is buying their shares is usually an indicator of a good long term investment.  Fewer outstanding shares of a company's stock will usually drive the share price up since demand stays constant while available share contracts.  Econ 101.



I think stock buybacks are the worst thing a company could be doing for the economy right now. 
Stock buybacks are an accounting exercise that moves cash from the companies balance sheet to the executives' bank accounts (most of the time into tax deferred accounts), which does little to nothing for the economy.  If they have all this cash, why can't they put some people to work (new product and new market development for example)?  Let's do the math:
With all the overhead, benefits, etc. let's assume the cost to the company at $100,000 per job that gets created.  This assumes a median salary level of ~$33,000 to the employee.
With $118,000,000,000 being spent on stock repurchases last quarter, this could have put 1.18 million people to work.
In short order, we would be back at full employment and the economy would be flying high again.
Employed people pay taxes and buy things. In addition, these people aren't pulling money out of the system through extended unemployment benefits, food stamps, Welfare, etc.. Put people to work and the economy will get better and these companies can start making money again.

One of the best reasons for a stock buy back is simple. 
If a compnay pays out the cash as a dividend, the government collects a taxes on it.
If a company buys back shares, in theory, it should increase the value of the shares by a like amount.  So in essense you are distributing the money on a tax deferred basis to your owners.  They can decide when they will pocket this 'increase' in value and perhaps pay a lower tax on it in the future, what with all the uncertainty and constant changes in the tax system.
There is ZERO reason for someone to want to pay taxes.   Let the other chump pay.  Democrats like to raise taxes, let them pay more.  
The best thing shareholders can want is for the company to take those profits and build plants and create jobs overseas, so the government cannot seize that property for it's socialist causes.  I encourage companies everywhere to protect shareholder interests by doing just that.  Diversify to protect the company against socialistic governments.
bull-stock printed from surveillance purchases
illegal-covering their tracks-
i warned you all corporations - google- apple- there are only company stock- a few employee shares even i b m-fidelity-met life - illegal offering- ceo's presidents including buffet-gates-trump- going to jail-
keep your damn money i told you so- cramer -portfolio stolen sent info - he claimed ownership of some of my stock - cohen- kline- macys- state attorney general in-competent - sell the nyse- and u n- look for trouble in 2012- n f l- n b a - kunstler files due out- true ownership and plenty of jail time opening up the windows of surveillance
Are you sure you want to delete this comment?
DATA PROVIDERS
Copyright © 2014 Microsoft. All rights reserved.
Fundamental company data and historical chart data provided by Morningstar Inc. Real-time index quotes and delayed quotes supplied by Morningstar Inc. Quotes delayed by up to 15 minutes, except where indicated otherwise. Fund summary, fund performance and dividend data provided by Morningstar Inc. Analyst recommendations provided by Zacks Investment Research. StockScouter data provided by Verus Analytics. IPO data provided by Hoover's Inc. Index membership data provided by Morningstar Inc.
ABOUT
Top Stocks provides analysis about the most noteworthy stocks in the market each day, combining some of the best content from around the MSN Money site and the rest of the Web.
Contributors include professional investors and journalists affiliated with MSN Money.
Follow us on Twitter @topstocksmsn.