Apple beats estimates, but guidance disappoints
Shares jump after hours, then fade after fiscal-2nd quarter earnings beat estimates and the company boosts its dividend. But profit margins are a concern. The iPad sees a 65% sales gain.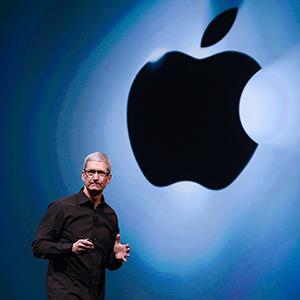 Updated: 7:40 p.m. ET

At first, investors seemed to like
Apple's
(
AAPL
) earnings report. Shares initially surged more than 5% after hours, even as the company reported an 18% decline in net income and earnings per share in its fiscal-second quarter.
Then, the glow wore off, and, in after-hours trading shares were down 98 cents to $405.12. Apple had closed up $7.46 to $406.13 in regular trading.
The issue appeared to be concern about a sizable decline in the company's gross profit margin. The third-quarter margin will shrink as well as competition with Samsung and others increases.
Apple got little boost from its announcement of a 15% dividend boost to $3.05 and an increase in its share buyback program to $60 billion from $10 billion. Combined with the dividend gain, the company expects to return more than $100 billion to shareholders by the end of 2015.
In addition, the company plans to borrow money in the debt markets to help finance its capital return program.
The company earned $10.09 a share in the quarter. That was down from $12.30 a year ago and ahead of the Street estimate of $10.07. Apple hasn't reported a decline in earnings per share since early 2003. Revenue was up 11.3% to $43.6 billion.
The gain was fueled in part by a big gain in sales of iPad tablet devices. Sales of Macintosh computers fell 1.6% to 5.45 million units.
The company said it expects revenue of $33.5 billion to $35.5 billion. The Street estimate was $39.3 billion. The gross-profit margin will shrink to 36% to 37% from 37.5% in the second quarter. That margin rate was down from 47.4% a year ago.
Apple said it sold 37.4 million iPhones, up 6.8% from a year ago and slight ahead of Street estimates. The iPhone business generated nearly $23 billion in revenue. The iPhone represents about 52% of Apple's revenue.
In addition, the company sold 19.5 million iPads, up 65% from a year ago. Revenue was $19.5 billion. Macintosh revenue was $5.44 billion, up 10% from a year ago. But unit sales were 3.92 million, down 1.6% from a year ago.
About 66% of sales came from outside the United States. Nearly 19% of revenue came  from greater China, up from 12.5% in the fiscal-first quarter and up 8% from a year ago.
The results were not a big surprise. While growth rates may be slipping, the results suggest the company is hardly falling apart and probably boosted investor confidence in CEO Tim Cook, who took over from the late Steve Jobs.
While
fiscal-third-quarter​
guidance was weak, Apple is typically conservative, anyway. On the company's analyst call, Cook said that Apple expects to introduce some important products in the fall and all through 2014.
Apple shares had slumped 45.4% between Sept. 21 and Friday. The shares were up $15.60 by the end of today's trading.
More on Top Stocks

This is all fascinating.  How come no one ever points out that people who buy and sell shares of stock are trading with each other and all this "analysis" is nonsense??!  The whole Wall St thing is such b.s. -- the ups and downs of the market, which can swing billions of dollars in a few minutes due to programmed computerized trading, has absolutely nothing to do with the health of the companies the investors are involved in any more.  I find it remarkable that anyone can find fault with a company that can generate almost $49 BILLION in revenue in three months...  The inmates are definitely running the asylum, folks!
Tim Cook has done a pretty good job in running the company, keeping EPS above what was expected but He'll have a tough time next quarter if he can't improve those gross profit margins. Software vs. hardware; It'll be interesting to see what direction Mr. Cook will go. I'm sure he'll try both but just how much further can you build on the current products; iPhone, ipod, ipad,....
At least current stock owners can look forward to those dividens so, at least for the short term, Apple should be ok to hold on to.
There is too much competition in the products now, and Google wants to jump in. I think the money is going to be made in the communication ETF. The ones who service all of these phones with data and services...... they also own the towers. They will make money from all the phones. Google should stay with writing software and aps for the phones and data services. IMO 
Are you sure you want to delete this comment?
DATA PROVIDERS
Copyright © 2014 Microsoft. All rights reserved.
Fundamental company data and historical chart data provided by Morningstar Inc. Real-time index quotes and delayed quotes supplied by Morningstar Inc. Quotes delayed by up to 15 minutes, except where indicated otherwise. Fund summary, fund performance and dividend data provided by Morningstar Inc. Analyst recommendations provided by Zacks Investment Research. StockScouter data provided by Verus Analytics. IPO data provided by Hoover's Inc. Index membership data provided by Morningstar Inc.
ABOUT
Top Stocks provides analysis about the most noteworthy stocks in the market each day, combining some of the best content from around the MSN Money site and the rest of the Web.
Contributors include professional investors and journalists affiliated with MSN Money.
Follow us on Twitter @topstocksmsn.