3 small-cap stocks yielding 5% or more
Have your cake and eat it too, with big dividend yield and big recovery prospects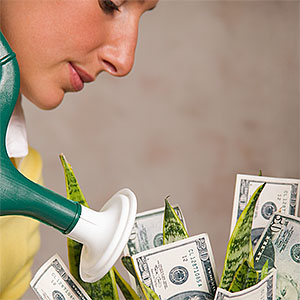 By Jeff Reeves
In times of trouble, investors turn to big-yielding dividend stocks. If you can generate a 3%-5% annual return based on income alone, that's a pretty good hedge against modest declines or a sideways market that just churns and fails to deliver lasting returns.
But what about pairing the high income potential of a dividend stock with the agility of a small-cap player that could be first in line to ride a recovery?
Admittedly, mixing big yield and small market cap is a strange game. Blue-chip behemoths with entrenched businesses and huge cash hoards are more in line with the decades-long mentality of dividend investing, and small companies that should be focused on growth might actually be better served spending capital on expansion than returning it to shareholders.
However, if you look around, there are a number of smaller players that seem to balance the characteristics of a dividend payer with those of a small-cap investment. So if you're tired of watching the same list of sleepy blue chips with modest yields, consider this list of small caps:
Garmin: 5.1% Yield
Those of you who had a Garmin (GRMN) GPS on your dash five or six years ago might wonder why anyone would mess with this stock in the era of smartphones and Google (GOOG) Maps. But Garmin is a bargain buy precisely because of this unfavorable reputation with investors -- coupled with a big and reliable dividend as well as a plan for growth beyond the GPS game.
Garmin is involved in both airplane and marine navigation systems, as well as dash-mounted systems built into cars at the factory. The company also is exploring other location device products, including fitness apps for runners and bikers and pet chips that allow owners to find Fido when he wanders off.
While growth has been hard to come by, this quest to look beyond the suction cups on your windshield has allowed Garmin to stay relevant and at least kept revenue flat. As for future prospects, the past two years have seen a host of buyouts at Garmin, including the late 2012 purchase of Sweden's Nexus Marine to further get into nautical systems. Growth by gobbling up the competition and greater profits because of efficiencies are sure to come in the next year or two.
Other positives: In February, Garmin okayed a $300 million share repurchase, and GRMN had cash and marketable securities worth about $1.38 billion as of the end of the most recent quarter.
Senior Housing Properties: 5.9% Yield
One of my favorite long-term investing strategies right now involves capitalizing on an aging baby boomer population. It's one of the few sure things we have regarding the economy across the next decade or two.
Just as the name implies, Senior Housing Properties Trust (SNH) is a real estate investment trust that owns and operates senior living facilities across the U.S. This is the ultimate recession-proof play, since the demographics picture is firmly in SNH's favor.
Senior Housing Properties owns 369 properties across 38 states -- that include senior living communities, rehabilitation hospitals, labs and other medical facilities. Thanks to a reliable revenue stream from tenants and its REIT status, the stock boasts a nice 5.7% annualized yield as of this writing.
SNH only modestly increases its dividend each year but has never seen a reduction in quarterly payouts. That kind of stability is an important factor in dividend stocks -- particularly MLPs or REITs that can sometimes see irregular or volatile distributions.
SNH held a secondary stock offering in January to raise about $238 million to pay down debt and fund future acquisitions. At roughly $5 billion in market capitalization, Senior Housing is smaller than bigger senior care and health care REITs out there like HCP (HCP). But with fiscal 2012 revenue up about 120% from fiscal 2009, clearly this is a REIT that's going places, and not just content to churn out dividends.
SNH sold off sharply in May, but that might have just been the froth coming off. Shares were up about 50% in less than a year, so the consolidation isn't necessarily a show of panic, but instead a sign that new money might have a window to buy.
TAL International: 6.3% Yield
Another intriguing dividend play is TAL International Group (TAL). TAL is a leader in leasing shipping containers and chassis for freight transportation. Keep in mind that TAL doesn't own a single ship or tractor trailer, just the boxes. It currently operates a "fleet" of some 2 million shipping containers.
Needless to say, TAL is a cyclical business like FedEx (FDX) or any other transport stock. You need more orders to ship more goods, and that only happens when the economy is doing well. There is a chance of rough going in the short-term, especially after lackluster GDP reports from the U.S. to Germany to China for Q1. But I'm optimistic long-term.
While you wait, TAL pays a 6%-plus dividend for your trouble. For buy-and-hold investors, it seems worth taking a shot with that juicy payday as a hedge.
It's worth noting that a top container leasing company, Seacube, was just acquired by an Ontario teacher's pension fund. That's how attractive and stable this industry feels over the long-term -- it's so reliable that a pension fund wants to own this kind of company, not just invest for the dividend.
I'm leery of volatile shippers like DryShips (DRYS) even though many have big yields. But TAL is a good alternative in the shipping space, and with a forward P/E of about 8.5, it seems fairly valued.
Jeff Reeves is the editor of InvestorPlace.com and the author of "The Frugal Investor's Guide to Finding Great Stocks."  As of this writing, he did not own a position in any of the stocks named here.
More from InvestorPlace
DATA PROVIDERS
Copyright © 2014 Microsoft. All rights reserved.
Fundamental company data and historical chart data provided by Morningstar Inc. Real-time index quotes and delayed quotes supplied by Morningstar Inc. Quotes delayed by up to 15 minutes, except where indicated otherwise. Fund summary, fund performance and dividend data provided by Morningstar Inc. Analyst recommendations provided by Zacks Investment Research. StockScouter data provided by Verus Analytics. IPO data provided by Hoover's Inc. Index membership data provided by Morningstar Inc.
ABOUT
Top Stocks provides analysis about the most noteworthy stocks in the market each day, combining some of the best content from around the MSN Money site and the rest of the Web.
Contributors include professional investors and journalists affiliated with MSN Money.
Follow us on Twitter @topstocksmsn.