Apple the most likely to succeed?
Sometimes the numbers won't tell you what a company's future is. In Apple, the answer is beyond the numbers.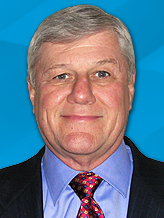 Apple
(APPL)
reminds me of the kid everyone voted for in high school as valedictorian or most likely to succeed.  Those awards always seemed to be the kiss of death. That poor kid was all things to all people, and there was no way he or she could live up to the expectations.
Similarly, Apple is every one's darling. It's the most rated stock on Motley Fool, my barometer for general investor interest and sentiment, and one of the most widely followed stocks on Wall Street.
I hope you aren't looking to me to tell you what to do. This post is based on my memories of "Dragnet." When a witness would ramble on with all sorts of unrelated opinions, Joe Friday would say, "Just the facts, Ma'am."
That's what I'm going to attempt, just the facts.
Let's start with a five-year chart of the weekly price versus the 20-, 50-  and 100-week moving averages, showing a slow and steady increase.
Now let's look at my normal analysis pattern. First the technical indicators from 
Barchart:
80% short-term technical buy signal.
Trend Spotter has a sell signal, but if the price keeps increasing, that gap is narrowing quickly and may be switching soon.
The price hit five new highs and is up .97% in the past month.
Relative Strength Index is 54.75% and increasing.
Trades around 351.94 with a 50-day moving average of 346.81.
Fundamental factors:
Wall Street brokerage analysts have released 28 strong buy, 22 buy and 4 hold recommendations.
Sales consensus is for an increase of 53.20% this year and 17.80% next year.
Earnings are forecast to increase by 51.40% this year, 15.30% next year and 20.53% annually for the next five years.
General investor sentiment:
This is one of the most widely followed stocks on Motley Fool with 30,645 members chiming in on it.
The CAPS members vote 23,453 to 2,099 that the stock will beat the Street.
The more experienced All Stars vote in the same direction, 4,804 to 249.
Fool tries to follow reports and articles released on stocks and notes that all for the past 51 articles have  been positive.           

Those are the facts, but Apple still reminds me of the kid everyone expected too much of. One bad earnings report or a negative guidance call can send it into a tumble
My opinion: Apple is more than a company. It's a for-profit think tank with Steve Jobs at the helm. In a think tank there are lots of brilliant geeks with out-of-the-box, almost science fiction ideas. Jobs has been able to put together teams, each with a very different perspective, and make it all work.  The geeks who come up with what is possible, the pragmatists who can tell what ideas have practical applications and the number crunchers and industrial engineers who figure out what there is a craving for and which can be produced and marketed at a profit.
Is Steve Jobs the catalyst who makes the equation work? Or is he just the pretty face out front? The answer to that question is the enigma.
ABOUT
Top Stocks provides analysis about the most noteworthy stocks in the market each day, combining some of the best content from around the MSN Money site and the rest of the Web.
Contributors include professional investors and journalists affiliated with MSN Money.
Follow us on Twitter @topstocksmsn.