5 reasons to worry about 3rd-quarter earnings
The warning drumbeats about corporate profits are sounding once more. This time, prudent investors should take heed.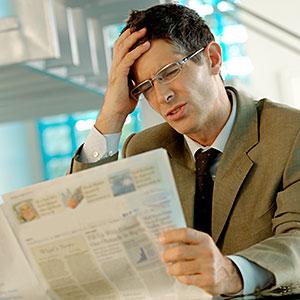 By
Suzanne McGee
Earnings season
for the second quarter is now over for all but a handful of companies that don't report their results on a calendar quarter. In the wake of a lot of Cassandra-like warnings from pundits in late June and early July, the country's largest publicly traded companies turned in surprisingly robust results.
As of mid-August, the pattern was clear: The companies in the S&P 500 reported that their earnings rose 8.4% over year-earlier levels. True, the magnitude of the gain reported by
Bank of America Merrill Lynch
(
BAC
) when compared with its outsize loss in the second quarter of 2011 (the latter a result of the settlement of a mortgage securities lawsuit) did distort that figure, but more than two-thirds of the S&P 500 companies reported positive surprises.
Now that we're heading toward the final weeks of the third quarter, however, the warning drumbeats about corporate profits are sounding once more. This time, they are louder than before. And this time, prudent investors should take heed. Here are a few reasons to worry.
1. The warnings are coming from the people who know best: the companies themselves. Corporate America, and not the army of analysts covering it, is in the vanguard when it comes to knowing what's happening from week to week and month to month. True, it is possible that CEOs and CFOs are trying to set the stage for positive earnings surprises, but their warnings have been sufficiently dire to convince analysts that's not what is afoot this time. Take
Fossil Inc.
(
FOSL
), which reported double-digit gains in both revenue and profits in the second quarter, but revised its earnings guidance downward for the second half.
2. Revenues aren't rising nearly as rapidly as profits have been. This has been a characteristic that analysts have been noticing for several quarters, and the gap is becoming more dramatic. In the second quarter, for instance, revenue growth for companies in the S&P 500 was a mere 1.1%. That means that businesses are relying on cost cutting to keep the bottom line growing at a more rapid clip -- but at some point, they may simply run out of places to cut.
3. The economy in Europe is very weak (and the U.S. dollar is relatively high). Yes, the headlines have been prophesying doom for at least two years now without the day of reckoning ever really arriving. And this summer has seen several crises narrowly averted, as the Greek people finally managed to elect a new government nominally committed to staying within the
eurozone
and policymakers agreed to a form of bailout for Spain before bond vigilantes could force the country to its knees. But it doesn't require an apocalypse for the crisis to take a toll on corporate profits here in the United States. After two years, European consumers are significantly more wary than they were even six months ago -- and that means they are less likely to queue up to upgrade their
iPads or iPhones
when
Apple
(
AAPL
) rolls out its new product line, expected later this fall. Meanwhile, the dollar remains relatively high against the euro, meaning that whatever revenues U.S. companies do generate in the region will amount to fewer dollars. Both are reasons Fossil (and other companies) cited for being more wary about their earnings for the second half of 2012.
4. Watch out for those "special items." Special items -- one-time events -- are becoming a bigger component of corporate earnings, Howard Silverblatt, senior index analyst at S&P Dow Jones Indices, noted in mid-August.
Microsoft
(
MSFT
), for example, took a charge of $6.19 billion tied to its 2007 acquisition of online ad service aQuantive and deferred $540 million in revenue because of a promotion allowing users to upgrade to Windows 8 when it comes out this fall. Those accounting measures turned an operating profit of 61 cents a share into a reported loss of five cents a share. A growing number of companies are announcing forward charges along those lines -- at a greater pace than last year. That kind of bearishness, Silverblatt says, is "not a good sign" for what lies ahead for corporate profitability.
5. Uncertainty still rules. It's a presidential election year -- possibly the worst time possible to be at a transition point when it comes to corporate profits. We're all waiting to see who wins in November, and thus figure out what that means for our finances, whether we're running our household books or those of a Fortune 500 behemoth. For now, the rule remains caution on spending -- especially since the tax picture, in particular, remains murky. Delays in hiring decisions mean delays in technology spending, which translate into lower profits for tech companies, for instance. "If everyone waits to invest, then it hurts everyone else's revenue, making them less likely to spend further," says Greg Harrison, corporate earnings research analyst at Thomson Reuters.
What all this adds up to, Harrison says, is the probability that this will be the first quarter in which S&P 500 corporate earnings -- a proxy for the broader business outlook -- fail to grow over the prior year's period since the economic recovery began in 2009. Analysts are forecasting a 2% decline in corporate profits for the S&P 500, he calculates. Making matters worse, Harrison adds, is that there's nowhere to hide. Analysts predict that companies in the energy and materials sectors will post earnings drops of 20% or more. Half of the 10 S&P sectors will post gains, analysts forecast, but only two of them will see profits grow by more than 5%, and none will post double digit gains.
Cassandra-like prophecies once more? Yes -- but remember, the prophetess of Troy was right on the money. The problem was that she was under a curse, with her listeners doomed never to believe her utterances. We're not facing the same handicap; let's hope investors approach September and the third-quarter earnings season with an appropriate degree of wariness.
Suzanne McGee is a columnist at The Fiscal Times. Subscribe to The Fiscal Times' FREE newsletter.

More from The Fiscal Times
DATA PROVIDERS
Copyright © 2014 Microsoft. All rights reserved.
Fundamental company data and historical chart data provided by Morningstar Inc. Real-time index quotes and delayed quotes supplied by Morningstar Inc. Quotes delayed by up to 15 minutes, except where indicated otherwise. Fund summary, fund performance and dividend data provided by Morningstar Inc. Analyst recommendations provided by Zacks Investment Research. StockScouter data provided by Verus Analytics. IPO data provided by Hoover's Inc. Index membership data provided by Morningstar Inc.
ABOUT
Top Stocks provides analysis about the most noteworthy stocks in the market each day, combining some of the best content from around the MSN Money site and the rest of the Web.
Contributors include professional investors and journalists affiliated with MSN Money.
Follow us on Twitter @topstocksmsn.