Futures higher on fiscal cliff resolution hopes
Global shares and commodities also rise on signs of progress in the US budget talks.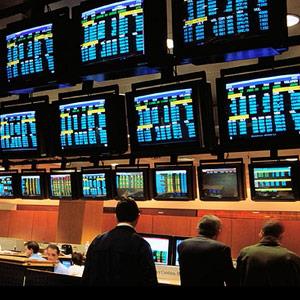 U.S. equity futures rose in premarket trading as comments from President Obama on Friday signaled that Congressional leaders and the White House may be able to reach a deal to either avert the fiscal cliff for good or kick the can further down the road. Either situation would relieve short-term pressures on financial markets.
In other news, Israel appears set to launch a ground assault into the Gaza Strip as a cease-fire has yet to be agreed upon.
BP
(
BP
) will use the funds raised from the sale of its Russian joint venture to increase its buyback and dividend, despite needing to pay massive fines resulting from the Gulf oil spill.
The shadow banking system, consisting of money market funds, monoline insurers, and off-balance sheet investment vehicles, grew to $67 trillion in 2012 from $61 trillion in 2011.
S&P 500 futures rose 5.9 points to 1,359.88.
The EUR/USD was higher at 1.2767.
Spanish 10-year government bond yields rose to 5.884%.
Italian 10-year government bond yields rose to 4.877%.
Gold rose 0.43% to $1,722.10 per ounce.
Asian Markets
Asian shares rose overnight led once again by Japanese shares as the political opposition leader Abe, who is expected to win the elections for Prime Minister, vows to require the Bank of Japan to buy bonds in an unlimited capacity in order to meet a higher inflation target. The Japanese Nikkei Index rose 1.43% and the Shanghai Composite Index rose 0.11% while the Hang Seng Index rose 0.49%. Also, the Korean Kospi rose 0.93% and Australian shares jumped 0.57%.
European Markets
European shares were also higher overnight on hopes that a fiscal cliff deal was within reach in Washington. The Spanish Ibex Index rose 0.61% and the Italian MIB Index rose 1.12% while Greek shares rallied 0.67%. Meanwhile, the German DAX rose 1.27% and the French CAC rose 1.28% as U.K. shares jumped 1.01%.
Commodities
Commodities were stronger overnight, buoyed by the positive tone in markets due to fiscal cliff hopes. WTI crude futures rose 0.95% to $87.85 per barrel and Brent crude futures rose 0.55% to $109.55 per barrel. Oil is rising on the increasing tensions in the Middle East, however analysts believe that it would take larger players entering the conflict for oil to truly spike higher. Copper futures jumped 0.97% to $349.50 per barrel on hopes that averting the fiscal cliff is bullish for growth. Gold was higher and silver futures rose 0.71% to $32.60.
Currencies
Currency markets show a clear risk-on tone in early trading, as the dollar and the yen were weak and risky currencies rallied. The EUR/USD was higher at 1.2767 and the dollar rose against the yen to 81.17. Overall, the Dollar Index fell 0.28% to 81.03 on weakness against the euro, the Swedish krone, and the Canadian dollar. In addition, the Aussie dollar was stronger with the AUD/USD rising back towards the 1.04 level and the EUR/AUD falling below 1.23. Also, the Israeli shekel was stronger against the dollar, hinting that markets expect some sort of cease fire deal before an invasion.
Earnings
Brocade Communications Systems (BRCD) is expected to report fourth quarter earnings per share of $0.14 vs. $0.16 a year ago.
Lowe's Companies (LOW) is expected to report third quarter earnings per share of $0.35 vs. $0.35 a year ago.
Economics
On the economics calendar Monday, existing home sales data and the NAHB Housing Market Index are due out. In addition, the Treasury is set to auction three- and six-month bills. Overnight, the Bank of Japan is expected to release its monetary policy and interest rate decisions. The Bank is expected to keep interest rates on hold and maintain its asset purchase program despite calls from political opposition leaders to triple the inflation target to 3% and embark on unlimited QE to boost inflation.
More from Benzinga

It all depends on how stubborn the President is.  If he insists on raising taxes on those that pay 65% already, and not on the 47% leech class there will be a problem.
Any tax increases must have CUTS of government spend far in excess of the revenue generated.
We need 1.3 trillion in CUTS this year.  We need to tax the 47% than pay NOTHING, before we ask for more from those that pay the most.  But we MUST roll back all of Obama's 850 billion in new spending.

TtruthSeekerinVT,
The latest jobs report was not pretty. 423,000 claims.  And the previously rosy pre-election numbers were revised upwards.  The worst part is these job losses were mostly in the midwest and west coast.  They really didn't even take into account 'Sandy'.   
With 18,000 Twinkie and 6,000 P&G and thousands of newly announced layoffs coming, it looks like we are heading into a deep recession.   Obamanomics at work.   We have almost 4 million less people working now than when Obama took office.  I am expecting that trend to continue and we should exit 2016 with almost 8 million less working.   Expect 10% unemployment by this time next year.

Hostess is shutting down and there will be almost 19,000 jobs eliminated.  Proctor and Gamble announced they are eliminating close to 6,000 corporate type jobs.  You can be sure that these job eliminations and others will not show up in any of the gov sponsored hyped up job reports.  Why is it we have weekly, monthly reports showing jobs added but no reports showing the jobs eliminated?  It's all about the "spin".

The Dow has turned the corner and has completed it's correction.  Bottom was at 12,435.  The 20 day moving average downfall is diminishing, the ADX has a break in it's rise, Slow Stochastic is on the plus side of the equation, the Commodity Channel is rising, and most importantly the Bottom Band is rising, all indicating a turnaround is in play. This is the time to BUY, the opportunity is here.
I notice many are skeptical any time they see price rise one day, and then fall the next implying price is being manipulated.  This is not the case ( although manipulation is real).  Price cannot go straight up or straight down, that 's not how it works.  There is a tug of war going on between Bulls and Bears, we've just ended a period of time (the correction) where Bears were in control.  Why? Because the market was overbought, too many buyers and it ran out of buyers because price was too high, detering new buyers.  Bears took over and drove the price down, attracting more sellers, and now the opposite has happened, the market is oversold and we've run out of sellers, so now the new cycle begins.  With price low, new buyers are attracted and we begin again.
The market had a nice run, up 7200 points since 2009, it was due for a correction; it has now past and buyers should be happy.  The Monthly Chart bands are on the rise indicating the trend is a buy, and the Monthly Chart determines the major trend:  people this is good news, the market is ready to climb again.
If the Dow enters another Elliott Wave to the Long side, then it is forming it's first wave, which means after it peaks, it will retrace possibly 50%, 2nd wave (natural flow, not manipulation), and upon completion, wave 3 will begin and that is the money wave, that's the one you want to ride.
I you do some homework and understand how the market works, you can take advantage of these formations and make some real money fast.  What you must realize about the market, is that if you trade only one side of the equation it is more difficult to make a profit.  You need to learn to trade BOTH sides, long and short to get the optimum value of trading.

GANN-WANNA.....Don't​ disagree with much you have said, but unfortunately many on here  "DON'T HAVE a CLUE"....Of what you are writing about..
I have an interest in Charting and History of Markets...
Maybe consider dumbing it down..For even guys like me ??
I can write it much simpler, but usually don't too much, because of lack of interest, by about 70% of the posters on here...
As long as you don't start connecting the dots to Politics, I'll probably keep reading...Keep up the GOOD WORK..
Although if Congress and the Current Adminstration...Does​ a deal...Watch out for the horns and DON'T GET GORED or TRAMPLED.......
Are you sure you want to delete this comment?
DATA PROVIDERS
Copyright © 2014 Microsoft. All rights reserved.
Fundamental company data and historical chart data provided by Morningstar Inc. Real-time index quotes and delayed quotes supplied by Morningstar Inc. Quotes delayed by up to 15 minutes, except where indicated otherwise. Fund summary, fund performance and dividend data provided by Morningstar Inc. Analyst recommendations provided by Zacks Investment Research. StockScouter data provided by Verus Analytics. IPO data provided by Hoover's Inc. Index membership data provided by Morningstar Inc.
ABOUT
Top Stocks provides analysis about the most noteworthy stocks in the market each day, combining some of the best content from around the MSN Money site and the rest of the Web.
Contributors include professional investors and journalists affiliated with MSN Money.
Follow us on Twitter @topstocksmsn.