The market needs a consolidation, not a correction
For now, there's nothing wrong with watching from the sidelines and letting the selling run its course.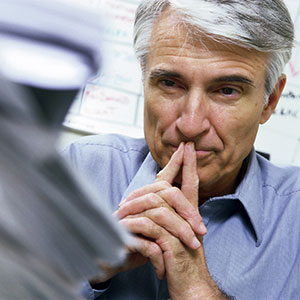 By 
Ken Shreve
Stocks are moving higher Friday, helped in part by better-than-expected​ earnings from Hewlett-Packard (HPQ) this morning.
The computer maker's arnings and sales growth declined from the year-ago quarter but still came in well above expectations. Fiscal first-quarter profit fell 11% from a year ago to $0.82, well above the Thomson Reuters consensus estimate of $0.71. Revenue fell 6% to $28.3 billion. Analysts expected $27.8 billion. It also raised its second-quarter earnings guidance to $0.80 to $0.82 a share. The current consensus estimate is $0.77.
It's nice to see some green early Friday after two days of sharp losses, but after two straight days of institutional selling in the major averages, investors have good reason to tread cautiously. This is not an environment to try to catch stocks on sale.
If you started buying high-quality names after the market confirmed a new uptrend on Nov. 23, there's nothing wrong with taking partial or full profits here. And if recent new buys are struggling, protecting capital and keeping losses small is sound strategy.
The broad-based NYSE Composite Index showed six higher-volume declines and one day of stalling action on Jan. 24. Selling has been less pronounced in the Nasdaq Composite and S&P 500. Each index shows three higher-volume declines and one day of stalling action. When higher-volume declines start to cluster in the indices, it can often presage more price weakness.
What's hard to believe is that after a 14% rally for the Nasdaq and S&P 500 since the mid-November lows, both indices have only pulled back 2% to 3% off recent highs. That's not much of a consolidation. A major support level for the NYSE Composite is its 50-day moving average around 8,698. The S&P 500's 50-day line is at 1,473. For the Nasdaq, it's 3,105. The risk for more downside is clearly there, especially with a slew of retail earnings reports on the horizon. I'd like to think that retail CEOs will be confident about overall business and consumer spending in 2013, but we could hear a different tune.
Nordstrom (JWN) didn't get things off to a great start after the close Thursday. 
Shares fell 2% in after-hours trading after the upscale department store operator guided full-year earnings below expectations. The stock was down almost 1% in afternoon trading Friday. 
Next week, we'll hear from the likes of Home Depot (HD), Macy's (M), Saks (SKS), Target (TGT), TJX Companies (TJX) and J.C. Penney (JCP), among others.
It's been tough watching solid gains evaporate over the last two sessions, but the market is in dire need of a consolidation phase -- not a full-blown correction but a modest pullback that will give stocks time to catch their breath.
Buy prospects are scant and extended stocks are a dime a dozen. A consolidation phase will change this and present new buying opportunities in due time.

More from Benzinga

Something 's up with the Dow.  Since Jan 29 RSI has been down and Feb 7, the MACD issued a sell signal expressing a  negative tone, which under "normal" circumstances  suggest  the Dow should be falling.  Instead, over the last 25 days it has been steadily rising, contradicting the indictators that assess it's disposition.  That could happen for a day or two, not 25. 
 I read indicators for a living and what's happening with the Dow is not right.
Investors Beware. 

V_L, they cannot allow a 6% rate.   The interest on our debt would exceed a trillion dollars if they did that.   We will top 20 trillion in debt before Obama leaves office, and that assumes no new recession caused by his massive tax increases on the rich.   
Americans now pay more taxes as a percentage of their income than at anytime in history.
Government is consuming 26% of GDP.   In 1940, government was under 10% of GDP.
With the FED printing massive amounts of dollars, hyper inflation is a real fear.  This is enabling massive deficits that do nothing to create real demand.  We need to slash government spending, and redeploy that money to the productive private sector to create REAL, SUSTAINED demand (read JOBS).   The more we invest in government, the less jobs there will be.
"the fed is beginning a slow revolt over the 24/7/365 printing press that will only gather steam,"
It requires about 300 basis points to service and collect credit. Cardboard credit brokers are hawking 2.75% rates and APR. That means the raw rate doesn't have enough in it to actually cover base costs. As the Fede stops buying crap assets, the banks must service and collect their own toxic mess. If you know what the fizzle of the sizzle is (remember Norwest) you know darn well that banks can count the days.  
Pearl Harbor claims the sequester will cause a 19,000 personnel reduction. That's 19,000 people in Hawaii forced back state-side while the majority of kids in our contiguous states have it considerably harder. Maybe we can get them re-assigned to Wall Street for assault duty. You have to admit, no RPG software could be anywhere near exciting as seeing our military best enter those ivory towers at street level and route everyone up the stairwells until those in the penthouse levels are forced on the roofs and then... off. I wonder how many zillionaires hired as "talent" can fly? Certainly their "talent" wasn't commonsense or doing the right thing with the nation's wealth. Giving it to already-rich billionaires who never created jobs with it after mass terminating the middle class in 2007-08, wasn't a "talent" it was a disease. YOU WILL FIX WHAT YOU BROKE. It's the weekend, wake up and realize where you are at. 
Mirage... you have to stop. No, smaller feeble government won't do SQUAT. It could tip us over completely. Smaller Corporate America with full illumination and regulation? YES. A flat tax on ALL income without splitting hairs between wages and gains? YES. A hyper tax on things you inherit that equate to omnipotence? YES. Time to kick big smelly arrogant butts OUT and start a small business revolution. Frankly, if you have degrees, you should be out creating enterprise AND jobs, not milking some dead sow platform and sexting your life away. Mr. Mirage Guy... you are SEVENTY, not TWENTY. Nobody with a sane mind values your redundantly obtuse opinion. Let's hear from working people who will and do bare the brunt of YOUR generation's irresponsible folly. Let's STOP hearing guns ammo and gold, they are the possessions of geezers not America's recoverers. Wall Street and banks WILL go down. Looks like that's not too far ahead.
Are you sure you want to delete this comment?
DATA PROVIDERS
Copyright © 2014 Microsoft. All rights reserved.
Fundamental company data and historical chart data provided by Morningstar Inc. Real-time index quotes and delayed quotes supplied by Morningstar Inc. Quotes delayed by up to 15 minutes, except where indicated otherwise. Fund summary, fund performance and dividend data provided by Morningstar Inc. Analyst recommendations provided by Zacks Investment Research. StockScouter data provided by Verus Analytics. IPO data provided by Hoover's Inc. Index membership data provided by Morningstar Inc.
ABOUT
Top Stocks provides analysis about the most noteworthy stocks in the market each day, combining some of the best content from around the MSN Money site and the rest of the Web.
Contributors include professional investors and journalists affiliated with MSN Money.
Follow us on Twitter @topstocksmsn.