Inside Wall Street: Home Depot builds strength
Demand for tools and materials has driven the retailer's stock higher, despite worries about the housing recovery.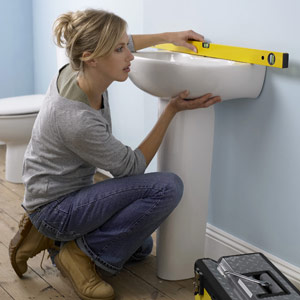 What's firing up shares of Home Depot (HD)? The answer is, surprisingly, quite simple: Demand is starting to overwhelm supply-- that is, supply of do-it-yourself tools and building materials. And that's a very positive development that has fueled feverish buying in Home Depot's stock.
Wall street analysts tracking inventory at the big retailers of do-it-yourself tools, construction materials and appliances have been surprised at what they found: Product inventory levels at Home Depot, as well as at Lowe's (LOW), the world's No. 2 in the business, have been trying to stay ahead of fast-rising demand.
Shares of Home Depot have been on a tear, rocketing to a 52-week high of $79.69 on May 22, 2013, way up from a 52-week low of $47.75 and its low of $28 in August of 2011.
Currently trading at $77, the bulls see the stock moving even higher -- to the mid-$80s in 12 months. Lowe's stock, which hasn't been on top of many analysts' favored list, has also been on the rise, climbing to a 52-week high of $43.84 in March 2013, up from its 52-week low of $24.76. Currently trading at $42, some analysts see the stock bumping up further to $48.  
"Our proprietary surveys tracking the depth of advertised items (shelf-level) and actual units 'on hand' for a full year detected stock-out rates at Home Depot and Lowe's," says Aram Rubinson, analyst at investment firm Nomura. And as a by-product of his research, "we can see how confident both companies feel about demand trends," he notes.
Tracking inventory depth helps monitor "merchandising trends" from which the analyst sensed an "inflection point in demand," suggesting that demand for the two companies' products has been expanding. Nomura's recent three surveys of inventory levels pointed to greater confidence in how demand is improving, says Rubinson.
During the past year, Home Depot typically drew down inventory over the course of an advertising week, "but we have now seen its commitment increase in three of the past four surveys," he says. Retailers often build up inventory when demand is low, but in this case, says Rubinson, both Home Depot and Lowe's are stepping up their commitment to increase inventory "in order to meet strong demand."
"In other words, we think they are now in an enviable position of chasing goods to meet demands," says Rubinson. As a result, he has raised his earnings estimates and price targets for both Home Depot and Lowe's.
He increased his earnings forecast for Home Depot to $4.34 a share for fiscal 2014 (ending Jan. 31), from$4.20. And he raised his fiscal 2015 estimate to $5.20 a share from $4.88. Rubinson boosted his priced target by $4 a share, to $82 for 2014, assuming a 9.5 times price-earnings multiple on his new 2015 EBITDA estimate of $13.3 billion.
For Lowe's, Rubinson raised his price target to $48 a share from $46. The stock is currently trading at $40.
What's partly helping shares of Home Depot rise so sharply and so fast is the unfavorable sentiment towards the stock among many analysts. S&P Capital IQ, for one, recommends a sell on the stock, asserting that it is overvalued as S&P expects the housing market to continue to recover only gradually over the coming year.
However, S&P analyst Michael Souers concedes that Home Depot will reap rewards from its accelerated focus on customer service and favorable demographic trends. That plus the aging of houses and low interest rates, he adds, "should help support home remodeling efforts over the long term," says the analyst.
David A. Schick, analyst at investment firm Stifel, says retailers such as Homed Depot can now press their advantage using stores and distribution systems to get products to customers, and optimize store counts and locations, as well as increasingly adapt to consumer trends.
"Home Depot continues to listen to professional needs providing services above and beyond when necessary," notes Schick, who rates the stock as a hold.
He also notes Home Depot's continued commitment to boost shareholder returns, such as raising its buyback guidance by more than 40% as shown in its first quarter 2013 results.
Wayne Hood, analyst at BMO Capital Markets, who rates Home Depot as "market perform," notes that the company is benefiting from the recovery in the housing market "which we believe is sustainable over the near term." That has prompted him to revise upward his earnings estimate for fiscal 2013, to $3.62 a share from $3.56, to reflect the better than expected first quarter results. For fiscal 2014, Hood raised his forecast to $4.15 from $4.09, to reflect the higher profit base in 2013. His price target: $80 a share.
One thing seems obvious: Home Depot is turning out to be the best investment play, so far, in housing.   

Gene Marcial wrote the column "Inside Wall Street" for Business Week for 28 years and now writes for MSN Money's Top Stocks. He also wrote the book "Seven Commandments of Stock Investing," published by FT Press.

MSN Money on Twitter and Facebook
Like us on Facebook: MSN Money and Top Stocks
Follow us on Twitter: @msn_money and @topstocksmsn
DATA PROVIDERS
Copyright © 2014 Microsoft. All rights reserved.
Fundamental company data and historical chart data provided by Morningstar Inc. Real-time index quotes and delayed quotes supplied by Morningstar Inc. Quotes delayed by up to 15 minutes, except where indicated otherwise. Fund summary, fund performance and dividend data provided by Morningstar Inc. Analyst recommendations provided by Zacks Investment Research. StockScouter data provided by Verus Analytics. IPO data provided by Hoover's Inc. Index membership data provided by Morningstar Inc.
ABOUT
Top Stocks provides analysis about the most noteworthy stocks in the market each day, combining some of the best content from around the MSN Money site and the rest of the Web.
Contributors include professional investors and journalists affiliated with MSN Money.
Follow us on Twitter @topstocksmsn.