Will 'Car of the Year' award power Tesla stock?
The Motor Trend honor doesn't always mean increased car sales.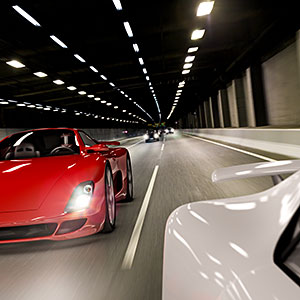 By Jim Woods

Late Monday night, I received a phone call from a jubilant friend who was ecstatic over, of all things, an automotive magazine's recent announcement.
"Guess what?" he rhetorically shouted in my ear, "The car in my garage is now Motor Trend's Car of the Year!"
You see, my friend recently took delivery of a Tesla Motors (TSLA) Model S sedan, the all-electric luxury sports sedan that is the brainchild of the company's genius CEO, Elon Musk. My friend was quick to point out that my vehicle of choice -- the newly designed Porsche 911 -- failed to beat out the Model S for the prestigious designation by the leading automotive industry magazine.
He also pointed out that this was a true turning point for the auto industry, as it was the first time in the 63-year history of the award that a vehicle with a non-combustion engine has been given the prize.
The decision by a cadre of Motor Trend editors and auto industry veterans also was the first time in the magazine's history that the vote for the top honor was unanimous. That's pretty impressive to me, as a journalist, because when you get three journalists in a room, you usually have about a dozen different opinions.
However, the Motor Trend decision isn't just pure opinion.
After putting some 45 potential Car of the Year candidates to a 10-day stress test, the Model S came out on top for what the magazine described as the car's superb acceleration, handling, open cabin and 250-mile range.

Now, for those who are concerned with Tesla and the auto industry for more than just the thrill of driving, the Car of the Year award might be viewed as a potential boost for sales, and for the company's bottom line -- and by extension, for the price of TSLA shares.
Those shares have had a volatile year and have been the target of some very heavy short selling. Still, year-to-date, Tesla stock is up 13.5%.
But do Car of the Year honors mean a boost for that model, for the company and for its share price? Not always, if recent history is any guide.
For example, last year (the 2012 model year), Volkswagen's (VLKAY) Passat sedan captured the Motor Trend honor, and that helped the car experience a surge in sales in both the U.S. and China. Over the past year, shares of Europe's biggest automaker have accelerated by more than 14% despite a recession in its home region. Passat sales and sales of other popular models in the U.S. and China helped offset slowing sales in the eurozone of other models, so in this case, I suspect the Car of the Year honor did indeed provide a lift.
It was an entirely different story two years ago (the 2011 model year), as General Motors' (GM) Chevrolet Volt was awarded Car of the Year. That vehicle was very slow to catch on, and it still hasn't caught on very well when compared to other cars in its class, such as Toyota's (TM) Camry Hybrid. In recent months, the Volt has begun to pick up in terms of sales ... but when you factor in the cost of production, some industry analysts think the car is a big net money loser.
In 2009 (2010 model year), the Ford (F) Fusion midsize sedan took the top award, and since then the economical-but-fun-t​o-drive vehicle has been a big seller for Ford. Since November 2009, Ford shares are up a very robust 34%, as investors have largely embraced the one Detroit automaker that didn't require a taxpayer bailout.
So, again, will the Model S's new trophy result in a boom for Tesla shares?
Well, shares jumped off the starting line nearly 3% in Tuesday trade and finished up 1.75% -- a positive sign. And they are up slightly Wednesday, as well. 
I have long been bullish on Tesla as both a company and a stock, as I believe the quality of production, design and care put into each vehicle will allow the brand to appeal to auto industry purists, high-end car buyers, and buyers of the latest high-tech lifestyle tools.
We'll have to wait until early next year to see if the Car of the Year honor is actually a boost to Tesla's bottom line, but if my suspicions are correct, then look for the Model S to see electrified sales between now and the end of the year -- and hence more upside for TSLA.
As of this writing, Jim Woods did not hold a position in any of the aforementioned securities.
More from InvestorPlace
Saw the Tesla in our neighborhood mall.  It is a beauty, and if it truly hits the heights, I will want one.
Honey, our anniversary is in January!  She is slick and sweet, and she may even cause some smacks on the street as people stare at her instead of watching the road, but I still want her. Hmmmm..........I wonder which color would be best for an older woman!


I think the market they serve will remain a niche market for a long-time.  I hope that their technology investment benefits them but fear it will benefit the larger, Jonny Come Lately entries. I own a few shares so I wish them well but, expect that they will not be able remain independent for long.

I worked for Magna Trim and Interior Components of Benzonia, Mi, the maker of MANY of the Tesla's interior components (arm rests, door panels, head liners and such) I was hired through a temporary agency (Northern Staffing of Petoskey, Mi.) I started at 8.50 an hour (the same wage I made back in 1988) a few of the other temporary workers by passed the drug test because the lesion for Northern Staffing ran out of the drug testing cups. this division of Magna is completely disorganized, has little leadership and treats their employees poorly.(my supervisor had 4 months experience) For a company that produces parts for this EXPENSIVE electric car they can do A LOT better as far as treating their employees but in this economy, where large corporations have the advantage (because EVERYONE is looking for work) people will take anything and say nothing. I can't do that, I resigned, and found a job that started me at 12.00/hr. Good luck to Magna and it's employees. If I were upper management at Tesla I would surely be looking for another supplier for it's parts. Because Magna came in as a low bidder (due to CHEAP labor) I guess they get the contract...to bad the employees don't get a LABOR CONTRACT

Magna of Benzonia, Mi makes many of the Tesla's interior components. I know I worked there as a temp worker for Northern Staffing of Petoskey Mi. I understand the automobile sells for over $100,000.00 USD, there must be and enormous profit margin because they Northern Staffing pays their employees a meager 8.50 an hour to start. you get 0.15 an hour increase after 45 days and you MAY get hired by Magna after 90 days. When hired by Magna, employees have to complete ANOTHER 90 days on probation before you can get health benefits (premiums deducted from your pay) I couldn't stay at this employer because they take advantage of their employees, yeah I probably should be more GRATEFUL to at least get a paycheck but working for 60 hours a week to bring home $425.00 is not my idea of the american dream. Oh yeah, I was drug tested and they did a background check on me but not the ladies that were in my orientation group... so the company chooses who takes drug tests and who does not. I love the idea of an all electric automobile, we need competition in alternative energy automobiles, but the AVERAGE american worker will never be able to afford this automobile.
Are you sure you want to delete this comment?
DATA PROVIDERS
Copyright © 2014 Microsoft. All rights reserved.
Fundamental company data and historical chart data provided by Morningstar Inc. Real-time index quotes and delayed quotes supplied by Morningstar Inc. Quotes delayed by up to 15 minutes, except where indicated otherwise. Fund summary, fund performance and dividend data provided by Morningstar Inc. Analyst recommendations provided by Zacks Investment Research. StockScouter data provided by Verus Analytics. IPO data provided by Hoover's Inc. Index membership data provided by Morningstar Inc.
ABOUT
Top Stocks provides analysis about the most noteworthy stocks in the market each day, combining some of the best content from around the MSN Money site and the rest of the Web.
Contributors include professional investors and journalists affiliated with MSN Money.
Follow us on Twitter @topstocksmsn.